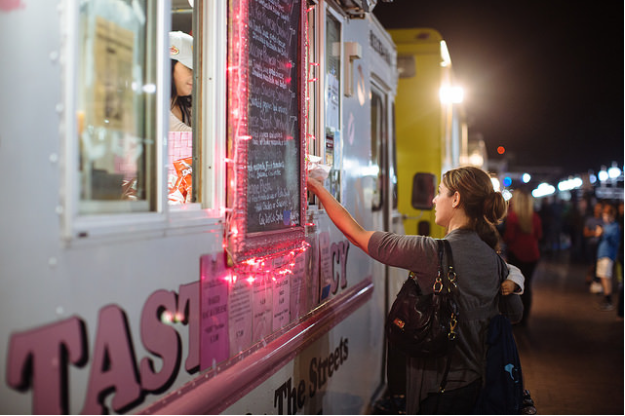 (Source: Flickr)
 In recent years, food trucks have become one of the hottest types of start-up culinary businesses. There are many reasons why: the start-up costs are far lower than a brick and mortar restaurant; they offer a more inventive atmosphere for chefs; you have the opportunity to engage a new audience to try and enjoy your food each and every day.
 Actually starting up a food truck, however, can be intimidating. It's not merely a matter of starting an engine and selling; there is a lot of planning involved in creating a truly unique and professional food truck. Here, we'll explore the art of the food truck, including why it might be a great business model for you, considerations before you pursue this project, and how to get started with the process of creating a food truck.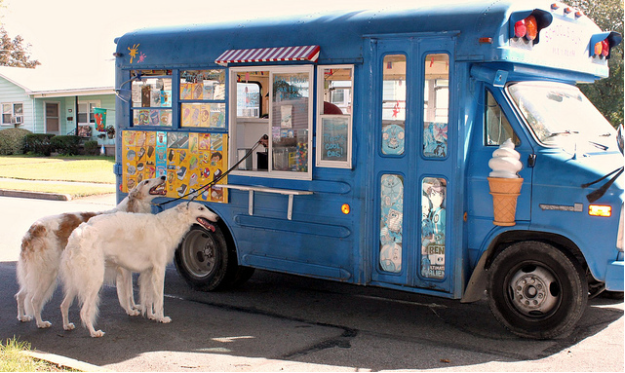 (Source: Flickr)
 What is a food truck? A food truck is pretty straightforward in one way: it is literally a truck from which food is served. Examples that most people are familiar with are ice cream trucks and taco trucks. However, in recent years, food trucks have enjoyed a creative renaissance, with all sorts of eateries selling their good from a vehicle, from trucks specializing in all manner of food, from grilled cheese to bakery items to upscale Southern cuisine.
 Why would you want a food truck? There are many benefits to operating a food truck in addition to a restaurant, or even instead of a brick and mortar location. Here are just a few of the advantages:
Low rent:

Unlike a brick and mortar location, you don't necessarily have to worry about paying an expensive rent. This is not to say a food truck is totally rent-free: there will be expenses, including a storage space for the truck at night, and you may need to rent a commercial kitchen space to prepare the food that you'll be selling. However, these are typically far lower expenses than rent, especially in big cities.

Great marketing:

Food trucks are hot right now. The fact that you have a food truck in and of itself makes great marketing fodder: interesting cuisine being served from an unconventional setting is interesting and worthy of stories in local paper and on the news. It also gives people a reason to follow you on

social media

. You are also constantly marketing by driving around town with your logo passing all sorts of sets of eyes!

Appeal to the lunch time crowd:

Many restaurants offer reduced prices or

specials

to draw people in for lunch. On the other hand, food trucks often cater to the lunchtime crowd. If parked in a particularly dense office area, you'll provide an interesting and unique alternative to other chain sandwich shop, and you'll do brisk business.

Join in on the culture of food trucks:

With a food truck, you'll enter the community of food trucks, which is thriving and well. Food trucks often set themselves up in clusters, which can be temporary or permanent locations. It creates an interesting array and a supportive atmosphere.

Stay nimble:

A smaller operation allows you to be more nimble in terms of changing a menu or altering some aspect of your business. Most menus for food trucks are posted on the side of the truck, and can be changed quickly.

Limited staff and cost of goods:

A food truck is small, and as such, it forces you to keep to the basics in supplies and staff. This can keep your operation efficient, which can help keep costs down.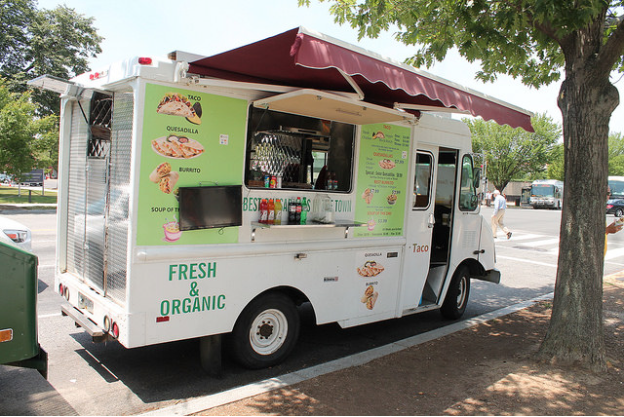 (Source: Flickr)
 What are some of the challenges of having a food truck? Food trucks aren't without challenges. Here are some important things to consider before starting up a food truck.
Parking:

It's exceedingly important for food trucks to find a prime parking spot where they want to sell their goods. In some settings, this is very easy; however, on crowded city streets, it can prove challenging. Evaluating the parking situation in your city is vital.

Permits:

Different cities have different rules for food trucks, and they can change frequently. It is important to remain up to date on whether your practices adhere to the permitted ones for your city.

Keeping food fresh and safe:

Keeping your food fresh and safe can be challenging when you're operating out of a truck. Many people prepare the food off-site, in a commercial kitchen, and then simply assemble it and sell on-site. Other food trucks do some preparation off-site and some right from the truck. Making sure that you are meeting safety standards and can keep foods safe is of great importance.

Truck /mechanical issues:

Food trucks, like any other vehicle, can break down. Especially since they are carrying lots of equipment, it's very important to keep your truck in good shape by going to the mechanic frequently. This can add up, cost-wise, but it is an important part of owning a food truck.

Weather:

A food truck is more sensitive to the weather than a restaurant; in the rain or sleet, people are not inclined to wait on line outside, and might prefer to enter a restaurant where they can sit and be warm and dry. Know that your sales may be affected by the weather.

Speed of delivering food:

Efficiency is key with a food truck. Lines can form quickly, and people will get tired if it is taking too long and find another food solution. Make sure that you have an efficient setup where you can deliver food as quickly as possible to your hungry customers.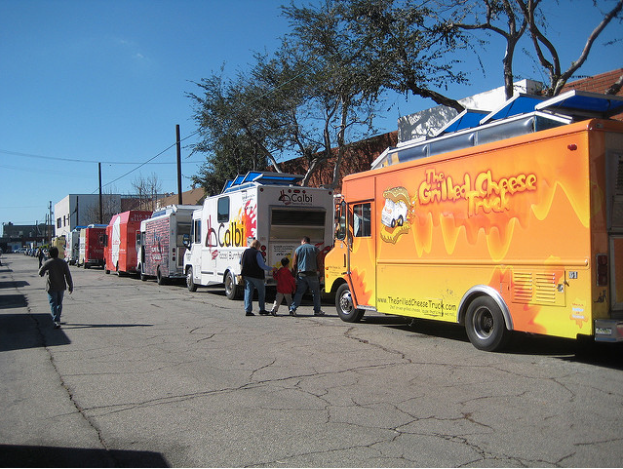 (Source: Flickr)
 Starting a food truck: your first steps. Ready to take the plunge? Here's a simple guide to some of your first steps.
Do your research:

Like opening a restaurant, you'll have to do some preliminary research before starting a food truck. Is your idea unique, competitive, and viable? By researching the area and the food trucks in your area, you can see if there is a place for your idea.

Obtain financing:

The

start-up costs

for opening a food truck can from $30,000 to $70,000. This is less than a brick and mortar restaurant, but it's not cheap. You'll need to apply for a loan and

obtain financing

.

Find a truck:

You'll need a truck, of course. While many vendors start with a used truck, take the time to find the right one, employing a mechanic if necessary to help you choose the right one. You'll need to work with an expert to outfit the truck to meet your needs. Don't skimp on this step, as this will be the "home" of your restaurant.

Explore your city's permit policies:

Some cities are friendlier to food trucks than others. In some cities, food trucks are forbidden in prime areas. Be sure to investigate the rules for food trucks in your city to see if it is a worthwhile pursuit.

Point of sale system:

You'll need a point of sale system. Since few people carry cash these days, many food trucks use apps via iPad for accepting payments, so that customers can easily pay (and leave

tips

!) using their debit or credit card.

Start planning a menu:

Plan a menu for your food truck. Consider that you will need to serve a lot of food quickly, so try to create menu items that reflect a unique culinary creativity and sense of balance, but that can also be reasonably delivered from a food truck.

Start promoting:

Spread the word and

promote

your food truck! Reserve your name on social media, and set up a Twitter, Facebook, and Instagram account. Keep people updated on what your plans are and where you'll park to create anticipation, and reach out to local media for potential stories.
 Conclusion: A food truck can be a fantastic alternative to a brick and mortar restaurant, or a great way to expand the reach of an existing restaurant. While it requires a significant amount of time and effort to set up a successful food truck, the rewards both financial and personal can be many, and it's well worth exploring.
Have you ever considered opening a food truck?