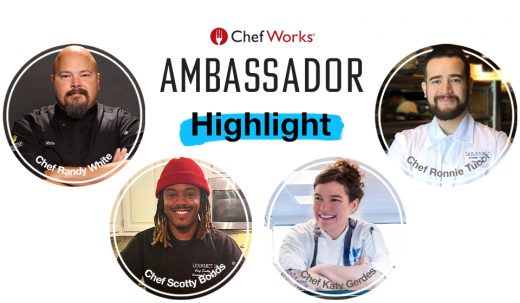 Introducing Our Ambassadors: Part 3
This year marked the beginning of our very first brand ambassador program, and we couldn't be any more eager to introduce you to our 16 amazing chefs! In our next round of ambassador highlights, we're taking you all over the US — from West Coast to East Coast, north and south. Don't forget to add these chefs' businesses to your next foodie destinations!
Chef Randy White
BBQ — isn't that what Texas is known for? Thankfully, Chef Randy White isn't a cliché. While he might be based in North Dallas (and yes, decided to pursue a culinary arts career after participating in a barbecue competition), Chef Randy is more widely known as a private chef, menu development and restaurant consultant, cooking instructor, and radio host. An engineer and program manager in a previous life, he now specializes in "upscale rustic" cuisine and uses cooking as a medium to connect with other people. For Chef Randy, being a steward of the craft is one of his greatest joys, whether he's extending his knowledge to home cooks, collaborating with chefs around the country, or sharing the stories of his many industry peers through his culinary media.
Follow Chef Randy on Instagram
"I have a passion for people and a passion for cooking but more importantly a passion for the triumph of the human spirit."
Chef Ronnie Tucci
Chef Ronnie Tucci is Executive Chef at Arcade Coffee Roasters in Riverside, California. Driven by the conviction that great food and elevated experiences can come from an overlooked place such as the Inland Empire (where Chef Ronnie was born and bred), he and his team at Arcade are reimagining the local culinary scene through award-winning coffee, incredible food, and shared moments around the table. Chef Ronnie credits his love of cooking to his father — an amazing home cook — and also his Mexican, Italian, and Filipino heritage. Along with being a champion for the Inland Empire, Chef Ronnie is passionate about honoring his past culinary teachers by paying it forward to the next generation of chefs.
Follow Chef Ronnie on Instagram
"My philosophy on food is just using as many local ingredients as possible. I love being able to highlight the bounty of Riverside County, the bounty of the Inland Empire. It's just another way we can show what's special about this area."
Chef Scotty Bonds
Chef Scotty Bonds is a celebrity private chef based in Charlotte, North Carolina. He's found himself drawn to the kitchen since the age of three, and he launched his business right out of high school. Today, he owns and runs Gourmet 21, a private chef and catering company that serves up Southern cuisine with a modern, upscale twist (and boasts a clientele with quite a few celebrity names). From sustainability in the kitchen to pursuing excellence in the culinary world, Chef Scotty is passionate about sharing his unique and personal insight as a Chef Works brand ambassador.
Follow Chef Scotty on Instagram
"Nowadays, especially on social media, food is everywhere. Chefs are everywhere. Everybody's calling themselves a chef, and it can get really intimidating and overwhelming. Don't get discouraged. Don't focus on what other people are doing. If you're truly passionate about it, stick with it."
Chef Katy Gerdes
Chef Katy Gerdes is a pastry chef and the owner of Angel Food Bakery & Donut Bar and FrioFrio Frozen Treats in Minnesota. Although she started baking during summers as a kid, it wasn't until after art school and a brief fashion career that Chef Katy decided to pursue baking full-time. Chef Katy loves baking for its ability to blend together science and creativity, and she's passionate about using strong design to set her businesses apart from the others. In 2018, Chef Katy shifted away from a tipping model, so that she could pay all of her employees a livable wage. This move is part of her vision to provide a stable career path for young bakers so they can see baking as a sustainable life choice.
"I had to step back and ask, 'What can I do here in this building then expand outwards?' Our industry is desperate for people who want to be in it. How can I bring in these 20-year-olds who want to be bakers and give them a career path?… How do we grow to be that kind of model in an industry that is so transient?"