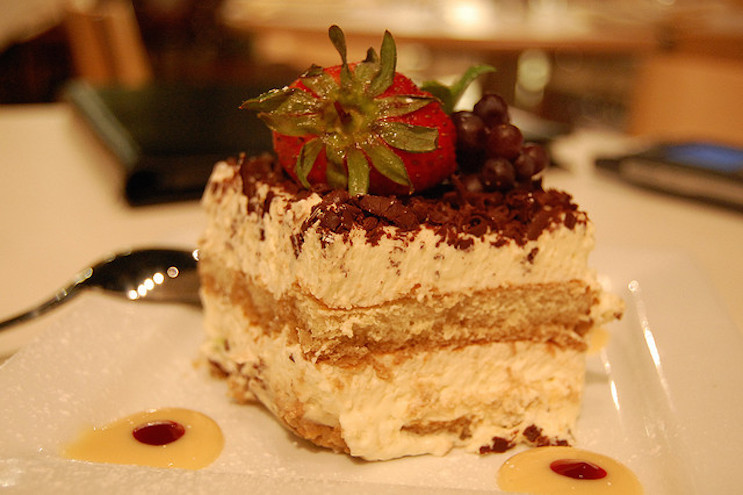 (Source: Flickr)
Tiramisu has a reputation as a fancy restaurant menu dessert, a complicated concoction attainable only by professional pastry chefs. But here's a secret: it's not complicated at all! A traditional tiramisu recipe usually includes five or so ingredients and comes together in minutes. No wonder it gained so much popularity in the restaurant industry: it's incredibly easy to make, but tastes like a dessert of great luxuriance and indulgence.
If you've never made it before, the intense flavors of tiramisu might seem unattainable by a mere home chef. But this couldn't be further from the truth. You don't need grandma's top secret recipe or even formal pastry training; you just need some good quality ingredients and the classic recipe included in this post.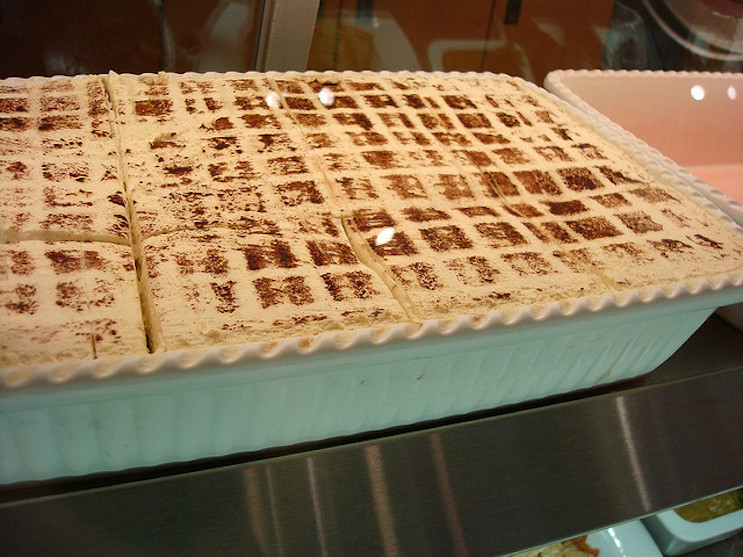 (Source: Flickr)
What is tiramisu? Tiramisu (tiramisù in Italian, though stateside we don't use the accent) comes from Italy, and it roughly translates as "pick me up". Though there's some argument as to who developed the recipe, it seems to have taken off in the early 1960s. Some theorize that the dessert was an adaptation of another Italian classic, zuppa Ingles.
While the construction can vary slightly, the basic gist of the dish is this: a sweetened mascarpone cream layered with espresso-dipped ladyfinger cookies. Allowed to set for several hours, the flavors of the cream and coffee combine and completely soak the ladyfingers, making for a magical melange of flavors and textures in a single dessert serving.
Tiramisu: creative variations. Tiramisu is typically assembled layered, in a large dish. In recent years, clever pastry chefs have experimented with the construction of tiramisu with sometimes whimsical, sometimes unusual, but usually delicious variations. Here are just a few tasty examples: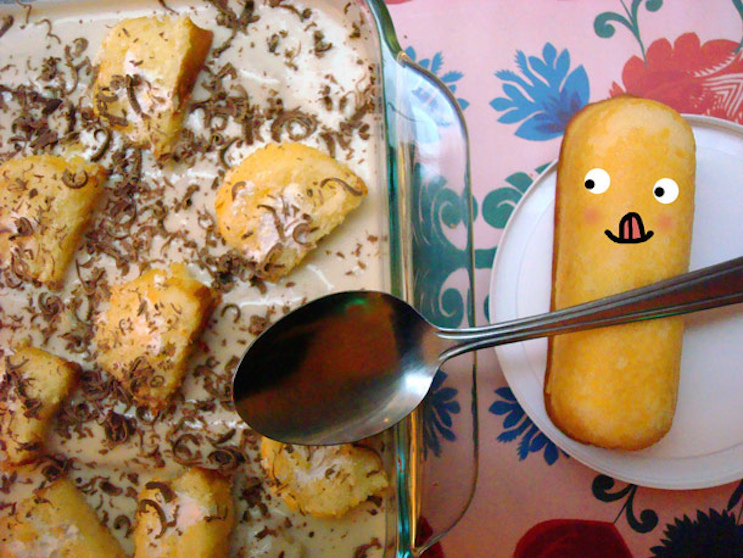 (Source: Flickr)
Twinkie tiramisu. The tastiest way to mix high and low culture? Tiramisu made with not ladyfingers, but Twinkies. Surprisingly, the cream-filled snack cakes work well with the mascarpone mixture, and the taste is legitimately good.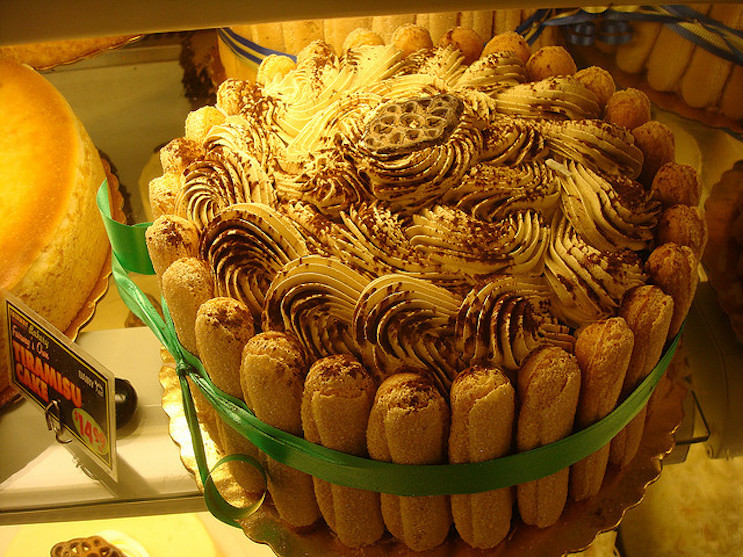 (Source: Flickr)
Tiramisu cake. Layer cakes can be dressed up with tiramisu flavors for an unusual yet addictive dessert experience. Ladyfingers can also be used to prettily "wrap" the cake.
Tiramisu chocolate cheesecake. The classic flavors of tiramisu are a match made in heaven with a rich creamy cheesecake coated with chocolate.
Making tiramisu: what you need. In this simple recipe, the ingredients are limited. This means that every single flavor will shine through in prominence, and that means you want to use the best possible quality ingredients you can get your hands on. The better the quality of your ingredients, the tastier the finished dish. Here are some considerations with key ingredients:
Eggs:

Use fresh, good quality eggs for this recipe. Here's a

kitchen hack

to test the freshness of your eggs, you can Submerge them in water. If they sink and lay flat on the side, they are fresh; if they are upright, they are a little older.

Mascarpone cheese:

Mascarpone is a creamy cheese, but it is not cream cheese. It has a unique flavor that is vital in giving your tiramisu its signature flavor. Use a good quality mascarpone; ask someone at your local cheese market (or grocery store with a well-stocked cheese section) for advice on the best options where you shop.

Coffee liqueur:

A coffee liqueur such as Kahlua gives this tiramisu a piquant and slightly tipsy taste. If you don't have coffee liqueur on hand, you can try it with rum or bourbon instead.

Ladyfingers:

Ladyfingers are long, skinny, cake-like cookies. A well-made ladyfinger is slightly dry, with a soft, spongy texture. It is perfect for absorbing the rich and assertive flavors in the cream and coffee in the recipe.

Espresso grade coffee:

A deep, rich espresso blend of brewed coffee will work best for this recipe. If that is not available to you, a very dark roast brewed strongly will suffice.
How to make tiramisu: a simple recipe. This easy to follow recipe yields a creamy, classic tiramisu. Be sure to let the tiramisu refrigerate at least several hours (overnight is best!) for the most infused, crave-worthy flavor.
Adapted from Epicurious
Yield: 6 to 8 servings
Ingredients
6 large egg yolks (from pasteurized eggs) at room temperature

1/2 cup granulated sugar

16 ounces mascarpone cheese, slightly warmed at room temperature

4 large egg whites (from pasteurized eggs) at room temperature

2 ounces coffee liqueur

12 to 14 (approximately 4-inch) ladyfingers

1 1/2 cups brewed espresso grade coffee (or very dark drip coffee)
To finish:
Supplies:
A small casserole pan (about 6×9 inches)
Procedure
In a stand mixer fitted with the whisk attachment, whisk the egg yolks with ¼ cup of the sugar on medium speed for 2 minutes, or until the mixture has turned lemony in schedule and thickened in texture.

Add the mascarpone in 2 separate additions, whisking on low until creamy and combined. Add the coffee liqueur and whisk gently to combine. Transfer the mixture to a large bowl, wash your attachment and bowl, and proceed again with the stand mixer.

Put the remaining egg whites in the bowl, and whisk on high speed or until soft peaks form. Add the sugar, and stir until the soft peaks are slightly thickening but have not come to the stiff peak point.

Gently fold the egg white mixture into the mascarpone mixture.

Fetch your casserole pan, and have the ladyfingers and espresso nearby.

Spread about ⅓ of the cream mixture in the pan, trying to get it as even as possible.

One by one, soak the ladyfingers in the espresso. Hold it up and let excess liquid drip off of the cookie. Arrange them in neat layers on top of the cream to make a full layer of ladyfingers. Only use as many as is needed to coat the pan in one even layer.

Gently spoon the remaining mascarpone cream mixture on top of the ladyfingers, smoothing it into an even layer.

Transfer the tiramisu to the refrigerator, and let it "set" for a minimum of three hours or as long as overnight. Not only will this help the texture "set" but it will allow the flavors to mingle.

Directly before serving, gently sift a little unsweetened cocoa powder on top of the tiramisu.
Storage tips. In the unlikely event that you have leftover tiramisu, store it in an airtight container for up to 3 days.
Conclusion: There's a reason tiramisu is an enduring classic. It's incredibly easy to make, doesn't require too much hands-on time, and the flavors combine in about the same exact amount of time it takes to linger over a leisurely meal and bottle of wine. It's simple but exquisite, with the perfect balance of flavors.
Have you ever tried authentic tiramisu?