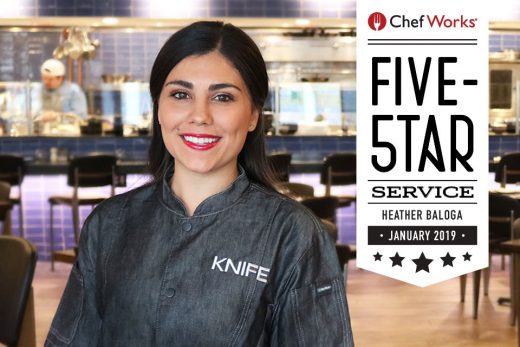 ---
Chef Works will be spotlighting someone in the front of the house each month through November as part of our "Five-Star Service" blog feature. In December, we'll ask our blog's readership to vote who has the "best story." We'll dress the winning restaurant with Chef Works gear! Pictured above is Heather Baloga of Knife Steakhouse, photographed in her Tribeca Executive Chef Coat. To nominate someone, email kgemmell@chefworks.com.
---
There are some people who just get it. Heather Baloga is one of them.
Her passion for food and customer service started long before she ever realized it. It was the large family dinners, where her grandmother would cook up family-style meals with Italian, Irish and Cajun flavors, which jump-started her fervor for food.
"There's nothing like food to bring people together," said Baloga, 29. "I've had several experiences in my life overseas that really made that clear. Eating together isn't just about eating. It's about the experience – whether that's meeting new people or enjoying time with family."
For the last four years, Baloga has been a server at Knife – the renowned Dallas steakhouse run by executive chef John Tesar. For three and a half years she worked at the Dallas property and then helped open their Plano location last October.
"I keep telling myself that one day I'll maybe get behind the line and work the back of the house," she said. "But I'm really just a people person. I'm calm, cool and collected that's what I'm best at."
While a true Texas girl at heart, Baloga has never hesitated to branch out on her own to gain broader experiences. After attending Newman University in Wichita, Kan. on a soccer scholarship, she studied Spanish and Mayan culture in Guatemala. She also backpacked through Hawaii, sustaining on fish straight from the ocean and homemade jerky.
"No matter where you are, food is a universal language," she said. "It was moments like that which have always brought me closer to people through experiencing food together. I've always loved that and no matter what, I want that to be a part of my life."
Her brother is a sous chef at a Dallas Italian restaurant and the two sometimes team up on "family-style" dinners. Maybe one day they'll go in on a restaurant together. But Baloga still has some travel in front of her.
"I'm also studying kinesiology and I've got some European plans ahead of me," she said. "I need to go overseas and taste some real Italian food. My plan is to study yoga abroad and teach English while I'm soaking up all of these cultures firsthand."
She takes many of the lessons she learned on the soccer pitch into her daily experience at Knife. It's also why she's such a perfect fit for the front of the house.
"I've always had a team-minded spirit," she explained. "With a huge family, you always felt like you were part of a team and you had your role to play. The same is true for Knife. We are a large family and we all have our roles. Chef Tesar is hilarious and he always keeps it fun and light. We love our customers. He nicknamed me 'Mama Luigi' because I'm the Italian grandma of the group."
And as the culinary scene in the Dallas area continues to rise in popularity, Baloga will be there to make sure Knife diners have the best experience possible.
"Being able to serve customers who really love and appreciate food is an amazing experience," she said. "I love the vibe of our customers and we get excited when they want to start talking about the process and they get excited about ingredients. I love getting nerdy about food."