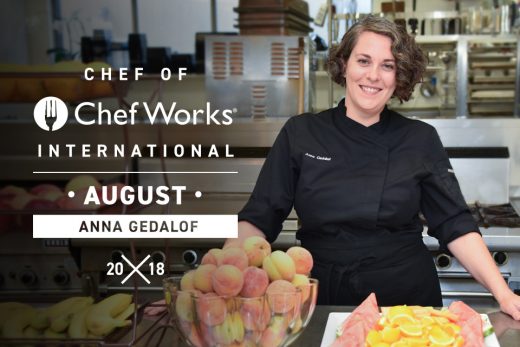 ---
Each month we feature an International Chef of Chef Works. If you're a fan of Chef Works gear and are interested in being featured, email marketing@chefworks.com. Pictured above is our August International CoCW, Chef Anna Gedalof, photographed at the Havergal College for girls in Toronto in her Marrakesh V-Series Chef Coat. 
---
Chefs are used to seeing their regular customers. Chef Anna Gedalof is no exception. She has regulars too.
Lots of them … like, several hundred … every … single … day.
The head chef at the prestigious Havergal College for girls in Toronto feeds hundreds of students and faculty daily – including breakfasts and dinners for boarding students at the K-12 school.
"My job is very rewarding, but there's no doubt that the most important part is what we are teaching the students about food and seeing them get excited for whatever meal or snack they are about to enjoy," Gedalof said. "By being strong advocates for the local food movement and telling the stories of the farms we work with, we teach the students there are real people and real lives behind the food that they eat."
That passion for farm-to-table cuisine comes from her diverse background. She has lived in Israel, Malawi, Thailand, Hungary, France and New York before finally settling in Canada. Though she didn't come from a cooking family, she experienced flavor profiles from across the globe and she enjoys drawing on that experience in her work.
While cooking at a restaurant in Tel Aviv, one of her most influential mentors taught her the importance of respecting each individual ingredient.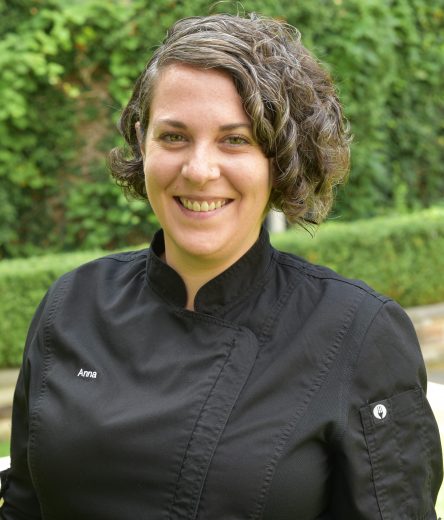 "We sourced everything at a daily market, hand selecting every piece of produce, seafood and meat that would be served at the restaurant," Gedalof explained. "We changed the menu whenever we needed to. Not necessarily out of necessity. But rather because of what was so perfect and beautiful that we had to build a dish around it."
Her penchant for menu malleability lives on at Havergal, where Gedalof isn't afraid to experiment. She also embraces the academic spirit of the 124-year-old institution, trying to teach and establish smart eating habits she hopes will stay with the students long after they leave.
"Every Monday at Havergal we participate in 'Meatless Mondays' and I make a vegan Buddha Bowl," she said. "Over the last few months I have spent a great deal of effort to refine these dishes into something that is beautiful, nutritious, satisfying and almost entirely local. Working closely with 100KM Foods we have been able to source incredible local ingredients. Even in the dreary Canadian winters we have been able to bring beautiful, tasty, plant-based nutrition to our community."
Gedalof's international influence serves her well because of the wide variety of pallets she has to please.  Regulars can be demanding like that.
"I feel incredibly proud to make a positive impact," she said.
In the few hours she's not working, she enjoys time on the beach with her dogs. But even then, she's always thinking of new ways to be creative. And that makes sense, considering the advice she'd offer to future chefs: "Taste everything!"