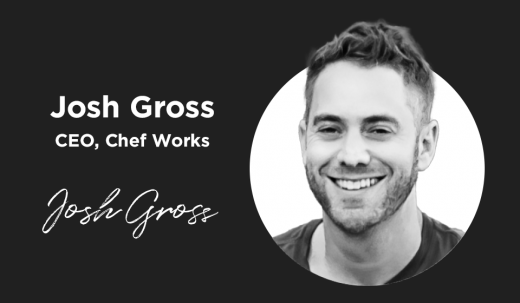 Chef Works Inc. announces Corporate changes: Neil Gross appointed Executive Chairman. Joshua Gross appointed Chief Executive Officer
POWAY, CALIFORNIA – September 5th, 2023 — Chef Works Inc., the prominent culinary and hospitality apparel brand, has announced a strategic leadership transition aimed at propelling the company into a new era of growth and innovation.
After a 12-year journey within the Chef Works international network, Joshua Gross, a Chartered Accountant, has played an essential role as Director of Chef Works China Ltd., Senior Director of Global Supply Chain, and President of Chef Works Inc. Joshua has now been appointed Chief Executive Officer (CEO) of Chef Works Inc.
Joshua Gross's significant expertise and contributions within the company are evident through his influence and optimization of the global supply chain and through increasing global market share for the iconic brand. Domestically, Joshua has concentrated on developing strategic partnerships with enterprise entities, playing a prominent role in advancing the vision of the Chef Works brand and launching key Chef Works Inc. community initiatives.
Neil Gross, who has steered Chef Works Inc. as its leader since 2013, is transitioning to the role of Executive Chairman. Under his leadership, the company thrived even amidst the most challenging periods faced by the hospitality industry. Neil's dedication to the company's global community and his ability to navigate through complex market dynamics and challenges has been instrumental in shaping Chef Works' identity. Neil Gross will continue to guide the company as the head of the Board of Directors, while also providing mentorship to future leadership.
"This transition represents a moment of pride and optimism for me personally, as well as for the organization as a whole," Neil said. "Joshua's wealth of experience and his collaborative approach make him the perfect choice to lead Chef Works Inc. into the future."
"I am honored to be entrusted with continuing the legacy that each member of our team has helped build," Joshua added. "With a focus on innovation and growth, I am confident that our position as the global leader in culinary and hospitality apparel will only strengthen. Our best days are ahead of us."
Founded in 1994, Chef Works has evolved from its humble beginnings into an industry trailblazer renowned for its design, development, quality and management of uniform programs worldwide. The company's portfolio includes the widely recognized brands Chef Works and Bragard. Chef Works delivers best-in-class solutions to Culinarians and Hospitality professionals for a perfect blend of premium uniform style and functionality that enhances, inspires, and impacts.