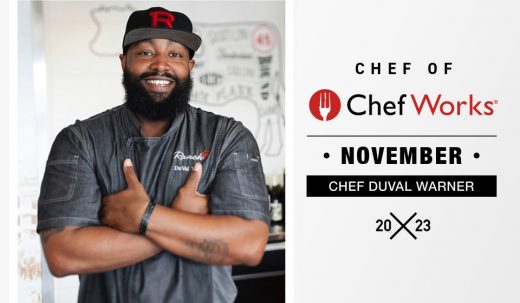 Chef Duval Warner's journey into the culinary world might seem anything but ordinary. Ten days after retiring from the U.S. military, he went straight into culinary school, trading his combat boots for chef's whites. But as he shares, the kitchen and the military have a lot more in common than we might think.
Connecting his experiences of traveling and serving abroad, he draws inspiration from his culinary explorations across Asia, Africa, and America, while also honoring his traditional family recipes. His greatest gift is bringing familiar dishes to those who love it most — warming up their bellies and their hearts through his creations. Chef DuVal shares the secrets behind balancing family, work, and passion, as well as advancing through big transitions. Read on to discover the tools to his success, which just might make it into your toolbox.
Chef Works: How did your passion for cooking begin?
DuVal Warner: My passion for cooking began at an early age. All the women in my family cooked and my grandfather used to raise hogs. During my journey in the military, I started picking up cooking along the way; with friends and family telling me that I had a talent for cooking, I wanted to pursue that career once I retired from the military.
Chef Works: What was it like to transition from the military to a career as a chef?
Chef DuVal Warner: As we say, the military gives you the tools to be able to adapt, survive, and overcome situations. It was a little scary — leaving something that I'd been doing for 18 years to go into a completely new field. But I feel like the training that I had, the friends and family around me, helped me through this process. Going into a kitchen is similar to being in the military: you have a chain of command and you need the ability to be able to withstand pressure, to be able to handle the heat.
Chef Works: What would you say to somebody else who's also making that transition from the military into the civilian world? Are there any insights that you would offer?
Chef DuVal Warner: The insights I would give to someone transitioning from the military to the civilian world: Just have an open mind. Be humble. I had to learn that things are not the same in the military as it is in the civilian world… and that's one obstacle you just have to overcome.
Chef Works: Once you left the military, how did you get started and how did your career grow?
Chef DuVal Warner: I retired from the Marine Corps October 1st and I started culinary school, October 10th. So there was no no wait time. I just went right into it and I wanted to work in one of the best restaurants. So my transition to the civilian world into culinary started 10 days after I retired from the military.
I did my externship at one of the best restaurants in San Diego at NINE-TEN under Chef Jason Knibb. He then got an opportunity to work at the Del Mar Racetrack for Chef Barry [Schneider], and from there, he gave me the opportunity to run my own station after a year. It was a humbling experience, but also gratifying because I knew I could do the job. From working there for three years, I got the opportunity to come over to Ranch 45 and work for Brandt Beef, which is another awesome company for me to be able to transition. Being able to work with a family-run business, in a restaurant where you actually know the people you work for, you actually know the product that you're using… a lot of chefs don't get that opportunity, and so for me, I'm grateful for that.
Chef Works: What are some of the things you love about being a chef?
Chef DuVal Warner: The things I love about being a chef is the creativity and the people, because you work in a service business. The people that come to eat at your restaurant or wherever you are — they take time out of their day to come spend time with you. So, we like to make each visit pleasant and that's what we care about: great people and providing them with great food.
Chef Works: Tell me about Brandt Beef.
Chef DuVal Warner: Brandt Beef is a company that I truly stand behind. It's a third generation family that raises cattle the right way and really cares about the animals. I feel that with the care that they put into the cattle that they raise, the least we could do is put the same care into the food that we cook for our customers.
Chef Works: Tell me about Ranch 45.
Chef DuVal Warner: Ranch 45, I've been here since day one. It's a local community staple, where we know the customers that come into the restaurant. We're doing everything from scratch, and we put a lot of love and care into the food. We believe in the culinary background that we have, and we believe in the community, and that's why we expanded to make a butcher shop, doing dinner service, and making everything from scratch. From the pastries to the sauces, to butchering our own meat, we utilize everything, including every single part of the cattle to make our own beef soak, soups, stews, and sausages. It's homegrown.
Chef Works: For anybody who's not familiar with the beef industry, what would you share with them from a chef's perspective?
Chef DuVal Warner: As a chef, I think utilizing every part of the cattle is important. A lot of restaurants, a lot of people, only know filets or New Yorks or rib eyes or brisket. There are other parts of the animal that you can use, not only to save money, but also enjoy because it tastes great. It's also about creativity, it's where you can hang your hat: being able to use different parts of the cattle to make dishes great.
Chef Works: And you're a family man. Yeah, how have you been able to balance your culinary career with being a father and a partner and all of that.
Chef DuVal Warner: It was tough being in the military, and being away from my kids for so long. So I made it a point that when I first started in the culinary world, I only worked part time. My kids were in high school and I wanted to help them with their transition into college. Once they got college offers and scholarships ready to go, I put myself into the culinary world full-time. Being able to see my kids grow up as adults, and then having a little one now getting to see him every day, it's a blessing.
Chef Works: Is there anything we haven't asked you that you would really love for people to know?
Chef DuVal Warner: Being in the military was a tough job. No matter what job you do, it can get tough.  I see in the times we live in now; mental health plays a huge part in our life as we know friends and families we lost to suicide. There's always someone you can talk to. There's always help. Even though this is a tough job, even though the times are rough, there's always someone there for you.
Chef Works: Where does your inspiration come from?
Chef DuVal Warner: My inspiration for cooking comes from my family. A lot of the traditional recipes that I do, I stick with what my mom, my aunts and my grandma did, because I feel like some things are meant to be, as they are.
Then you think about an upscaled version of your recipe, you know the elevation of a dish, it comes from within your imagination. Everyone asks for recipes and I feel that myself, every other chef, and every home cook, know that the recipe is within you. I feel like no recipe is original. We're all stealing. We're all putting our own little spin on it. So it's your imagination.
Being able to be at Ranch 45 and work with Brandt Beef, I've been able to use my southern background with the places that I've lived in (New York, Japan, Thailand and New Orleans) and been able to use that influence, some of the flavors in some of the dishes that I do.
Chef Works: Is there a tip or tool that really helped you in advancing in your skills as a chef? Something you think everyone should know?
Chef DuVal Warner: My tips for someone coming to this profession is to ask questions, be a sponge. Some of the things I teach now to the cooks in the kitchen and taught previously in the marines is: add stuff to your toolbox. By having the tools, you'll know which one to pull from. Also, ask questions to get involved and grow. If you wanna advance in this career, you have to learn how to do everything, from customer service to barista, a dishwasher or a plumber, it's all there. So ask questions, be humble, and show up