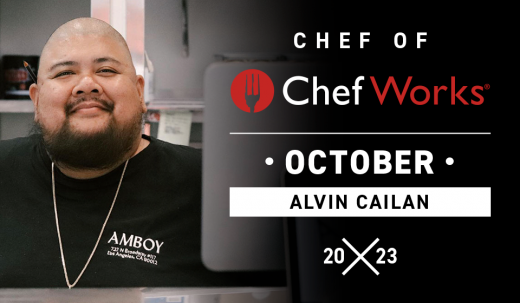 In culinary school, Chef Alvin Cailan wrote a blog about not wanting to become a celebrity chef. "I was actually anti-behind-the-camera," he candidly told Chef Works. However, life had different plans. Chef Alvin not only went on to create the wildly successful concept, Eggslut; he also claimed his spot in the spotlight as host of "The Burger Show" on First We Feast's YouTube channel, culinary consultant for Fox's "Bob's Burgers," and the author of cookbook "Amboy."
We were delighted to sit down with Chef Alvin to learn about his remarkable journey in the hospitality industry, as well as his life's calling: elevating Filipino cuisine to its rightly deserved space in the cultural and culinary conversation.
Chef Works: You have a cookbook and a burger restaurant by the name of Amboy. Can you tell me the meaning behind the name?
Chef Alvin Cailan: I used to go to the Philippines a lot when I was a kid, and my grandma would call me amboy in front of her friends. I was always weirded out by it. I was like, 'Why doesn't she just tell them who I am?' But I think she wanted to explain to her friends that I wasn't from there, that I was from America. In the Philippines, they call people from America who are Filipino amboy. Because there's a distinction: we don't speak the same, we don't speak Tagalog as fluently as everybody else. It's kind of like an excuse: Oh, they're not really from here.
I grew up in East LA, so I grew up in a predominantly Mexican American neighborhood. I was culturally lost. I was Filipino at home. I had Mexican friends at school. And when I went to the Philippines, I wasn't Filipino. It was a really weird dynamic and identity. I didn't know who I was.
My first job was a dishwasher when I was 15 and a half, and I worked at a convent. There I met chefs who would come and cook for newly ordained nuns. They were chefs from Beverly Hills and fancy restaurants from across the world that were hired for this very special occasion. They were like, 'You're so talented. You should go to culinary school.'
Long story short, I started realizing if I mix Filipino food and the techniques that I was learning from working in the kitchen, I could create my own style — which is amboy. Not necessarily Filipino, not necessarily American, not necessarily French technique, but everything amalgamated to one cuisine.
Chef Works: You're not only a chef — but also an entrepreneur, an author, and the host of The Burger Show on YouTube. What did this journey look like for you? Did you set out, knowing you wanted to be more than a chef?
Chef Alvin Cailan: Really quick, like no. I went to regular college just to make my parents happy. When I decided to go to culinary school afterwards, they were not supportive at all. The only way to prove that I could make a name and life for myself as a chef was to be the best. When I first started, I wanted my knife cuts to be perfectly cubed. I wanted my stocks to be perfectly clear. I wanted to become like the next Thomas Keller. In fact, during culinary school, I wrote a blog about not ever wanting to be a celebrity chef. I was actually anti-behind-the-camera.
When you start your own restaurant, I'm not saying you have to sell out, but you have to do certain things that push you out of your comfort zone. A lot of chefs are introverts, and they don't like to show a lot on social media. I went the other way. From the advent of Instagram and the beginning of Eggslut truck, we recorded everything. We took pictures of all our food, all of our shenanigans, and we would put it online on Twitter. It became like something that was a part of your process. It snowballed from there.
We got our first blog post/review from Ruth Reichl, and that really boosted our following at Eggslut. And then we opened up our first brick-and-mortar three years later and had lines out the door. One of the producers of Bob's Burgers was eating on my counter, and he was there all the time. I was like, 'What do you do?' And he's like, 'Oh, I'm one of the producers at Bob's Burgers, and you're a big inspiration.' And I'm like, 'Man, I would love to check out the set one day.' And so, they let me table read with them. I got to meet all the stars of the show. And next thing you know, the creator of the show started asking me like, 'Hey, when a chef is doing this for a burger, what kind of spatula do they use?' We exchanged numbers, and then I became an official Bob's Burgers consultant for food.
Then they asked me to the Bob's Burgers pop-ups in LA and New York. All the local news outlets were interviewing me, then I got a call from First We Feast and they said, 'Hey, we have this burger show. Do you think you can host it?' I was like, 'I've never hosted anything. I don't have a TV personality.' I was super nervous. They said, 'Well, we think you're perfect for this.' And I was like, 'Look, how about this? I'll try one episode. And if that one episode sucks and no one watches it, don't ever ask me to do it again.' And so we filmed our first episode with Adam Richmond, it was released, and we were top three trending videos of the day. It got 3 million views in one day. I was like, 'Oh, crap. I don't have an agent. I don't have any of this stuff. Like, I'm entering this world. Next thing you know, I got a book deal, and I opened two restaurants in New York at that time. The rest is history.
Chef Works: You're highly regarded as being at the forefront of the Filipino food movement here in the US — what does it mean for you to be able to share it with the world?
Chef Alvin Cailan: To be honest, everything. Ever since I was a kid, I was always proud to be who I was because I was different from everyone. I never really had those issues where it's like, 'Oh, like, what are you?' It's like, 'I'm Filipino for sure.' I can't hide it; my nose says it all. And the moment I was able to have a platform, where people would actually listen to me, was the exact moment I started to talk about Filipino food.
Everyone at the time knew me as a chef and creator of Eggslut — and that's great; that's what propelled me to where I needed to be. But that all disappeared the moment I started talking about Filipino food. This is 2015, and in 2015 there was nothing. There was your mom-and-pop, your buffet-style Filipino restaurants, your Salo-Salo Grill — there was a handful that everyone knows that's been around for the last 20 years. But there wasn't actually a chef-driven Filipino concept. And I always pose that question to crowds of Filipinos whenever we talk about food: Why is it that if you go to a Thomas Keller or a Wolfgang Puck restaurant, there's a Filipino chef there, but we don't have a Filipino restaurant like that? That was really my platform. I was like, 'Hey, I know that I know that we're here. So why aren't we cooking Filipino food?
We started this really cool culinary friendship in Los Angeles with the sous chef of Bestia, the bartender from one of the fanciest restaurants here 71Above, and all these Filipinos that were working behind the scenes. Then I created this culinary incubator here in Chinatown, and we would just hang out, cook together, and do popups together. Next thing you know, we're getting written about.
Eight years later, we have a Michelin star, we have James Beard award winning in not just restaurants or chefs, but in journalism and books. In the last seven years, there's always been one Filipino concept in the top restaurants for Bon Appétit, New York Times, or Food and Wine Magazine. Being a part of that and watching it grow… honestly, it's what I feel like I was born to do.
Chef Works: What's always in your pantry and/or fridge?
Chef Alvin Cailan: I always have white rice. It's kind of embarrassing because during the pandemic, I had bought two- to three-hundred pounds of white rice because who knew what the hell's gonna happen? Then I bought 50 pounds of lentils. And I've probably gone through four times the amount of white rice and I still have like 30 pounds of lentils left. So long story short, I have a ton of white rice. I always have spam. I have the trio: I have corned beef, Spam, and Vienna sausage in my pantry at all times. It's like a subconscious sign of like, you're doing okay, and everything's fine as long as those things are in your pantry.
Chef Works: If you could host anybody, living or dead, for dinner and cook for them — who would it be?
Chef Alvin Cailan: I think Kobe Bryant, number one. That dude had such an impact in my life. Kobe mentalities — I credit a lot to why I'm where I'm at. Anthony Bourdain, for sure. And then, Ina Garten. I love her energy, and I love how she puts people first. This is a big tip, by the way: as a chef, you don't cook for yourself. You cook for your clientele and you cook for your guests. Ina Garten is the definition of that. And lastly, if this is going to be a holding court situation, with two male guests and two female guests, I'd probably say Beyoncé. Because in a sense, she's a wildcard. I've cooked for her before, and she has a very specific diet. But she also ordered a really crazy bottle of wine that night, so she knows what she's doing.
Chef Works: Favorite Filipino dish?
Chef Alvin Cailan: I'm gonna go with sinigang for sure. The old-school kind with the packets. That style, extra sour.
Chef Works: What veggies do you put in your sinigang? Every family does it differently.
Chef Alvin Cailan: I love that squash — it's called patola. I need to have the bok choy in there. I need to have the flecks of tomato. And then, oh! The yellow pepper. I have to have that. I have to smash it into my rice. That's super important. You can throw in green beans if you want; I'm cool with that. But I think I need to have bok choy. I need to have that squash. And I need to have chili peppers, for sure.
Chef Works: What's next for you?
Chef Alvin Cailan: For the rest of my career, I just want to pay it forward. I was given a lot of opportunities that a lot of chefs and cooks were not, so I want to create a sustainable restaurant group where people who look like me won't be overlooked because of their race. I know I'm gonna keep opening restaurants purely because of the demand for it. But as I grow, I want everyone to grow with me.
Chef Works: Speaking of making this career path sustainable, do you think expanding into all these different projects is what helped make it sustainable for you?
Chef Alvin Cailan: Partly. I'd say being able to get out of the kitchen once in a while is great. But ultimately, what made this whole thing sustainable is loving it. This is definitely something where it's not a job. It's your life. It's not about reaching a certain pinnacle: 'I want to be an executive chef, or I want to have my own restaurant.' It goes beyond that. So I think the sustainability for the restaurant industry is determining whether or not you want to do this.