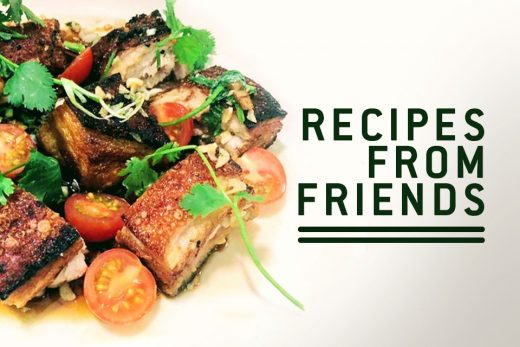 A conversation recently broke out in the Chef Works® marketing room about visiting Hawaii in the winter. We're based in San Diego. So when the temperature drops below 70 degrees, the city goes into a tizzy.
Turns out that even on the islands, things can get a little cold. That got us to thinking, what's a nice warm, winter Hawaiian dish?
We turned to Chef Luis Axalan, friend of the Chef Works® blog and former executive sous chef at Pearl Country Club Aiea on the island of Oahu. He's well-versed in farm-to-table concepts, high volume restaurants and large banquet events. He's currently preparing for his pop-up event, Blanc Market by Lui.
Readers might remember Chef Axalan submitting a guest column last year about the meaning of the Hawaiian word "Ohana."
Now he's sharing a recipe – crispy pork belly Kawali – that definitely ticks the "warm" box.
"This is a crispy, delicious and comforting dish," Axalan said. "I'd recommend serving this with rice and an ice cold beer or delicious wine."
---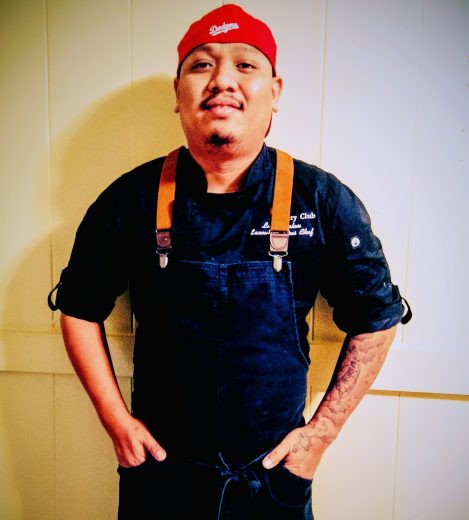 Crispy Pork Belly Kawali
Marinated pork belly 
— 8 Lbs whole pork belly
— 1/2 cup bay leaves
— 1/2 teaspoon of black peppercorn
— 2 cups of Shoyu
— 1 cup of garlic
— 1 cup Shaoxing
— 1 cup of fish sauce
— 1/2 cup apple cider vinegar
— 2 quarts of water
— 1 bottle of Red Horse beer (or any other strong lager)
Preheat oven to 300 degrees. Put pork belly into roasting pan and add all ingredients. Bake for three hours. Make sure internal temp is 165. Cool and cut into 6-oz. portions. Par fry at 325 to brown the outside and let cool. Final fry at 350 degrees for 3-5 minutes or until crispy. Season with salt and pepper.
Toppings
— 3-oz of halved heirloom cherry tomatoes or cherry tomato
— 1 sprig of cilantry
— ½ cup thinly sliced onion
— 1 tablespoon of scallions
Mix together in a bowl.
Kawali Sauce 
— 1 cup soy sauce
— 1/2 cup fish sauce
— 1 cup garlic
— 1/2 cup water
— 1 teaspoon mince garlic
— 1 teaspoon green onions
— 1 teaspoon dice red onion
— 1 teaspoon dice white onion
— 1/2 teaspoon black pepper
— 1/2 teaspoon Tabasco
— 1/2 teaspoon minced cilantro stems
Mix sauce, combine all ingredients and enjoy with friends, family and loved ones.
---
If you're interested in submitting a recipe for the Chef Works® blog, email kgemmell@chefworks.com