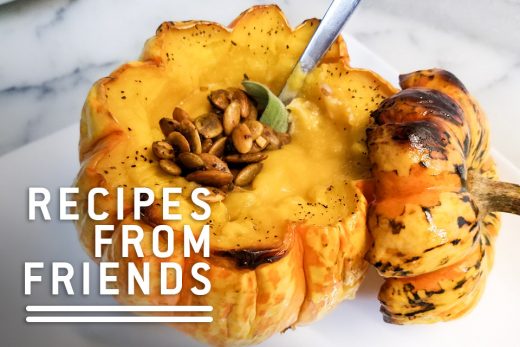 Aside from providing a sugar rush, Halloween also marks the unofficial start of the Holiday season. It's the blend of fall colors, warm flavors and comfort-food goodness reminding you that Thanksgiving and Christmas are but weeks away.
But All Hallows Eve doesn't always have to be about sweet treats. If you're planning on staying in this week while waiting for the ghosts and ghouls to knock at your door, you're going to want something pleasant and toasty. We've got the recipe for you!
Chef Keesha O'Galdez, a friend of Chef Works, concocted something just for our blog to satisfy the stay-at-home crowd this Halloween. She's the owner of Gourmet Diva Inc., in New York City, Personal Chef Services and the pop-up dining series Supper and Sip.
Enjoy this not-so-spooky Halloween edition of Recipes from Friends!
ROASTED SQUASH SOUP WITH BROWN BUTTER SAGE PUMPKIN SEEDS
Servings: 6 Cups
1 large butternut squash (about 3 pounds or an assortment of different squashes), halved vertically and seeded
1 tablespoon olive oil, plus more for drizzling
½ cup chopped shallots
1 teaspoon salt
4 garlic cloves, minced
1 teaspoon maple syrup
⅛ teaspoon ground nutmeg
pinch of red chili flakes
Freshly ground black pepper, to taste
Up to 4 cups (32 ounces) vegetable broth
1 -2 tablespoons butter, to taste (substitute olive oil for dairy free/vegan soup)
INSTRUCTIONS
— Preheat the oven to 400 F and line a rimmed baking sheet with parchment paper. Place the butternut squash  on the pan and drizzle each half with just enough olive oil to lightly coat the squash on the inside (about 1 teaspoon each). Rub the oil over the inside of the squash and sprinkle it with salt and pepper. Turn the squash face down and roast until it is tender and completely cooked through, about 45 to 50 minutes. Set the squash aside until it's cool enough to handle, about 10 minutes. Then use a large spoon to scoop the butternut squash flesh into a bowl and discard the tough skin.
— In a medium skillet, heat olive oil over medium heat. Add the chopped shallots and salt. Cook, stirring often, until the shallots have softened and are starting to turn golden on the edges. Add the garlic and cook until fragrant, stirring frequently.
— Transfer the cooked shallots and garlic to a food processor or high-power blender. Add the butternut squash, maple syrup, nutmeg, chili and a pinch freshly ground black pepper. Pour in 3 cups vegetable broth, (you can work in batches if necessary, and stir in any remaining broth later).
— Blend until creamy. If you would like to thin out your soup a bit more, stir in the remaining cup of broth. Add 1 to 2 tablespoons butter or olive oil, to taste and blend well. Taste and stir in more salt and pepper, if necessary.
— Serve immediately and top with brown butter pumpkin seeds.
FOR PUMPKIN SEEDS
2 tablespoons butter
1 cup raw shelled pumpkin seeds
3 tablespoons chopped fresh sage
Extra virgin olive oil
Sea salt
Pepper
— In a small pan melt the butter over medium-low heat until it is golden brown about 12 minutes and has a nutty smell.
— In a bowl, toss the brown butter, pumpkin seeds and sage plus a pinch of salt and pepper. Spread the seeds in an even layer on the baking sheet. Bake for about 20 minutes until golden brown, stirring a few times.