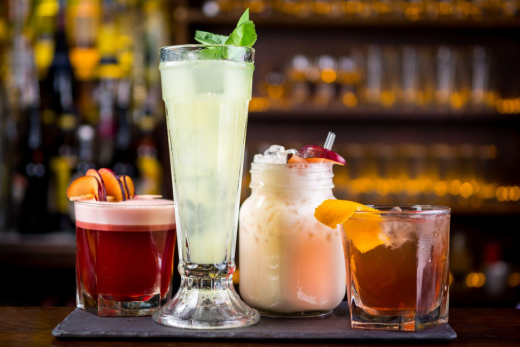 We often see the beginning of the new year as a time to reset: to set intentions for the upcoming year and close out old chapters from the year prior. Every year in January, many Americans join the annual detox challenge called Dry January, where they abstain from drinking alcohol for the entire month.
Dry January first began in the UK in 2013 as a public health campaign hosted by Alcohol for Change and has since expanded to the US and other countries. Since that first Dry January (that amassed 4,000 participants), millions have taken on the challenge and are continuing the movement. And for good reason. Between 2011 and 2015, the leading causes of death attributed to alcohol in the US were cardiovascular disease, liver disease, liver cancer, breast cancer, and hypertension, amongst many others.
As the world consumes less alcohol and more non-alcoholic beverages, we're seeing a shift in the industry, creating new growth opportunities. In the US, non-alcoholic beer and spirits have grown at a steady pace and now account for over $414 million in sales, according to BevAlc Insights. This rise in non-alcoholic beverages and Dry January has caused a shift in consumer preferences and the industry as a whole. Here are just a few ways we see the Mocktail Movement shaking up the industry.
Mocktails can be craft, too
While non-alcoholic alternatives have been available for some time, with cult classics like the Shirley Temple and Roy Rogers, the Mocktail Movement has brought attention to makers shedding the narrative that non-alcoholic beverages are watered-down versions of their alcoholic counterparts. Mocktail brands like Seedlip and Fever-Tree are changing the landscape of the industry and challenging the status quo with their delicious and complex flavors and high-quality ingredients.
Started by Ben Branson, Seedlip was created to serve as a sophisticated, good-for-you alternative to the often sugary drinks that characterize the mocktail market. Initially only selling to restaurants, Seedlip is a prime example of how some mocktail brands are putting a sophisticated spin on this sector of the industry, taking a more artisanal and timeless approach to the traditional 'mocktail' experience. And Seedlip isn't the only one making waves in this space.
Not just mocktails
Spirits and beers aren't the only beverages getting the dry treatment. The non-alcoholic wine market has been one of the fastest-growing segments of the beverage industry worldwide.
The global non-alcoholic wine market now stands at $2 billion and is expected to reach $5.2 billion by 2033. With non-alcoholic wine, you can get the taste, aroma, and experience of a glass of wine without the buzz. And with its many benefits to both the health of consumers and the planet, restaurateurs and bar owners alike are embracing this new category of wine.
Sean Brock, chef and owner of Audrey in Nashville, TN, created a wine proxy in 2022 in collaboration with Acid League. In his experimentation with the product, Brock took a mixture of apple cider vinegar, tea, spices, and personal ingredients like pawpaws and pine (a nod to his Appalachian roots) to complete the experience. What came of it was a wine proxy that now has a home on his restaurant's menu.
Brock and many other chefs and bartenders have used this trend as a way to experiment with new flavors and pairings that go beyond traditional wine pairings. This has allowed chefs to tap into their creativity and culinary innovation while still appealing to wine lovers.
Dry bars aren't just for hair
Bars and sobriety don't typically go hand-in-hand. However, with the rise of the sober bar, the once-exclusive experience of alcohol is now available to a whole new generation of drinkers.
From New York to California, sober bars are popping up all over the country. And in most cases, bar owners are finding that customers are more than willing to pay the same price point for a non-alcoholic drink as they would for a standard cocktail. For many people, it's a social experience that allows them to participate in the drinking culture with their friends without the negative consequence of intoxication, and that benefit far outweighs the cost.