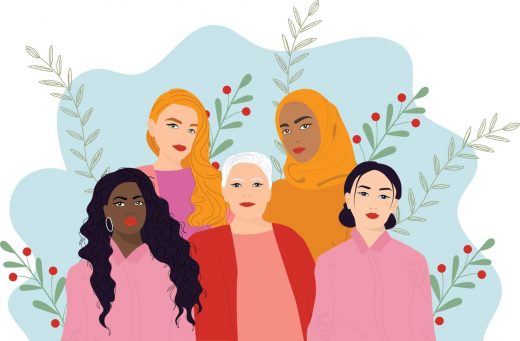 March is Women's History month, and we'll be celebrating all month long with incredible stories from chefs who identify as women. To celebrate Women's History Month is to honor the many ways of being a woman. It's about highlighting the achievements of the woman who stays home to care for her family just as enthusiastically as the glass-ceiling-breaker at work. It's about acknowledging and celebrating the many different kinds of femininity and strength. 
In this edition of Weekly Bites, we're kicking off our Women's History Month celebrations by putting together a list of 6 cookbooks by women authors that themselves honor the contributions of women. These cookbooks are not only written by women, but speak to the experiences of women both in the home kitchen and professional kitchens. 
There is perhaps nothing as radical as self-love, and that's what "Table for Two" is all about. Despite the title, this cookbook comes from the idea that love and romance shouldn't be reserved just for a partner. That Tuesday night dinner for one (despite the title of the book) can have just a twist of romance. The book is filled with simple but impressive recipes that imbues staple foods with just a little bit more care, or love. 
In this way, "Table for Two" is about the often unrecognized labor that goes into maintaining relationships. Far from oppressive, the book urges readers that all it takes is a little extra finesse with food to set the intention of love and care, freeing cooks from the pressure of making elaborate meals. 
One line from the book sums it up; "Fight for delight in all you eat and with everyone you love."
No cookbook shelf is complete without a cookbook of fast, easy recipes for everyday use. In this day and age where cookbooks are more like memoirs, those kinds of staples are harder to find. Plus, the basic cookbook you may already have probably reads as outdated, trading health for convenience. 
"Cook as You Are" is the cookbook staple for 2023. It's for the home cooks that love putting a meal together, but can't do so without the kitchen looking like a battle zone. "Cook as You Are" is filled with recipes for when you don't want to chop up anything, or recipes that only use one pot. It's the kind of cookbook that acknowledges the work that goes into putting food on the table, and makes it just a little bit easier. 
Where would we be without grandmothers? Without the great matriarchs in our family whose hands nourish us and who carry the knowledge of our culinary traditions from generation to generation? Many chefs — women and men alike — have kickstarted their careers thanks to their grandmothers. "In Bibi's Kitchen" is an ode to bibis — grandmothers — from East African countries. The book includes 75 recipes from around East Africa that would be a valuable resource to any second or third generation immigrant from East Africa who may need a little bit of help learning about their culinary traditions. 
In addition to recipes, "In Bibi's Kitchen" tells stories of family, loss, migration, and sanctuary. 
"Essentials of Classic Italian Cooking" has been somewhat of a bible for Italian cooking for years now. Countless Italian American families have a copy, with yellowed pages and a torn book jacket, that they consult frequently. If you own a copy and you're worried about it surviving for the next generation's use, the good news is that the classic cookbook is being released in a new 30th anniversary edition. 
In this cookbook you'll find recipes for staples, like the best tomato sauce ever, as well as some special occasion recipes, like risotto with clams. Where this book really shines is Hazan's vegetable forward recipes. She has entire sections dedicated to the treatment of each vegetable, and each recipe honors produce. 
Marcella Hazan was often called "the queen of Italian cooking", and taught countless Americans about the varied cuisines of Italy. Her legacy lives on in her well-loved cookbooks. 
"Rambutan" is a love letter to Sri Lankan food from the perspective of Shanmugalingam, a second generation immigrant who grew up in the U.K. The book provides more than 80 recipes from Sri Lankan cuisine, but it also tells the story of someone piecing together where these culinary traditions came from. Sri Lankan cuisine includes influences from Javanese, Malay, Indian, Arab, Portuguese, Dutch and British cuisines, and parsing out all of those influences can be complicated, especially in a diasporic community.
If you've ever wanted to explore Sri Lankan food, or can relate to a multicultural immigrant experience, then this cookbook is for you.

La Cocina is an organization that provides kitchen space and marketing assistance to women of color and immigrant communities. In the "We Are La Cocina" cookbook, the food and stories of the women that La Cocina has helped come alive on the pages. Recipes span the globe, so this is a great cookbook for anyone interested in recipes from different culinary traditions. 
The cookbook even has a forward penned by acclaimed author Isabel Allende who often writes about the magic of womanhood and migration.