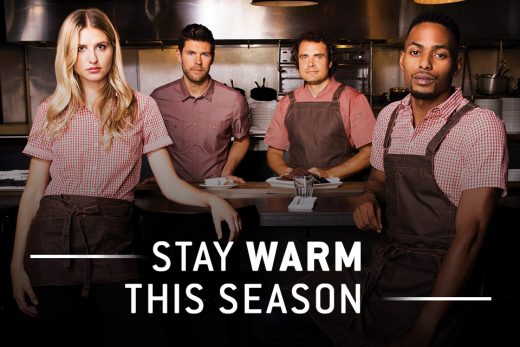 "The Starks are always right eventually: Winter is coming."
Actually, it's here. And with at least two more months of winter ahead of us — groundhog activity pending — and the bulk of the country facing weeks of snow and rain, things can get a little drab. It's even worse when it's cold outside and you're sweating away in a hot kitchen or waiting tables.
So why not infuse a bit of color to make the dark days brighter? We're not suggesting you go full-blown neon or pastels. It's not 1986. But brightening up your kitchen or front of the house can do wonders for your brand awareness while bolstering pride.
---
Let's start with the back of the house!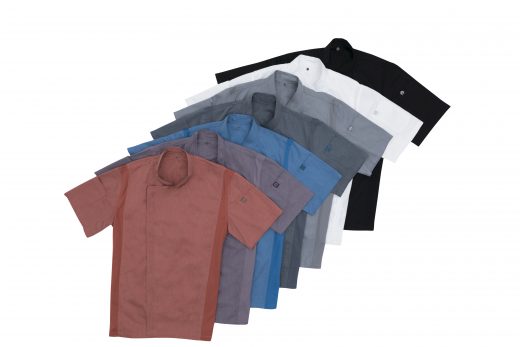 ---
The Springfield Chef Coat from our Essential Collection is a good kicking off point. With seven different colors to choose from, Springfield has the hues to get your kitchen humming in exclusive cuts for men and women. Of course, we offer the traditional white and black for those who like to keep it simple. But adding shades of sky blue, ink blue or brick can bring a splash of joy to even the gloomiest of days.
The short-sleeves, Cool Vent™ sides and lite-twill fabric make it perfect for keeping cool when you need to. And the zip-up front makes for a quick transition from that winter coat to your work gear.
---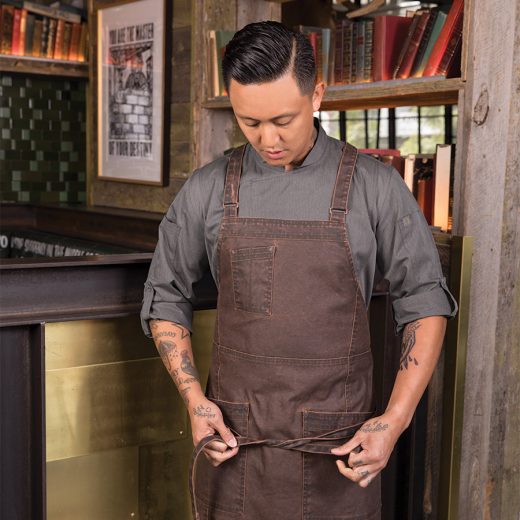 ---
If you want longer sleeves, but like the Cool Vent™ and zipper option, the Hartford Chef Coat – available in five different colors – is the way to go. Like the Springfield, it's available in a women's style and has all of the fantastic details – like the back-collar apron holder, thermometer pocket and utility pockets. And the roll-up sleeves make it perfect for staying warm or turning them up when it's time to get to work.
---
Now, let's talk FOH!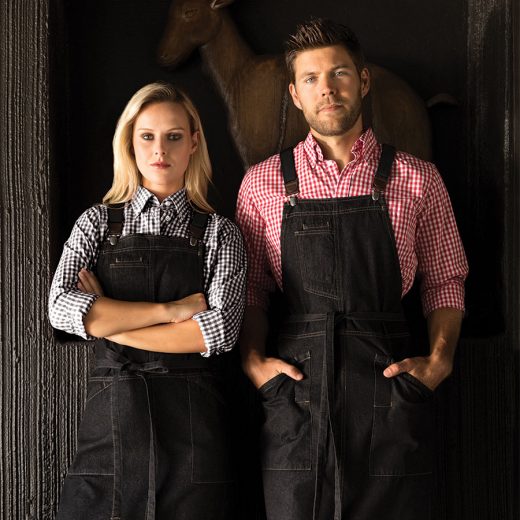 ---
There are lots of color options to choose from, depending on what styles you like. From the short sleeve Havana to the long-sleeve Gingham, there are palettes aplenty. Pair it with a denim apron like the Berkeley (hundreds of color combinations!) or a muted-tone Uptown or Corvallis and you've got a seasonal look that is fresh and vibrant while echoing the tones of winter.
While we don't recommend wool beanies in the kitchen (for heat and safety reasons!), we are definitely all for pairing the Springfield coat with the Springfield Beanie for a coordinated, top-to-bottom look that's fashion-forward and functional!
Don't let the colder weather get you down. Winter may be here, but you should never feel like your style is hibernating.