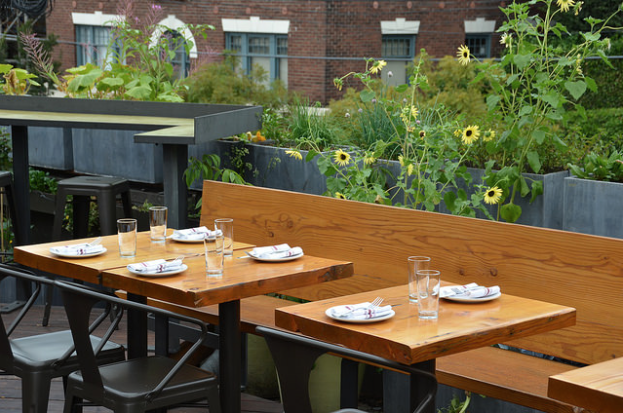 (Source: Flickr)
Choosing a restaurant space can be tough: it's hard to visualize how it will look after it is built out, and it's hard to know what pitfalls you will discover as you embark on the process of opening your establishment. However, there are certain things that you can take in mind before committing to a space that can help you avoid common pitfalls that can hinder your business from thriving.
Here, we'll take a look at nine different things to consider before you sign that lease: by looking for the right things, and taking heed of red flags, you can choose the best location for your business, and help avoid potential roadblocks along the way.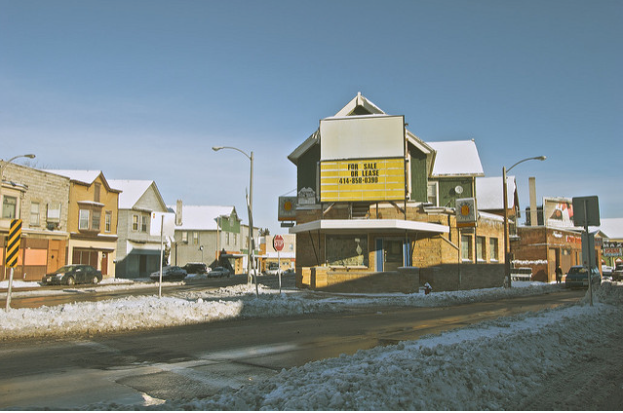 (Source: Flickr)
How do you choose a restaurant space? How do you even begin to find a restaurant space? While there are infinite ways that you might come across a space, here are some common approaches:
Realtor:

Finding a realtor who specializes in retail / commercial rentals is a great way to embark on your space-scouting endeavor. While they may demand a finder's fee, they should be able to offer expertise, advise you on various aspects of the space, and to help negotiate your contract. This makes the fee well worth it if you find the exact right space, especially in a very competitive market such as a big city.

Management companies:

If you'd like, you can contact commercial real estate management companies directly; that way, you will not have to give a fee to a realtor, but you will be responsible for negotiating a lease yourself. You can easily find such companies by looking up "commercial retail management company (your city here)".

Online listings:

Online listings are a great way to browse what's available in the area you'd like to open your restaurant. You can look at listing sites such as Craigslist, or simply looking up "restaurant spaces available (your city here)".

Restaurants closing:

Keep an eye out for restaurants that are closing; chances are, they want to find someone to take over the space, and you may be able to negotiate a good deal on the rent. As an added bonus, chances are the kitchen won't require too much of a tune-up, thus reducing

restaurant opening costs

.

Walking around town:

If you have a neighborhood in mind for your restaurant, spend time there. Walk around, talk to store owners, look at the retail spaces available. Who knows: you might get a scoop on a hot spot that is opening up that hasn't even hit the market yet!
9 things to look for in a potential restaurant space. Once you've started looking at spaces, look for these things. While you may have to compromise on one thing or another, you should be able to check off several of these.
A good landlord.

It's a simple truth: a bad landlord is bad news. If your potential landlord is sketchy and non-communicative from the get-go, consider this a big red flag. If he or she is unresponsive during the time when they should be "selling" you on the space, what are they going to be like when you're committed in a lease? You want a responsive, responsible landlord who will be quick to assist if things go wrong with the space.

A just-right amount of space.

Let's call this the Goldilocks-effect. You want a space that is not too big, and not too small. This will tie into your restaurant's

concept

, which hopefully you've already fleshed out in your mind. For instance, if you're looking to open up a cozy Irish pub, you don't want a cavernous space with high ceilings. On the flip side, if you want a sports bar that can accommodate a super bowl crowd, you don't want a tiny spot with two tables.

Clean neighbors.

Scope out the businesses around the spot you're considering. Are the neighboring businesses clean, tidy, and friendly-looking? Or is there trash strewn on the sidewalk, with a constant circle of smokers lingering outside of the bar next door? Your surroundings will affect your business, so make sure that you're surrounding yourself with businesses which are aligned with your vision.

A great location.

Location is super-important for restaurants. In general, If it is too hard to find, or too out of the way, you are doing your restaurant a disservice from the get-go. Of course, if it's a retreat tucked into the woods or a destination restaurant, these might be exceptions. But in general, a well-trafficked, easy-to-get-to location is your best bet.




(Source:

Flickr

)

Parking.

Unless you're in a big city where people use mass transit like New York or San Francisco, having good parking options can be important. Most people don't like trolling for parking, and you might lose some customers if they can't find a parking spot easily. If this is applicable in your area, be sure to offer ample parking–it may just make someone decide on you over the competition!

The right price.

Do not rent a space that is way over your budget. This can put you in debt and stress you out, especially in what can be a slow few first months as you build up business and have to pay servers and

staff

, even if you're not turning a profit. You can always

expand

later, if your restaurant is a success!

A rent that doesn't have hidden costs.

Perhaps you've found a space where the rent seems too good to be true. Well, it could be. Check what the rent includes…and what it does not include. If your rent is $1700 but then you have to pay $800 in maintenance fees plus cover electric and heat on top of it, all of a sudden your rent is getting closer to $3,000 per month. Be sure to get a realistic idea of the full cost of rent and utilities when talking to potential landlords.

Look for work that's already been done for you.

If you find a space that was previously a restaurant, a lot of the work may already be done for you. Sure, the kitchen may need revamping, but consider this: if the space has already been used for something similar to what you have in mind, it might be a great way to get into the business with some of the expenses removed from the equation, freeing up your budget for

uniforms

, decor, and other details that will make your restaurant unique.




(Source:

Flickr

)

A clause for breaking the lease.

Nobody wants to break a lease, but as they say, stuff happens. If your sales aren't meeting quota, or if you experience a family emergency, you have to be sure that you can make a clean break. Be proactive in inquiring with your landlord about this, making it clear that you don't intend to break the lease, but would like to find out what needs to be done if you must. Often, if you assist a landlord in finding a new tenant, they are more lax about your breaking a lease.
Conclusion: Choosing the right space for your restaurant takes time, effort, and a lot of consideration. By taking the time to consider these nine points in a potential restaurant space, you may save yourself a huge headache and time and money in the long run. It's worth very carefully considering a space before signing a lease so that your business can thrive and grow in just the right place.  
How did you find your restaurant space?