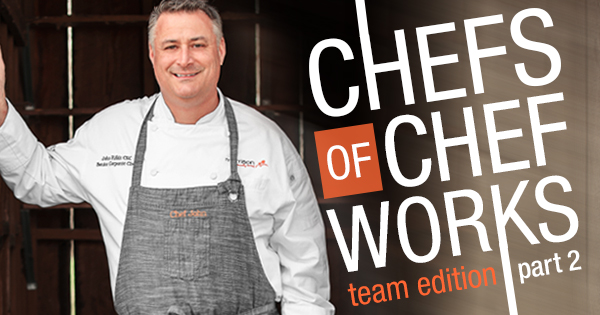 Chef John Rifkin
Question 1: Where did you get your start?
"I first started out on milk crates, washing pots & doing dishes.
Unlike most, my father was a chef and my mother was a server. They did not own the company so to spend time with them, I had to work busting suds at first."
Question 2: What is your favorite dish?
"Right now, it is working with very nutrient dense foods, and working to get the absolute most nutrition from them while still ensuring the flavor is right."
Question 3: What was your favorite dish as a child?
"Chicken parmesan (and still is) with crispy chicken breast, fresh tomato sauce, melted mozzarella cheese, served with fresh pasta. Whats not to like?"
Question 4: Who inspired you to be a chef?
"My dad and my cousin Bobby. They both gave me tough love while working in the kitchen but it was never too harsh."
Question 5: What would you be doing if you weren't a chef?
"I would be a farmer."
Question 6: What advice can you give an aspiring chef?
"Always run to food. If you truly love it, you will."
Question 7: Is there anything you would have done differently in your career?
"I would have gotten into the senior living industry a lot earlier in my career. It is so rewarding to hear the stories and have the ability to give so much satisfaction back to them through food."
Connect with Chef John Rifkin:
Facebook: morrisoncommunityliving
Twitter: @MorrisonCLiving
Instagram: @morrisoncliving