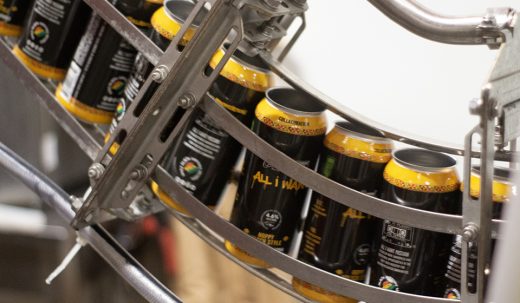 Can beer be a medium for social change? Kemet Ackee, a young Black entrepreneur based in San Diego, says yes.
After serving for nine years in the Army, Kemet joined Paving Great Futures, a nonprofit that provides entrepreneurial and workforce readiness training programs. Kemet soon launched All My Friends Are Rappers, a brand that promotes positivity, self-expression, creativity, and talent throughout the community.
Kemet started with clothing and accessories, then quickly expanded into craft beer in 2020 when he became aware of the craft beer industry's lack of diversity. Kemet's business mentor, Armand King, connected him with Marty Mendiola and Virginia Morrison of Second Chance Beer Company.
In 2022, All My Friends Are Rappers collaborated with Second Chance Beer Company and Chula Vista Brewery to release a limited edition beer in honor of Black History Month. It's called "All I Want" — an ode to Kemet's brand — and it's a delicious, hoppy Kölsch-style beer. It completely sold out and even garnered attention from San Diego's ABC 10 News. 
Lucky for us, All I Want is back for a second round of Black History Month celebrations. Secure your limited edition pint by visiting one of Second Chance Beer Company's taprooms in Carmel Mountain and North Park. Select retail locations around San Diego County carry 4-packs. What's more, if you're a restaurant owner looking for a refreshing way to celebrate Black History Month, you can even pick up a keg (details below).
Make plans fast — only a small batch of All I Want has been brewed. And for the super fans, Kemet has even released a premium All I Want t-shirt.
Armand observed, "The craft beer industry is great, but most companies don't cater to anybody other than white male hipsters. So this is a first step."
"We can bring a whole community into craft beer, which I think is untapped," Kemet shared. "There are not a lot of Black and brown people that I see in the industry… I do not feel that it is being gatekept or guarded, it is just that people do not take interest in things they do not know about." Kemet's mission is to share what's possible when it comes to craft beer, by paving the way himself. "Bringing more attention to it will bring more people to it."
Kemet has his eyes set on opening an All My Friends Are Rappers Taproom in the near future.
To purchase All I Want, visit Second Chance Beer Company in North Park or Carmel Mountain. If you're a restaurant owner in San Diego or Inland Empire, don't forget to score a keg of this purpose-driven beer for your guests — they'll be sure to love it. Just call in advance to place your order.