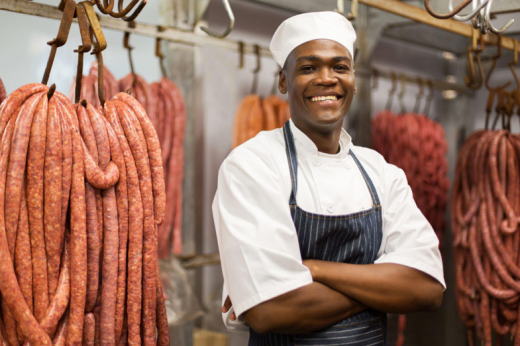 In this special Black History Month edition of Weekly Bites, we're talking about Black representation in the culinary industry — not just in a restaurant kitchen, but in other food spaces as well.
Legacies of racism and discrimination leave many industries where Black people don't feel welcome. Issuing formal laws to prevent discrimination isn't enough. The lack of Black representation sends the devastating message — even if unintentional — that Black people won't be welcome in that space. That's why certain roles in the culinary industry, like head chef or butcher, are still lacking in diversity and representation.
Read on to learn about an organization of Black butchers, how Black chefs are taking up space in the vegan industry, and how one chef is bringing the flavors of Black cuisine to fine dining.
Butchers used to be integral parts of our neighborhoods, providing high quality cuts of meat. With the increased reliance on farmed meats in America, the art of butchery has been relegated to the land of "artisanal" and "specialty." And it's a predominantly white industry.
Black Butchers United, co-founded by Dylan Carasco and Norman Nesby Jr., is trying to change that. The small group of about two dozen butchers from around the world meet on Zoom to discuss all things butchery. From business strategy to sourcing issues and butchery techniques, the group serves as more than just a useful resource. It's a group that increases the visibility of Black butchers.
Specialty butchery is a mentorship-based field, where mentors train apprentices for years at a time. Along with many other mentorship industries, butchery has a serious lack of diversity that continues from generation to generation as butchers are more likely to mentor people who look like them. On the other hand, meat production plants are filled with people of color, doing similar work. Black Butchers United is also working to bring people in from the meat production plant so they can apply their knowledge to the art of butchery.
Some of the most innovative fast food in America today is coming from Black vegan chefs. Black chefs around the country are opening restaurants that are offering the very best of Black cuisine with a vegan twist. Dishes like jackfruit BBQ, fried cauliflower po-boys, jackfruit-seitan chicken wings are attracting vegans and non-vegans alike.
Veganism rose to popularity in America in the 2010s. While vegan food is very common in many parts of South America, Africa, and Asia, the vegan-craze in America was — and still is — predominantly white. Vegan dishes made with expensive ingredients started popping up in fine dining restaurants with white chefs and enjoyed by mostly white diners. Veganism is associated with a certain amount of privilege to be able to afford fresh, nutritious food, and plan meals around being vegan.
Restaurants like Vegan Mob in Oakland, and Slutty Vegan in Georgia, NY, and Alabama are shifting the narrative by showcasing vegan food in non-white cuisines.
Chef Kwame Onwuachi rose to fame after a stint at Eleven Madison Park and an appearance on Top Chef. Now, he's opening a new restaurant, Tatiana, in Lincoln Center in New York. The new restaurant showcases a blend of Nigerian, Jamaican, and Creole cooking.
In an interview with GrubStreet, he describes his menu as "the food of immigrants. That's what I love about my background. I'm able to tell a lot of stories of the Black experience around the globe."
Tatiana is about showcasing African cuisines in the context of fine dining. Dishes from Chef Kwame's own heritage aren't the only thing on the menu, however. There are also Moroccan influences, like m'semen, a Moroccan bread. He worked in Hot Bread Kitchen, an incubator for refugee women, and there learned Moroccan dishes. In many ways, this reflects the immigrant experience. It's not just about cooking food from the places you've come from, but sharing and learning from communities around you.
While the menu jumps around regions in Africa, it's also uniquely New York. Tatiana is located in Lincoln Center, which was built on the San Juan Hill neighborhood. San Juan was a predominantly Black and brown neighborhood, and the people there were displaced so Lincoln Center could be built. It's also the home of a New York favorite — the chopped cheese. Chef Kwame pays homage to the chopped cheese by offering a fine dining version on his menu.