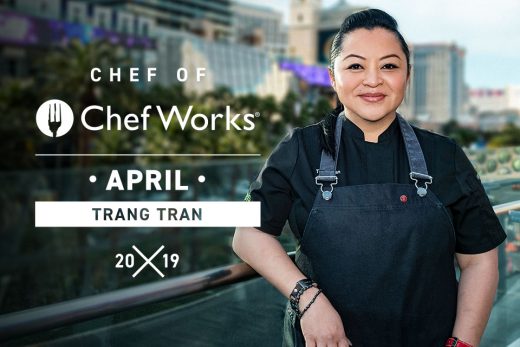 ---
Each month we feature a Chef of Chef Works. If you're a fan of Chef Works gear and are interested in being featured, email kgemmell@chefworks.com. Pictured above is our April Chef of Chef Works, Trang Tran, photographed in her Roxby Executive Chef Coat and Boulder Bib Apron. 
---
For Trang Tran, there was no "a-ha" moment where she knew she was going to be a chef. Rather, it was decades worth of self-discovery. The influence was there at a young age and was later actualized when she identified her true passion.
The Las Vegas-based CEO of michefs network took some time to chat with the Chef Works blog about her early influences, running a company and the non-profit she's launching.
You have a lot of projects working right now. What inspires you?
Trang Tran: I find inspiration in the world around me and in every facet of life. I wake up with love and gratitude in my soul and keep an open mind and heart. I have been very fortunate to have an exciting career. I'm constantly finding my inspirations by pushing myself to progress.
What were some of your early culinary influences?
TT: Definitely my family, but particularly my maternal grandparents. They have both passed, but what they taught me remains. I grew up in a large-small family. Small, because I only have one brother. But large because we spent so much time with extended family. My mother has eight brothers and sisters and they're Catholic. The holidays were always nuts and incredible.
How did that later translate into your career as a chef?
TT: I knew I loved food at a fairly young age through consumption and observation. As I got older, and was expected to help in the kitchen, my love grew through learning and preparation. After some life changes, it was time to reinvent myself again. I searched within to identify my passion in life. The prominent passion was food.
I moved to Pasadena, Calif. to attend the California School of Culinary Arts. I fed many prominent people in Los Angeles in some unusual locations. It was an exciting time in my career and I've had many great contributors. I've been extremely fortunate to work with some amazing, award-winning chefs at some of the top luxury hotels in California, Arizona and Nevada.
You clearly have an entrepreneurial spirit. Tell us about the michefs network?
TT: We are a culinary and hospitality consulting firm. We have a product line we're launching through our manufacturing and distribution partner – Steelite International. We are set to launch at the National Restaurant Association Show in Chicago next month and we couldn't be more excited. It's so fun to see a project come to fruition. It has been a lot of fun, hard work, diligence and persistence.
What's your favorite part of your job?
TT: My favorite part of my job is that it isn't a job. It is a life and I live it every moment of every day. Sometimes I win, sometimes I lose. But I am always living as a chef.
Do you have a favorite cooking style?
TT: I have traveled and lived and immersed myself in many cities and regions across the country and each holds a special place in my soul. Asian food is obviously a majority holder. I am actually in Maui right now where I went to a farmer's market and will be preparing some vegan food for a friend. My favorite will always be finding high-quality product still warm from the earth and then cooking it for the people I care for.