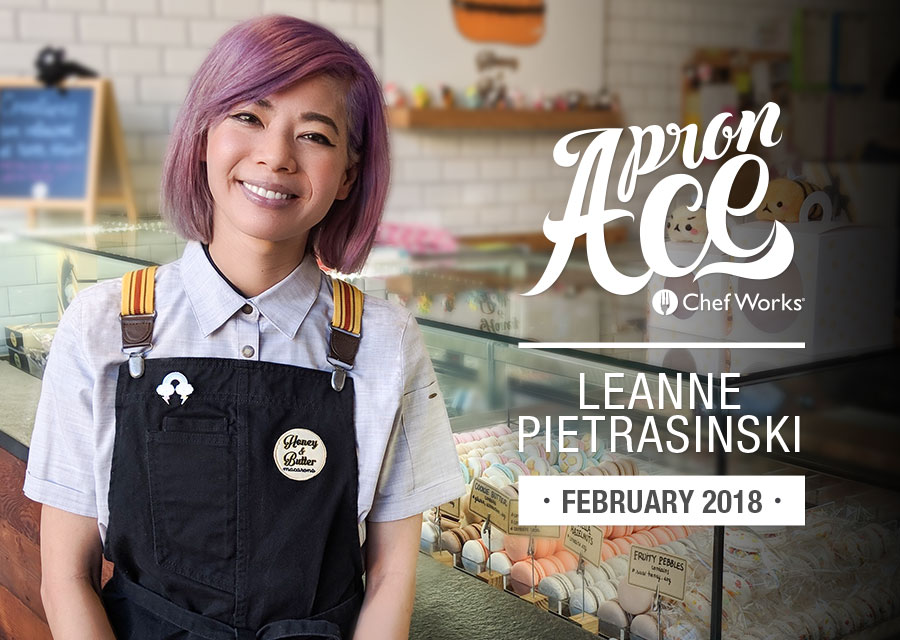 Leanne Pietransinski pictured in her favorite apron, the Berkeley!
---
Our Apron Ace for February was motivated to get things right. Sure, Leanne Pietransinski was dumping batch after batch of macarons into the trash when she
first got started. But nearly four years after starting her meringue-based dream,
she and her husband, Pawel, have found success! Their store, Honey & Butter Macarons, is thriving at the heavily-visited Irvine Spectrum Center just south of Los Angeles. Pietransinski took some time to chat with Chef Works about following her passion, what makes her shop so successful and why she can't live without her Berkeley aprons!
---
1. How did you get started in the macaron business?
Leanne Pietransinski: This actually started out as a hobby. I came across these cookies when I was reading a blog. I didn't know what they were because they weren't mainstream yet. It was really hard to find them. Sometimes I'd drive all the way to Beverley Hills (anywhere from 45-minutes to two hours based on Los Angeles traffic) just to pick some up. One day I thought about maybe making them from home. And they are very difficult to make. My husband and I started a business together in 2014. We baked at home and we actually sold out of an airstream (an aluminum trailer) and it was really iconic and pretty. [The Irvine location] is our first brick-and-mortar shop. This one opened in 2016.
---
2. Why are macarons so challenging to make?
Leanne Pietransinski: It's the whole process. You have to be really delicate with your techniques and there are a bunch of factors that come together to make a successful cookie – everything from the oven temperature, the starting ingredients, how much you whip the meringue. If you don't know what you're doing, you're going to have an incomplete product. A lot of trial and error went into this. Sometimes whole batches just ended up in the garbage. Even here, we still have our troubles because it's so precise. When someone new starts, more than likely their first batch is going to be a disaster. But the more practice you get, the better it will be.
---
3. What are you known for?
Leanne Pietransinski: Aside from the classic macarons, we're known for our specially decorated 'creatures.' We call them creatures. They're specially designed and cut into cute shapes. What sets us apart from other bakers is we follow everything from video games to pop culture to animals to pop stars. We're pretty diverse. Almost anything is possible. And if it's fun, we'll make it!
---
4. Could you have imagined you'd achieve so much success so quickly?
Leanne Pietransinski: It's been super-duper amazing for us to go from there to here. Sometimes I think about everything that brought us from Point A to Point B. Sometimes when you start a business and you put in everything and it doesn't succeed, you just have to move on. We're still doing it today so it's a blessing for us to keep doing what we love. It's awesome. Sometimes I still sit with my husband and wonder what we did to go from baking from home to an airstream to this point. It took a lot of heart and a lot of passion and a lot of hard work to get here. The stars had to align.
---
5. How vital is it to have a durable apron?
Leanne Pietransinski: It's a representation of our business. I went through two different kinds of aprons [from other companies] before settling on our Berkeley's. They have to look good for the front of the house but also be really durable for the back of the house. It has to withstand a lot of abuse. They can stain and we wash them and then stain them again. The first batch we went through was quickly destroyed. The second batch was too. Then we got our Chef Works Berkeley aprons and we haven't destroyed them yet. But we keep trying!
---
If you love your Chef Works apron, use it outside of the traditional kitchen setting (makeup artist, potter, florist, baker, etc.) and would like to be an Apron Ace, email marketing@chefworks.com.