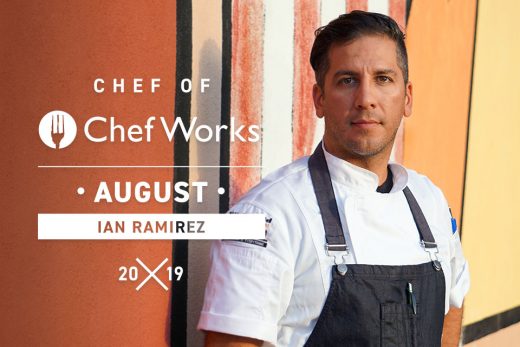 ---
Each month we feature a Chef of Chef Works. If you're a fan of Chef Works gear and are interested in being featured, email kgemmell@chefworks.com. Pictured above is our August Chef of Chef Works, Ian Ramirez, photographed in his Men's Springfield Chef Coat and Boulder Chef's Bib Apron.   
---
Chef Ian Ramirez made it clear right off the bat – in the world of corporate chefs, you're not going to win any James Beard awards or Michelin Stars. But the tradeoff for the 40-year-old director of culinary innovation and operations for Creative Dining Services is that he has nearly unlimited creative power and a work-life balance that's enviable.
This month's Chef of Chef Works® took some time to chat with the Chef Works® blog about his split Midwest/Mexican roots, that time he cooked for a president and how he got a shout-out from a rock band.
In some ways, you had a typical Midwest upbringing. But in other ways it was also extremely diverse. Tell us about that.
Ian Ramirez: I've lived my whole life in Michigan and my mother is of Dutch/German lineage. My grandparents grew everything in their backyard. I remember helping them harvest and process everything into jams, breads and preserves. We pickled everything. It was very much Midwest-gritty and made-from-scratch.
My dad, however, is from Vera Cruz, Mexico, so you're talking about two polar opposites. When we'd go there to visit family, I remember always being adventurous and walking through the open-air fish and produce markets. It was a world of tropical flavors and colors and textures. It was very much an inspirational, global mashup.
How does that upbringing apply to what you do now?
IR: I cut my teeth working in restaurants. Some of my fondest memories are with the people I came up with and I sometimes do miss that comradery. But I eventually made my way to the corporate world and I absolutely love cooking in this environment. There are almost no limits on my creativity and what I can do with menu and dish ideation. And I think my upbringing really influences that.
I love to discover new ingredients and learn how to use them individually and then create an entire dish around it. I think that's always helped my approach.
---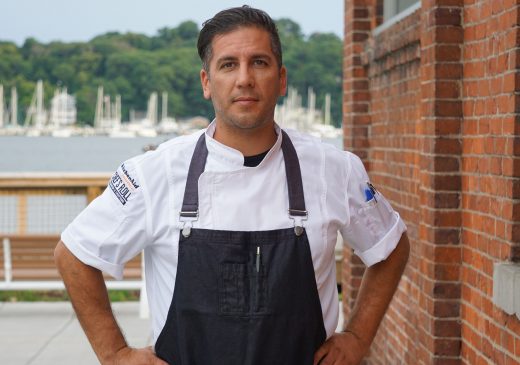 ---
What's a typical day for you at Creative Dining Services?
IR: There is no typical day. I'm constantly traveling. One day I'm in Nashville, the next I'm in California. We have accounts across the United States so I'm constantly doing collaborations with different groups, chefs and organizations. We do everything from universities to conference centers to healthcare to business and industry. It's everything from super-simple food to extremely high-end food where perfection is an absolute must.
That must create an exciting balance for you.
IR: It really does. I tell my chefs, in this type of industry, you have to stay humble. One day you might be scrambling eggs or dropping fries, and the next you are serving high-end food in a Fortune 500 boardroom or for executives on a corporate jet. You are all over the place. You have to realize you aren't going to win any James Beard awards or Michelin Stars. You might be cooking the same caliber of food, but you won't get the recognition.
The tradeoff is you get a good work-life balance and good benefits. And in a restaurant, you are making the same dish over and over again. Here, I get to plan a menu and cook for someone who might have cut a $5 million check for the event. Sometimes my marching orders are to do whatever I have to do to make things perfect, regardless of the cost. There's a lot of responsibility that comes with that, but also the thrill of being completely creative is amazing. We got to cook for President George Bush and I collaborated with other chefs to deliver an amazing meal. That was pretty amazing.
What's your best culinary story?
IR: I've had the opportunity to cook for a lot of bands over the years and one thing that I have realized is that cooks and musicians have a lot in common. You start with a flavor and build layers that complement each other until you have a perfectly balanced dish. It is the same with a song. Musicians start with a beat, harmony or an idea and they also build layers until they have a perfectly balanced masterpiece. So, when I cook for musicians I like to go all out and show them that they are appreciated.
One time I was cooking for the band The National and they loved it so much they gave me a shout-out on stage between one of their songs. My jaw hit the floor as I felt I was put on the spotlight. Fortunately, no one knew who 'Chef Ian' was and we continued to enjoy the concert. The manager also asked if they could call me when they are in town for a good meal.
If you could cook for one person, who would it be?
IR: I would cook a meal for my best friend Matt Reed. He died a few years ago and I would give just about anything to be able to cook one more meal for him. It would be at 'Henrys' Hut' at the top of Vail Mountain. We used to cook epic meals there. We carried backpacks full of salmon, steaks, veggies, sides and, of course, beer to the top where we enjoyed the view, the powder and the laughs.