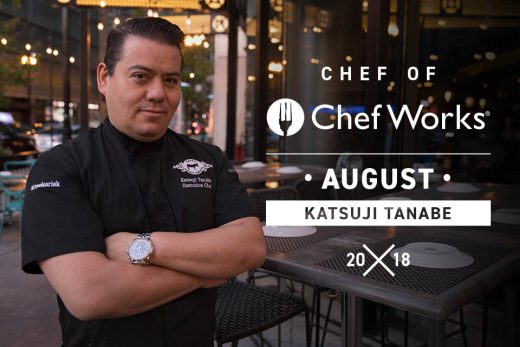 ---
Each month we feature a Chef of Chef Works. If you're a fan of Chef Works gear and are interested in being featured, email marketing@chefworks.com. Pictured above is our August CoCW, Chef Katsuji Tanabe, photographed by Chef Works outside of his Chicago restaurant Barrio in his Bristol Signature Series Chef Coat.
---
It's been a busy 2018 for Chef Katsuji Tanabe. The celebrity chef and restaurateur is opening and closing restaurants while bouncing around between food and wine festivals and spreading his brand across the country. The former "Top Chef" competitor and "Chopped" champion even rekindled his rivalry with Chef John Tesar earlier this year on the Chef Works blog. Tanabe took a few minutes to chat with us about his latest endeavors and how it all started for him when he (briefly) put down a Nintendo controller.
A lot of people know about your Mexican-Japanese heritage, but maybe not your origin story as a chef. When did you first realize you wanted to be a chef?
Katsuji Tanabe: The first moment I realized I wanted to be involved with cooking is when I was 7 years old. My family hired a chef to make paella at home. As a 7-year-old, I remember stopping to play Nintendo for four hours to see how it was made. I look back at that moment as sort of the turning point because it captured my attention and my imagination. Maybe I didn't know it for sure, but my grandma certainly did. At least that's when she knew I was going to be a chef someday.
Tell us about your latest project, The Nixon Chops & Whiskey in Whittier, Calif.
KT: It's a steakhouse that is Mexican-inspired. People seem to think that because it's Mexican food, it's supposed to be cheap. I think it's hard for a lot of people to conceptualize Mexican food at any other level or as any other type of cuisine. But this is a steakhouse. Americans idolize steak. It's a way to show people that Mexican cooking is at the level of any other type of cooking.
Earlier this year you shut down Mexikosher in Los Angeles. You still have one in New York, but how difficult was it for you to shut down that location?
KT: It was definitely a difficult decision. That was my baby.  I would say this to all chefs out there: 'Partnerships are like a marriage. If it's a good marriage or a good partnership, it's going to be great. If it's bad marriage or a bad partnership, it's going to be bad.' This ended up ultimately being a bad partnership.
How much have all of the television appearances helped your brand?
KT: It's been a complete 180. People look at me like I'm a real chef. I'm not just a guy trying to make a living. It literally changed my life. I went from one small taco shop in Beverly Hills to now having six restaurants across the United States. (Note: Chef is pictured outside his restaurant, Barrio, in Chicago).
What's something about you that people might not know?
KT: When I came to this country I literally had no money. I had nothing in my pockets. I used to sleep on the streets in China Town waiting for the bus to pick me up. I went through my share of struggles.
If you could cook for anyone, who would it be and why?
KT: I would love to cook for my grandmother or my grandfather. Unfortunately, they are no longer with me. My grandmother was an amazing influence – as they are for a lot of chefs. I would have loved to showcase for her what I'm able to do and what my capabilities are.
What would you make her?
KT: I would probably make her a really good soup and just sit and listen to her tell me stories.
Chef Katsuji Tanabe is one of dozens of chefs and mixologists who will be competing in October in WASTED: A Celebration of Sustainable Food in San Diego. For information about the event, go to wastedcelebreation.com