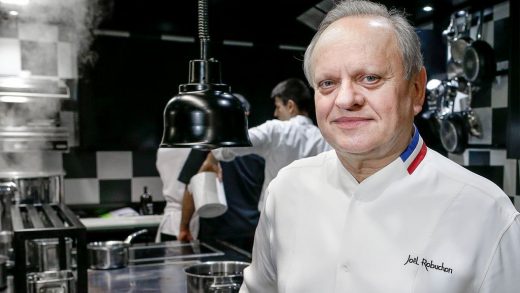 Joël Robuchon, who collected dozens of Michelin stars and was hailed as "chef of the century" died of cancer Monday at age 73. Le Figaro newspaper had the initial report, which was later confirmed by the French government. Robuchon was in Geneva, Switzerland, at the time of his death.
"Joel Robuchon, a visionary chef who was the most starred in the world, leaves us today," spokesman Benjamin Griveaux said in a statement. "From Paris to Shanghai, his savoir-faire was an art form that made French gastronomy shine and continues to inspire the next generation of chefs."
The famed chef was known for breaking down the walls of haute cuisine by incorporating an atelier concept that allowed guests to see the cooks in action. As of his death, there are reportedly 26 Robuchon restaurants open. Of those, 11 are atelier concepts called L'Atelier de Joël Robuchon.
Said French President Emmanuel Macron: "[Robuchon's] 32 Michelin stars shine bright in the constellation of French gastronomy."
As you'd expect, many shared their thoughts on social media. Here's a sampling of what the culinary world is saying:
So heartbroken .. Monsieur Robuchon .. you will be missed ??. Thank you for all you have done ? R.I.P … joel.robuchon https://t.co/NUH0FokWTG

— dominique crenn (@dominiquecrenn) August 6, 2018
Joel Robuchon 1947-2018
A very sad day for any of us in our industry and for the millions of other who were touched by this amazing man. When I was 23 I almost crapped myself being part of a team cooking him a birthday dinner in NYC. Over the years he was beyond kind to me. #sad

— Andrew Zimmern (@andrewzimmern) August 6, 2018
We've Lost The God Father of Michelin the most decorated Chef in the World, he kept all of us on our toes ! Even when we were sleeping ! Merci Chef, God Bless you'll be missed pic.twitter.com/5vY2UlpCwP

— Gordon Ramsay (@GordonRamsay) August 6, 2018
Shocked and very sad by the loss of my Mentor Joel Robuchon. The most rigorous,precise,demanding,
ultra gifted King of all Chefs…
RIP Monsieur Robuchon ?? pic.twitter.com/RCx8cj5m1I

— Eric Ripert (@ericripert) August 6, 2018
Merci #JoelRobuchon for your outstanding contributions to our profession. You were one of the greatest influences for our generation.
With unparalleled precision, you captivated the culinary audience & made elevated dining approachable. Thoughts are with your family & teams. pic.twitter.com/Y117flXl1c

— Thomas Keller (@Chef_Keller) August 6, 2018