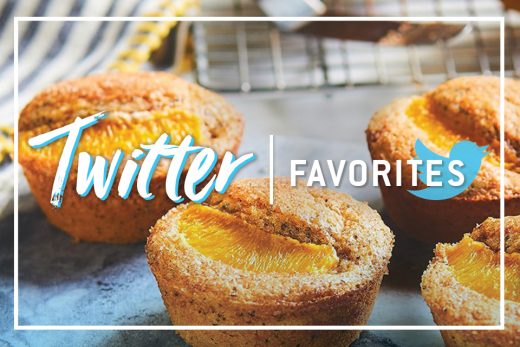 Social media moves pretty fast. Yesterday's trend is tomorrow's tripe.
Keeping up with who – and what – is hot isn't always easy. That's where the Chef Works blog comes in. We've got an amazing social media team that blasts out all of the latest and greatest from Chef Works while also keeping an eye on what's happing in the industry.
Over the next few weeks, we'll be breaking down our favorite follows on all of the social channels. Today, it's Twitter.
As always, you can follow us and use the hashtags #FindTheFork and/or #ChefWorks for a retweet. Here's who we're following:
---
Lord Honey, how could you not want to follow Jason Smith? The Food Network host and judge is very active on Twitter and loves to communicate with fans while also offering a dose of Southern charm and fun videos like this:
#smellgoodstamps #popsicle #lordhoney pic.twitter.com/5wmiXBLrvA

— Jason Smith (@lowcarb77) July 23, 2018
---
If you like pictures and videos of smoky meats on the grill, we highly recommend North Carolina Chef Douglas Walls.  If that name rings a bell, it's because he was the one who whipped up a special Mother's Day recipe just for the Chef Works blog!
Good day for burgers?! #Asheville #NorthCarolina pic.twitter.com/6l0XO1RDZP

— Chef Douglas Walls (@chefdougwalls) July 26, 2018
---
Now let's hop down the 17 to Myrtle Beach, S.C. where we meet the folks at the Charleston Flats Food Truck. There are great pics and the occasional Star Wars gif. What's not to love?
We are LIVE !
The Road to @TwitchCon continues ! I think I may be the only Taco Truck streamer there… lol

Slanging some delicious tacos today in Carolina Forest ! LETS GO ! https://t.co/TGPXNkuZHk pic.twitter.com/5tBbe3nBmt

— Salty[TrueCooks]? (@HeyItsMeSalty) July 22, 2018
---
Moving from savory to sweet, we recommend Chef Maeve Rochford. The winner of the Holiday Baking Championship on Food Network is the executive chef at Sugar & Scribe Bakery. FYI, she's going to be participating in WASTED: A Celebration of Sustainable Food in October. Click here to find out more.
S'mores are synonymous with summer. So to kick off my favorite season, I have a DELICIOUS Summer Cookie Sandwich recipe with coffee, golden raisins, sliced almonds, marshmallow and plenty of caramel sauce just for you! Enjoy xo @FinlandiaCheese #Ad #Recipe #RecipeOfTheDay pic.twitter.com/uRQYHtfnMF

— Maeve Rochford (@ChefMaeve) June 21, 2018
---
After all of that food, it's time to quench our thirst. That's why we love following Sonoma's Jordan Winery. The views are scenic, the pics are gorgeous and the recipes they offer are on-point. Take, for example, this tweet on 10 tips for how to make the ultimate charcuterie board with wine pairings. We're listening…
One of the easiest appetizers to serve at a wine tasting party is the charcuterie platter and it's sure to impress all of your wine-loving friends, especially those with a taste for Jordan Cabernet Sauvignon and Chardonnay. Learn more: https://t.co/JpFLwP6emb #wine #winepairing pic.twitter.com/36glFAC5OJ

— Jordan Winery (@jordanwinery) July 31, 2018