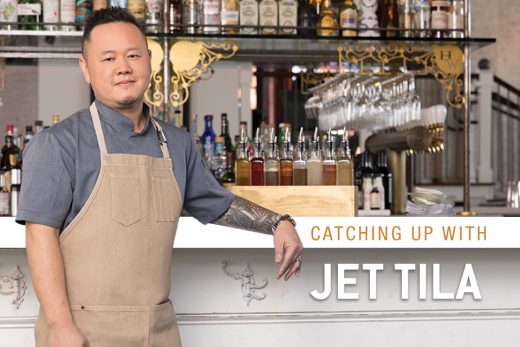 Jet Tila was out of one studio and right into another. After wrapping up his first season as the floor reporter for Iron Chef America, he was back behind the camera doing a photo shoot for his second cook book.
Yes, it's been that kind of year for the celebrity chef and restaurateur who has seen his already-shining star blaze brighter with each new gig. In between jobs, he took some time to chat with the Chef Works blog about his first season on Iron Chef America, his friendship with Alton Brown and the #FeedJet hashtag.
You and I spoke back in March before Iron Chef America debuted and you were really excited to try something outside of your comfort zone. What was your favorite part of the experience?
Jet Tila: Every day was really a dream. Alton was really the one who taught me how to understand who I was on television beyond the cook, the chef, etc. Just bantering back and forth with him was fun because we're such close friends. And of course hanging out with the Iron Chefs and watching their skill sets and abilities. Their talent is through the roof. Getting a front row seat to hanging out with the chefs and challengers was out of this world.
The chemistry with you and Alton was so natural and fluid. How far back does that friendship go?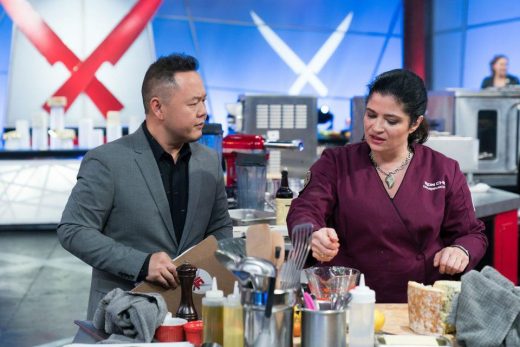 JT: We really started working together on Cutthroat Kitchen. If you go back and listen to the Alton Browncast [about four years ago], one of the episodes around the second season, that really was the moment that our friendship kind of went from professional work friends to really great friends. I flipped the interview. We were all such big fans of Alton, but I don't think anybody had the nerve to flip it and start interviewing him and ask the questions we all wanted to know. In that one hour you can hear us really getting deeper and the sense of mutual curiosity about each other's lives and careers. That's really the moment.
You mentioned the talent of the Iron Chefs and contestants. Was there one dish or technique that stood out as so creative that you never would have thought to try it?
JT: Honestly that happened at least once or twice a show. I've been cooking for 20, 25 years. My food has always been very specifically Asian. The one thing that stands out, Chef [Marc] Forgione's team was cooking couscous – a pretty benign ingredient. But they added squid ink and a few other ingredients and they made couscous look like caviar with that translucence and that beautiful color. That moment probably stuck with me the most.
I loved that #FeedJet became a thing on social media. When you finally did get to taste the food, what stood out?
JT: I've never eaten bone marrow ice cream and I've never had swordfish spinal fluid. Both were really delicious, honestly. I don't think there are many other shows that pit such serious chefs together. The difference is my job and Alton's job is to lighten it up and translate it to the home chef without making people feel like it's intimidating. That's a unique feature of Iron Chef America.
Do you get to keep the "Jet Cam"?
JT: Unfortunately not. We have such a crack tech team working there. Honestly it was just a fancy GoPro on a stick.
Now that the season is over, what can we expect from you in the coming weeks and months?
JT: Cookbooks take forever to write and develop so that will be April 2019. We've got beat Bobby Flay coming up, Guy's Grocery Games and I'm working on content for our Facebook show 'Authentically Asian'. I recently got back from Thailand where I was working on a Sriracha campaign with the Thai government. We want to turn the world on to real Sriracha. There's still a lot to do in 2018 and 2019 is going to be big. I'm enjoying the ride.