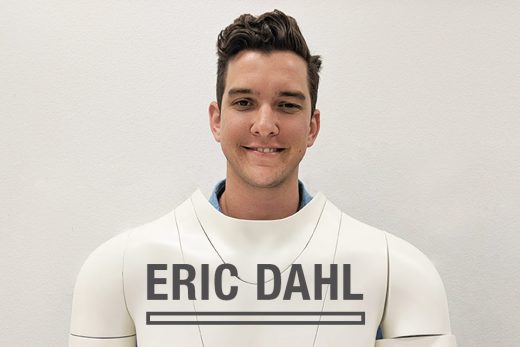 Trust Eric Dahl. He knows what he's talking about.
The former line cook, turned client services associate for Chef Works, has sweated in the kitchens of some of San Diego's most prestigious restaurants. So when someone calls Chef Works and asks about a Cool Vent™ option or sizing, Dahl is well-equipped to offer expertise. He's one of dozens of client service associates who have helped make Chef Works the global leader in culinary and hospitality apparel. He took a few minutes to chat with the Chef Works blog about his role with the company, why he loves what he does and a potentially burgeoning pickling business.
What brought you out of the kitchen and into Chef Works?
Eric Dahl: I was born and raised in San Diego and always knew I'd end up here. I went to college at the University of Arizona and studied business, but I was always cooking. When I got back here, I started as a line cook. I have the ultimate respect for people who work in restaurants. The work and the schedule is grueling. So I was looking for options to still be in the restaurant industry. I was connected with Mai Cao (corporate social media communications manager for Chef Works) through a friend at a food and wine event and that's how it all came to be.
How does your experience in the kitchen help you serve customers?
ED: Everything that we sell, I've worn it in some form or another. I know how an apron feels on your neck after eight hours so I always recommend Chef Coats that have a back-collar apron holder. I know if you don't wear an undershirt, you're going to want to get something with Cool Vent™ and short sleeves. I know that some of our coats tend to run a little large. I worked with a lot of women so I know what we offer with our women's line and how it works best for them. That 'inside' experience I picked up is invaluable.
Are you still cooking?
ED: Of course. I'm always going to cook. Once I learned how to cook, I realized I could make healthy food taste good, so that's a big part of what I do. I'm always giving away recipe ideas to the people here. I'm really into creating spice combinations and sauces and I really enjoy pickling. I think that could be a side business in the future.
What's a fun fact about you?
ED: I finished second in my eighth grade spelling competition.
What's the word that knocked you out?
ED: I don't remember. Hopefully I know how to spell it now, though.
What's the most rewarding part of your job?
ED: It's being a problem solver for the customers. When someone calls and says they need a rush order, I snap into fix-it mode and I really enjoy that. There can be a lot of moving parts to this job and keeping all of the balls in the air while managing your time can be a challenge. But when someone calls and says they got their order and it looks great, there's nothing more rewarding than that.