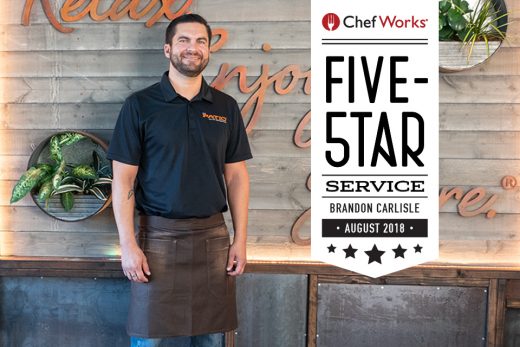 ---
Chef Works will be spotlighting someone in waitstaff each month through November as part of our "Five-Star Service" blog feature. In December, we'll ask our blog's readership to vote who has the "best story." We'll dress the winning restaurant with Chef Works gear! Pictured above is Brandon Carlisle of The Patio on 101, photographed by Chef Works in his Galveston Half Bistro Apron. 
---
If the surgically-implanted screw in Brandon Carlisle's left hand doesn't evoke memories of what happened 12 years ago, then the scars on his right hand certainly do.
They are grim reminders of the night when one life ended and another changed forever.
The single dad had just turned 21. He and a childhood friend decided to go on an impromptu road trip from Carlsbad, Calif., just north of San Diego, to Las Vegas.
"Driving out there we got into a pretty bad accident," recalled Carlisle, now 33. "My friend passed away. I ended up with scars. I lost my childhood best friend, but I also nearly left my son without a dad. From that day forward, everything changed. The focus was on him. It changed everything; the loss of my friend, the near-death experience and almost leaving him when he was 1 — it was tough."
Carlisle is the poster boy for life not always going as planned. After that night, his sole focus was on his son, Austin, and supporting him as best he could. That meant putting whatever plans he had for himself on hold.
Carlisle had started working in the restaurant industry when he was 17, bussing tables less than a mile from the beach. It started as a way to make a little extra money. But as life changed around him, it became the career he needed to support his son.
"I needed that availability," Carlisle said. "I needed to work and support him. But I also needed to spend time with him. The food and beverage industry offers that flexibility. I can make a week's worth in a few days. That afforded me the opportunity to be there for him."
Carlisle is the bartender at The Patio on 101 in Encinitas, Calif., an expansion of The Patio Group restaurant company which owns multiple properties in San Diego County. The restaurant opened in June.
"He has that great experience and that's huge when working with customers," said General Manager Ivan Lucas. "He knows his cocktails. He knows his spirits. And he's great with the customers."
Carlisle had originally planned to be a personal or athletic trainer with a high school or college program. But school went on hold in lieu of work. Instead, he focused on being great at his job, learning the histories of spirits, their locations and studying up on San Diego's burgeoning craft beer scene.
That knowledge serves him well in the open-air location where the sea air and crashing waves compete with the usual sights and sounds of a restaurant.  Carlisle considers himself a mixologist of "coastal craft" cocktails.
"I've always had a desire to experiment so you're not just pouring a beer and giving it to someone," he said. "There are environmental influences and regional influences. It's kind of a nerdy hobby of mine to make dinner and then try to pair the perfect cocktail. That's the approach I bring to work."
As his son prepares to enter high school, Carlisle is finally getting his own education back on track. He's taking kinesiology classes and still hopes to one day work in physical fitness. But he's forever grateful for the opportunities the food and beverage industry provided him.
"Life doesn't always go as planned," he said. "But keeping faith and sticking to your guns is a life motto I've adopted and it works. I have a beautiful teenage and a wonderful family and I get to work near the community I grew up in. More than anything, I'm thankful for my surroundings and the people in my life."
---