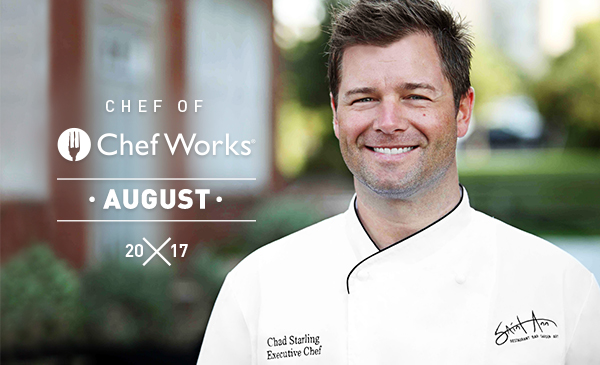 A passionate chef who's spent his formative years in some of the most storied kitchens around the United States, Chef Chad Starling is ready to take on Nashville – his new restaurant, Ludlow & Prime, is opening this month! In-between finishing menus and training staff, we caught up with this month's Chef of Chef Works to discuss his new hometown, his experiences cooking in Southeast Asia, and what diners can expect at his new Americana-centric eatery.
Meet Chad Starling, our August Chef of Chef Works!
1. Describe your restaurant in one word.
Community
2. Nashville has been called one of the nation's booming foodie towns of the moment. What are your thoughts on the rise of Nashville/Southern cuisine, and how are you incorporating those trends into Ludlow & Prime?
The culinary boom here is one of the reasons I moved to Nashville. It's such an exciting city, and new restaurants are opening every day. I'm originally from TN, but left and have worked all over the country. Now I'm back and using the flavors and ingredients that I grew up with along side the techniques I have learned throughout my career. Its an exciting time to be in Nashville.
3. How has your experiences traveling through Southeast Asia and studying under Chef Arun Sampanthavivat influenced your cooking ethos?
It has influenced me tremendously. The flavors are so bold yet clean. Chef Arun taught me all about balance of flavors, and how to bring out the best in the ingredient. That has crossed over into all the food I do no matter what the cuisine style.
4. Best/worst thing about being a chef?
The best thing about being a chef is to share my passion and creativity with the community and my co-workers. Its an honor to do what you love to do for a living.
The worst thing is definitely the long hours and not being able to spend as much time as I would like with my family.
5. Describe the perfect day eating out in Nashville.
I have Sunday off so I like to go to Chauhan Ale and Masala House for brunch. The pork belly fried rice is outstanding.  I have eaten at Husk so many times for lunch and dinner, and I still cant get enough of it. The menu changes daily so there's always something new to try, but I love the grit pudding for dessert. I hope they never take it off the menu. Then I like to end up at Patterson House for some late night bites and cocktails. That's a pretty good day off.
Follow Chef Chad on social!
FACEBOOK: Ludlow & Prime
INSTAGRAM: Ludlow & Prime