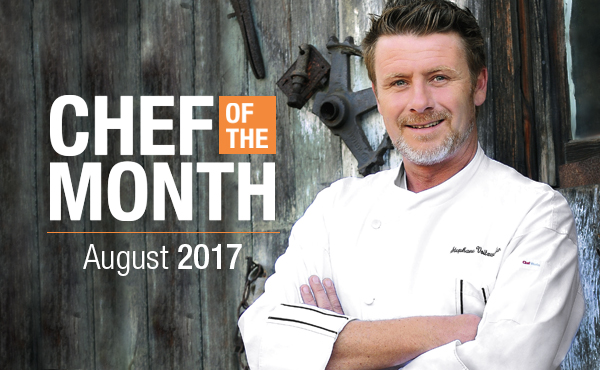 Talk about a good view. Mister A's, San Diego's storied fine dining establishment overlooking the flight path (you heard that right, you actually look down on the incoming planes), is the de facto date night destination for swanky Southern Californians. And with Executive Chef Stephane Voitzwinkler at the helm, Mister A's reputation is only growing, thanks to his farm-fresh ethos that originated from his European roots.
Read on to learn to learn what makes this chef tick, how he's helping bring the fine dining culture to San Diego, and why he loves a good pair of needle-nose pliers. Welcome Chef Stephane Voitzwinkler, our August Chef of the Month!
1. Describe your restaurant in one word. 
Sincere.
2. How has your Alsatian upbringing influenced the menu at Mister A's?
The tradition of farmers markets and daily shopping is rudimentary back home…. for me, it came LONG before the whole "farm-to-table" movement. I do appreciate the industry-wide shift because food-production is messed up in the states, but the idea behind it is the core philosophy of proper cuisine in the first place. As a child, I spent a ton of time walking the farmer's markets, butcher shops, and bakeries with my mother, learning about the stories behind each ingredient. To me, the entire essence of cooking and loving food is this direct interaction.
3. Describe a perfect day eating in San Diego. 
Sunday brunch on the patio at Mister A's with a glass of rosé, after a round of golf in Coronado.
4. Best/worst thing about being a chef?
Best: it's never boring, there are always fresh ideas, ingredients and creative ways to express yourself.
Worst: The missed time with family during the holidays… but we have our own holidays when everyone else is at work too!
5. Kitchen tool you can't live without?
Fish Pliers/Needle-nose (I pride myself on the art of butchering seafood)
SaveSave
SaveSave