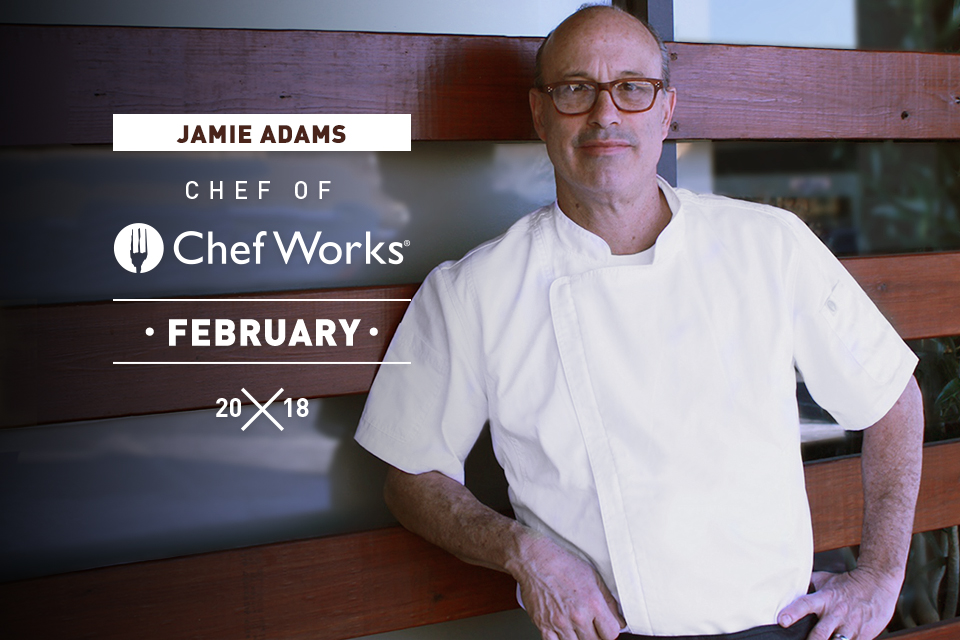 Saluti!
Chef Jamie Adams always had a fascination with Italian culture. And thanks to family influence, it has carried him to where he is today. The youngest of five siblings, Adams always enjoyed cooking with his mother. But then he'd hear stories of his siblings traveling abroad to Italy. Those tales stoked his passion for Italian culture and it wasn't long before he was working at his first Italian restaurant in college.
That led to a five-year stop in Italy, where he studied and learned from some of the country's greatest minds. And upon returning to Atlanta, he's been creating Italian dishes for some of the city's most renowned restaurants for more than three decades.
Today he co-owns il Giallo Osteria & Bar. Our Domestic Chef of Chef Works for February took some time to chat with us about his early influences, Italian food in the South and his deeply personal and important charitable work.
---
1. What drew you to Italian culture at such a young age?
As a kid, my mother bought all of Marcella Hazan's cookbooks and we would always be trying recipes from her books. As the years went by my oldest sister began to travel to Italy and would tell me stories of these incredible, out-of-the-way places and I became obsessed with everything Italian: bikes, cars, food and so on. My parents would often travel with my sister. Then they'd take another sister. And I was starting to feel left out. I eventually decided it was time for me to go over there and learn about the culture firsthand.
---
2. The Northeast — New York, Rhode Island, etc. — is traditionally the hotbed of authentic Italian cuisine. How does that culinary style play in the heart of the South?
The Northeast was where most of the first waves of Italian immigrants landed, yet there were pockets of Italian populations all over the country. I discovered that the Italian ethos has many parallels to Southern Hospitality — very friendly, very hospitable, boisterous and fun loving. But it's also highly private while keeping family and friends in a tight circle.
---
3. What's the go-to item on your menu?
Pasta. We make it out in front of the kitchen during service every night. It all starts by being as fresh as possible for the type of pasta we make. It is all sheeted and cut by hand, not extruded. We do that during service and the result is a very soft and supple texture in our ravioli that you can't get by having it lie around for a long time.
---
4. What is the best advice you picked up cooking in Italy and how do you apply that to your daily regimen?
Keep it simple, make it perfect. My principle of simplicity is to use great ingredients and not complicate them by using a bunch of other stuff.
Our spaghetti is a perfect example of this — noodles and sauce. The only thing is that every step needs to be done properly. The sauce — a balance of tomato, garlic, basil and little grated grana padano — has to be just right or it is terrible.
There is very little margin in simplicity and that's the hard part, understanding every move, from taking the pasta out of the water, until it is put onto the plate has to be right. We treat our whole menu that way. Keep it simple in scope but carefully execute the steps each and every day.
---
5. Tell us about your charitable endeavors and what inspired you to get involved.
I've been involved with No Kid Hungry for more than 25 years through my affiliation with the Buckhead Life Restaurant Group.
As a cyclist, I was also involved with Livestrong and then No Kid Hungry came up with Chef's Cycle. I believe in the command to do for those who cannot do for themselves — to give, save and live on the rest.
Take yourself out of the center. That looks different for each of us. I have a very easy path in the hospitality business to raise money and awareness for multiple endeavors.
---
Follow Chef Jamie Adams on social media!
@gialloatl
@ilgialloatl
@gialloatl
il Giallo Osteria & Bar