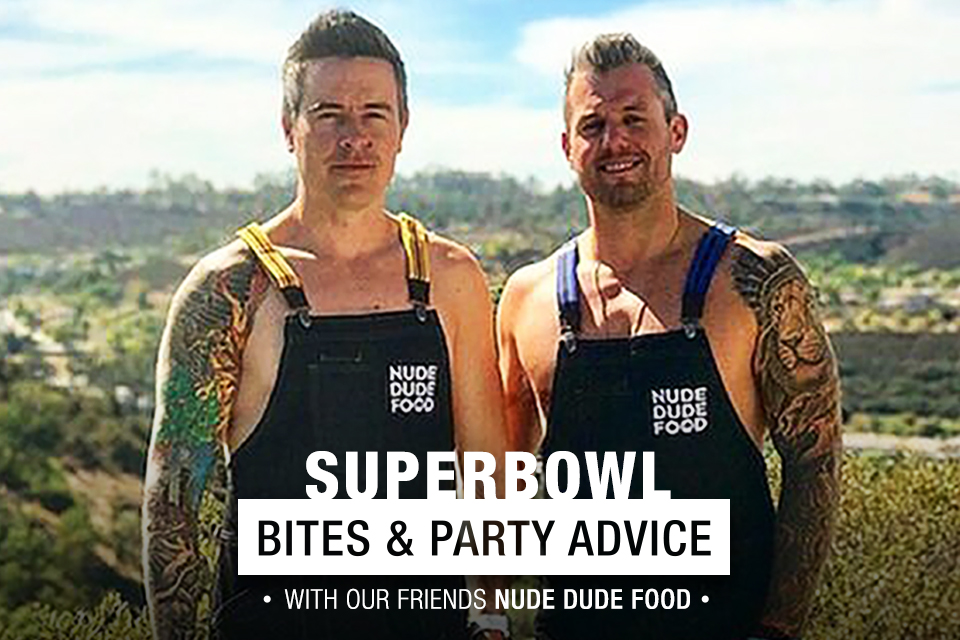 Nude Dude Food chefs Seth Bradley (left) and Ryan Van Voorhis will be rocking their Berkeley aprons from Chef Works when they cook up their Super Bowl party treats.
---
Super Bowl LII between the New England Patriots and Philadelphia Eagles is just two days away. But it's not too late to start food planning! Whether you're hosting and need to craft a menu, or bringing a dish to a party, the guys at Nude Dude Food have you covered.
We caught up with Chicago-based Nude Dudes' Seth Bradley and Ryan Van Voorhis – best friends since age 15 and the newest Chef Works brand influencers – to talk Super Bowl party menus and game predictions. As you can imagine, they are still smarting the fact that the Bears haven't won since '85 when they were Super Bowl Shuffling and The Fridge stole Walter Payton's touchdown.
Note:
The following answers represent comments from Bradley and Van Voorhis together.
"Growing up in the Midwest, and being Chicago guys, nothing beats football – especially the Super Bowl. Sadly, Chicago sports in general have had their share of losing seasons over the years. Due to the nature of our careers, we're always the first ones asked to bring a delicious party dish."
---
What is it about a Super Bowl Party that brings people together?
Nude Dude Food: It's always a must-watch event and reason to get together with friends and family. The Super Bowl is also held a month into the New Year and those diet fads and resolutions are starting to wear thin. What better way to indulge and have a 'cheat meal' than vegging on the couch with all of your favorite foods. Not into the game? The commercials and halftime show are often more entertaining than the game itself. There's a reason 'wardrobe malfunction' is in our lexicon. Nowadays it's all about the wow factor, and people want to be entertained. This idea should not be forgotten when planning your Super Bowl menu.
---
How much does food play a role? We've come a long way from just getting delivery pizza.
Nude Dude Food: As private chefs, food plays a role in our lives 24/7. We may be biased, but your Super Bowl menu should be just as exciting and up to the expectations of your party guests. There's nothing wrong with ordering delivery pizza. But come on now, let's put a little more effort into it. This is the occasion to bring out the big guns like that deep fryer you haven't used since Thanksgiving. Go ahead and fire up the grill even if it's freezing out. Our grill is working 365 and we're in Chicago. The Super Bowl is just that – super. Treat it as such when planning your menu.
---
What is your best Super Bowl Party memory?
Nude Dude Food: Our best Super Bowl memory is from 2007. It's also the first time the Chicago Bears made it to the Super Bowl since they won it all in 1985. The city was electric. The best play of the game was the opening kickoff when Devin Hester ran the ball back 92 yards for a touchdown. We were pumped. Our friends we're pumped. The game couldn't have started any better. Sadly, the Bears lost due to too many turnovers and that Peyton Manning guy was pretty good. Food highlights are a bit foggy due to excessive celebrating and an appearance by Mr. Jägermeister. But we do remember making a Chicago classic, cast iron deep dish pizza. If you've never had true Chicago deep dish, it's a staple and a must for any visitor that comes into town.
---
What's the ultimate Super Bowl party cliché people should avoid?
Nude Dude Food: We highly recommend avoiding canned cheese sauce or nacho cheese. We've perfected an incredible cheese dip recipe (see sidebar) that blows store bought dips out of the water, yet still gives you fond memories of nacho cheese from the stadium.
Other than that, you really can't go wrong with planning a great Super Bowl menu. The more food options the better. Super Bowl Sunday is a day to indulge, so don't worry about those diets. Eat that extra chicken wing. Go ahead and double dip that chip. One thing that makes Nude Dude Food such a success is how our dinner parties are as much about the guest experience as the food. Does the food you're serving make people excited? Happy? You want to have that wow factor so they'll always remember the food, regardless of the outcome of the game. If not, you better hope there is another wardrobe malfunction. Ironically enough Justin Timberlake is back this year.
---
Do you have a prediction?
Nude Dude Food: Love 'em or hate 'em the Patriots are a force to be reckoned with. As chefs we've all had our share of kitchen accidents or knife injuries, but we can't let that stop service. Tom Brady didn't seem too phased with that cut on his throwing hand in the AFC Championship.
New England Patriots 27, Philadelphia Eagles 20
---
Check out these Super Bowl Party recipe ideas from Nude Dude Food: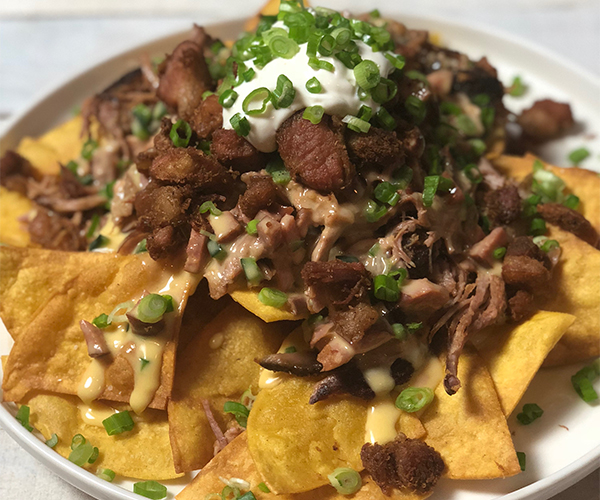 Smoked Pulled Pork 3-Way Nachos, Andouille Jalapeño Cheese Sauce, Chicharrones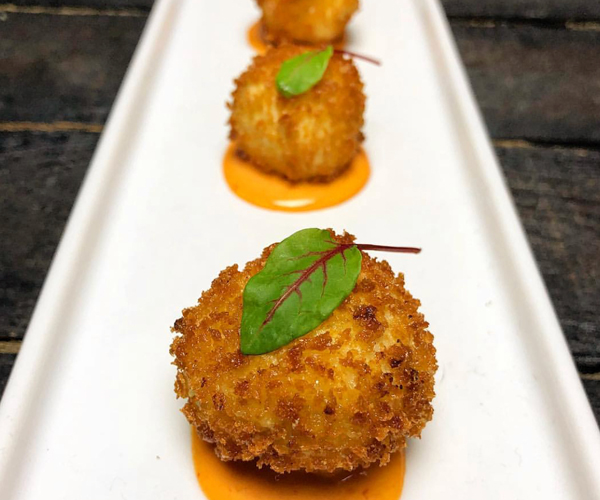 Jalapeño Cream Cheese Croquettes with Spicy Aioli
---
Follow Nude Dude Food on social media!
@nudedudefood
Nude Dude Food