Starting this month, Chef Works will be spotlighting one server each month through November as part of our "Five-Star Service" blog feature. In December, we'll ask our blog's readership to vote on which server has the "best story." If you'd like a member of your waitstaff featured, email marketing@chefworks.com.
—————-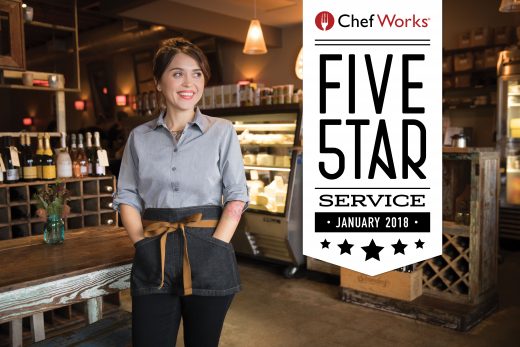 Ironically enough, nobody asked Marisa Liscano to "say cheese."
"I get that a lot," she said with a wry chuckle.
It would have been more than apropos as the cheesemonger posed for photos in the entryway of The Cellar in San Clemente, Calif.
"People are scared to try new cheeses," said Liscano, 34, who has been a cheesemonger for a few years, but a cheese fan for as long as she can remember. "My job is to help people to not be creatures of habit; to break out from what they normally are willing to try and help pair the right cheese with their wine or their meal."
Like most adults who are passionate about food, Liscano's story begins with a family member who was an influential cook. For Liscano, it was her grandmother who "put cheese on everything" and planted the seed for her at a young age.
After spending a few years working office jobs in the action sports industry, she decided it was time to follow her true calling. And while she's thankful for that time because it's where she met her husband, it wasn't what she wanted to be doing.
As specialized dining continues to evolve, experts within specific food genres are on the rise. Just as a restaurant would employ a sommelier, the cheesemonger is there to play with creative pairings and maximize flavor.
"Honestly, I was probably eating about a quarter or half pound each day when I first got started," Liscano said with a laugh. "I'm at the point now where I'm not eating it every day. I haven't burned out. Let's just say I've mellowed out and learned to appreciate the cheeses I do eat.
"And while this goes against everything I do, sometimes I just want a good piece of American cheese!"
Coming from a family of law enforcement, Liscano never considered pursing the family business. One day she'd like to run her own shop. But for now, she's content being The Cellar's resident expert.
"I love helping people," she said. "When you get that pairing just right and see the surprise in someone's face when they try a combination they've never thought of, it's pretty exciting."
---
Follow Marisa Liscano and The Cellar on social media!
@sccellar
@sccellar