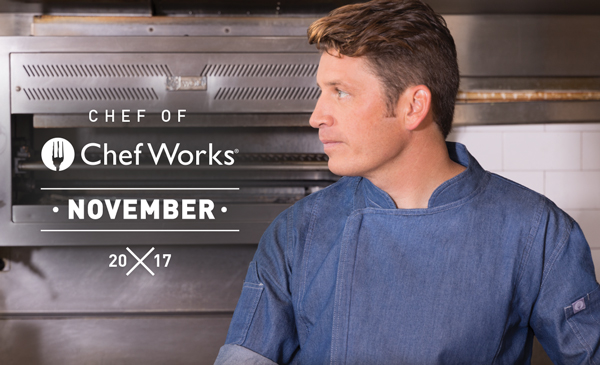 Chef Nathan Lingle knows a thing or two about food, cooking and running a hotel kitchen. At the exclusive L'Auberge Del Mar hotel, Chef Nathan utilizes San Diego's bounty of seasonal produce to craft winning menus for guests and locals alike. His pedigree includes a diploma from the prestigious Culinary Institute of America, and after our Chef Works team spent an afternoon at Lingle's hotel for a photo-shoot, we were hooked on this top chef's penchant for fine food and his farm-to-table ethos. In-between bites of Jidori chicken and Sablefish, we looked out over the Pacific Ocean and chatted about everything from his favorite ingredients to eating in San Diego.
Meet Chef Nathan Lingle, our November Chef of Chef Works!
---
1. Describe L'Auberge Del Mar, in one word.
Chic.
2. What are some of the trials and tribulations when designing a culinary program for a hotel?
Balance is, for sure, the key to designing the food and beverage program for the hotel. We want to have programming and products that are cutting-edge, inspiring and true to our locality.
We also want guests to be able to have a sense of familiarity and be able to sustain some or all of their normal eating and drinking routines while staying with us. Development of different concepts within the hotel allows guests the ability to have both, depending on their needs.
From an operational and financial view, it is important to think of all the operations as individual identities. However, we need to be conscious of storage, flow and production of product throughout the facility while still maintaining diverse offerings.
3. What's your favorite ingredient of the moment to cook with, and why?
Fennel pollen is top on my list for this season. I really enjoy foraging for foods and I have the opportunity to forage all over San Diego while out exploring. I find it after surf sessions at Turtles Beach or hiking along the Coast-to-Crest Trail.
It's a great ingredient to finish raw seafood, roasted poultry, grilled vegetables, sweet cakes, muffins, and in infusions for cocktails or beers. It has the familiar taste of fennel or anise but with hints of citrus and toasted sugar.
4. Any predictions for 2018 food trends?
I feel like dim sum is coming our way in all forms. People don't want to blow their palate out on one dish or beverage anymore. They are more interested in keeping their senses entertained; dim sum allows this and keeps it fun and communal.
5. Describe a perfect day eating out in San Diego. Breakfast, Lunch, Cocktails, and Dinner spots!
For me, the perfect day eating out in San Diego would start after an early morning Sunday paddle out and a trip to Leucadia's Farmers Market for a Prager Brothers' Chocolate Croissant and then — coffee, coffee, and more coffee.
An ice-cold Mexican Coke and Juanita's California Burrito for lunch.
Cocktails at El Dorado Cocktail Lounge then I would finish up with dinner at Campfire with a focus on their vegetable-based small plates.
6. Favorite piece of advice to aspiring chefs?
Don't focus on the money or the position. It's not important where you work but who's brigade you are working with. Focus on learning a broad spectrum of fundamentals from various cuisines from chefs who have mastered them.
Take good notes and get as many processes and recipes documented as you can. Working and learning from a bunch of different great chefs allows you to take the good and leave the bad to develop your own style of leadership and cuisine.
---
Follow Chef Nathan on social media!
@LAubergeDelMar
@laubergedelmar
@laubergedelmar
L'Auberge Del Mar