If you're reading this blog, chances are you're in the United States. But did you know that Chef Works is international with distribution in more than 70 countries?
The company recently took a big step overseas by launching the first brick-and-mortar concept showroom in Taiwan that's solely dedicated to culinary apparel.
"The trend for contemporary, fashion-forward designs continues, as do the many open-plan kitchens," said Paul Gross, managing director for Chef Works International. "This means more back-of-house teams are now on show with uniforms becoming the natural extension of the personality of the chefs, the location and the delicious food produced."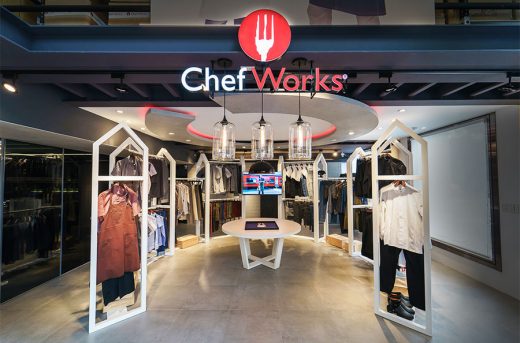 Chef Works Taiwan is about to celebrate its fifth anniversary. It was the first international culinary apparel brand introduced into the Taiwanese market and the new showroom in Dazhi is already a hit.
"Since I came back to Taiwan many years ago, I have been dedicated to connecting Taiwan with the global culinary scene," said John Hung, President of Les Toques Blanches Taiwan. "In terms of uniform, I am happy to find that Chef Works Taiwan has given local chefs a choice that leads the global trend."
Among the highlights of the new showroom are:
A large, circular display rack at the center of the space that allows customers to browse a variety of styles.
Pairing chef coats with aprons.
Three themed fitting rooms.
A kitchen meeting room.
A full range of style concepts.
Among the celebrity chefs at the opening was Matt Chen, executive chef of La Palais which is the first and only three-starred restaurant in the Taipei Michelin Guide. He's a fan!
"The fabric is amazing," Chen said of Chef Works' products. "The professional design makes chefs look more vigorous at work."
Chef Works loves to celebrate our international influencers and customers. If you're an international chef and would like to be featured on our blog, email marketing@chefworks.com.