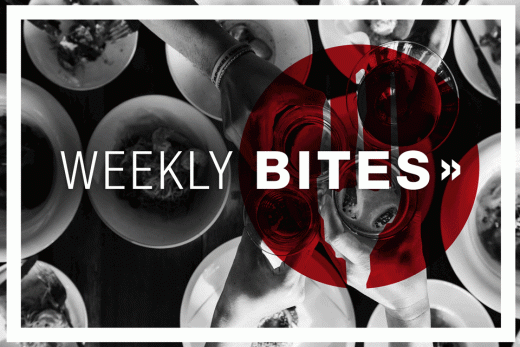 Welcome to Week 31 of 2019. Chef Works® Weekly Bites is where we take a dive into the notable and fun food stories of the week.
First up is guess the quote.
"Your diet is a bank account. Good food choices are good investments." (Do you know who said it? Answer at the bottom)
---
APPETIZER
♫ So no one told you life was gonna be this way ♫ (clap, clap, clap, clap). For friends of "Friends," this one is for you. Coffee Bean & Tea Leaf announced some themed beverages that every Central Perk fan is going to love to help commemorate the 25th anniversary of the famed 90s sitcom.
The Phoebe is a cookies-and-cream flavored blended drink (because she's kooky, maybe?), the Monica is a mocha cold brew over ice (do we think 2019 Monica would drink dairy or sugar?), the Chandler is a mixed espresso beverage with coconut and caramel (could this MAKE any less sense??), and the Joey is a glass of mango iced tea (turns out, it CAN make less sense). The Coffee Bean marketing team did, however, nail the Rachel and Ross-themed beverages — she's a matcha latte (Jennifer Anniston's character would definitely be matcha-curious) and he's a flat white (David Schwimmer's character is not Australian, but the drink name does describe his personality).
You can read the entire story here from Eater.
---
MAIN COURSE
Oops! An Indianapolis police officer went on the hunt after he suspected a McDonald's employee took a bite out of his chicken sandwich. Turns out said officer was the culprit all along. USA Today has the who-done-it story here.
If you're planning on attending the ill-advised raid on Area 51 (and we'd strongly advise against it), you at least might be able to get some Arby's out of it. Food & Wine has the story on the restaurant's promise to provide a food truck with a "secret menu."
Cracker Barrel is investing $140 million in Punch Bowl Social, a surprise move for the family-dining staple, according to Food News Feed.
---
DESSERT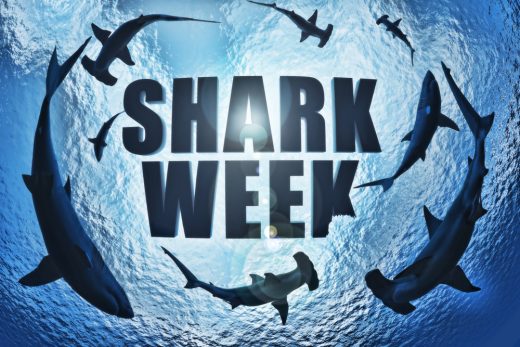 Shutterstock Photo
It's Shark Week! Do you have all of the sweet treats you need for binge-watching all of the shows about the predators of the sea? Delish has the recipe for a no-bake, shark-themed cheesecake!
---
FOUND THE FORK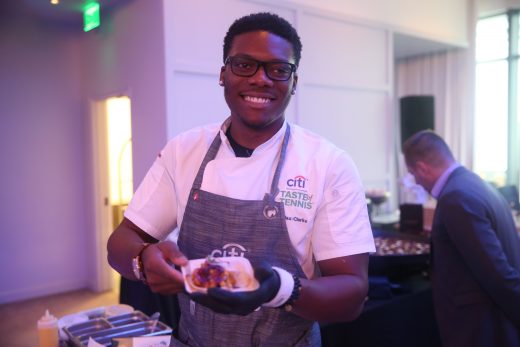 Did you know that Chef Works® serves as the official culinary apparel sponsor for more than a dozen food and wine festivals each year? Earlier this week, we were at Citi Taste of Tennis in Washington D.C. We were also at all of the prior Taste of Tennis events across the country.
Coming up this month, we'll be back at the Los Angeles Food & Wine festival – providing chef coats and aprons for one of the country's premier culinary events!
For all of the news leading up to the event, make sure to follow Chef Works® news on Facebook, Instagram, Twitter and LinkedIn. Be sure to tag us with #FindTheFork and #ChefWorks.
---
WEAR OF THE WEEK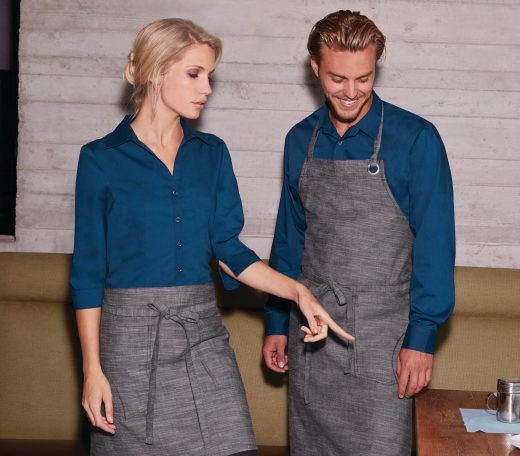 All of the chefs at the Citi Taste of Tennis get our Springfield Chef Coat and Corvallis Apron. You can see more of the Springfield here.
The Corvallis takes comfort and style to the next level, with offerings in a Chef's Bib, Bib, Bistro or Half Bistro sizing. The super-comfortable crosshatch fabric provides durability and ease of movement, while the adjustable neck strap with grommet adds a fashion-forward element.
Servers and bartenders will love the storage options in the Bistro and Half Bistro options!
---
Quote answer: Bethenny Frankel