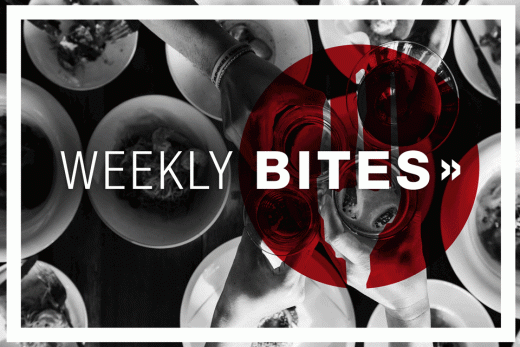 Welcome to Week 7 of 2020. Chef Works® Weekly Bites is where we take a dive into the notable and fun food stories of the week.
First up is guess the quote: "A balanced diet is a cookie in each hand." (Do you know who said it? Answer at the bottom).
---
APPETIZER
Is Kombucha the answer to sustainability? Some folks are asking whether the fermentation process, which yields a "symbiotic culture of bacteria and yeast" called Scoby, is the key to the world's plastic problem.
Here's an excerpt from One Zero:
The packaging has all the benefits of plastic, but none of its downsides: The durable, malleable texture acts as an oxygen barrier and is anti-bacterial, with a six-month shelf life — which can even be extended when used in conjunction with certain acidic foodstuffs, like nuts, owing to the material's low pH.
You can read the full story here.
---
MAIN COURSE
Have you ever wanted to drink a Starburst? Rumor has it that the new secret pink drink at Starbucks tastes exactly like that – if the folks at Delish are to be believed.
We all know that foot odor can be a major turnoff. But what if you could turn the scent of those tootsies into tasty fried chicken? You can with KFC's, chicken-scented Crocs. This is an actual thing, per Taste of Home.
Famed international Chef Massimo Bottura has officially opened his first U.S. location. Gucci Osteria de Massimo Bottura Beverley Hills debuted earlier this week. Here's the report from Forbes.
---
DESSERT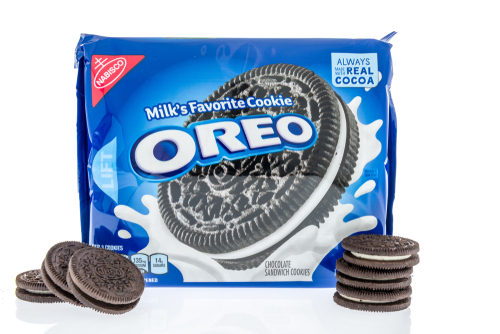 Oreo Cookies get dunked in a lot of different substances. Most of them – ice cream, milk, chocolate syrup – make sense.
But USA Today went out on a limb by suggesting that mustard was a common-enough dipping apparatus for the cookies-and-cream treat that they included it in their crossword puzzle. "Cookie that some people eat with mustard" was the exact phrasing of the clue.
Food & Wine examines the blow back of this insinuation.
---
FOUND THE FORK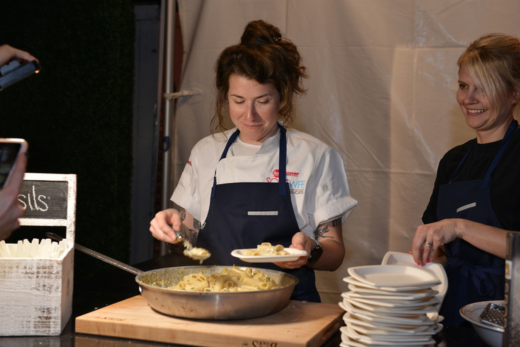 Did you know that Chef Works® servers as the official culinary apparel sponsor for some of the biggest food and wine festivals in the country?
This week we're going to be at the Food Network and Cooking Channel South Beach Wine and Food Festival. We've donated hundreds of garments to make sure the chefs look and feel their best!
Our social media team will be forks up with boots on the ground. Follow along with all of their fun on our social media channels: Facebook, Instagram, Twitter and LinkedIn. Use the hashtags #FindTheFork and #ChefWorks.
---
WEAR OF THE WEEK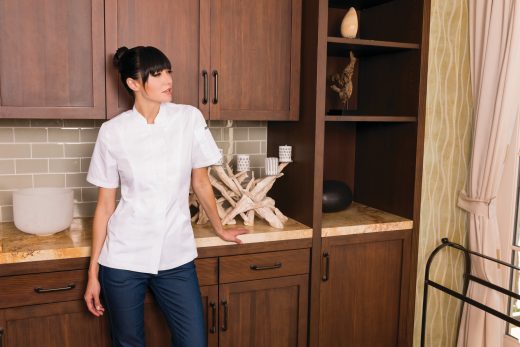 The Springfield Chef Coat (pictured at last year's Food Network and Cooking Channel South Beach Wine and Food Festival) is one of the most versatile offerings from our Urban Collection™. It stands ready to tackle all tasks — and not just in the kitchen!
Short-sleeved and comfortable, the Springfield has been used by chefs, front of house ambassadors and massage therapists. The Cool Vent™ paneling creates the ultimate heat management system, and the multiple colors mean you can easily find a look to fit your brand.
Exclusive cuts are available for women and men.
---
Quote answer: Barbara Johnson
---
Did you miss last week's Weekly Bites?
Get caught up: Week 6