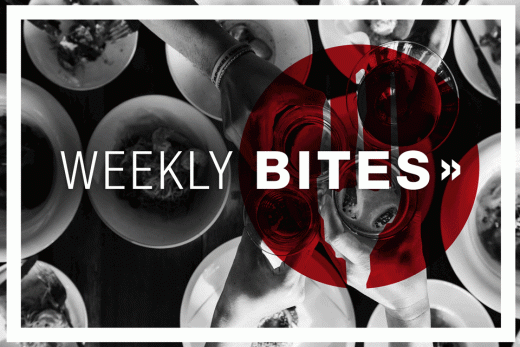 Welcome to Week 34 of 2019. Chef Works® Weekly Bites is where we take a dive into the notable and fun food stories of the week.
First up is guess the quote:
"The only time to eat diet food is while you're waiting for the steak to cook." (Do you know who said it? Answer at the bottom).
---
APPETIZER
Can water conservation really be as simple as capturing rain? That's what one brewery in Mississippi is banking on.
Rain is captured via rooftops that drain into a low energy filtration and sanitation system. To flush any contaminants that may be on the roof and other surfaces, a certain early amount of each rainfall occurrence is discarded. If the idea of rainwater sounds impure, consider this: it contains no chemical runoff and thus doesn't require energy- and chemical-intensive treatment.

And rainwater is renewable, unlike groundwater which is already a finite factor of the water table. And while Richard's Rainwater is purified, O'Neil says that it's naturally cleaner than standards upon collection. "Overall, the environment works very well," says O'Neil.
Forbes has the full story here.
---
MAIN COURSE
(FOOTBALL-THEMED!)
Rookie football players are expected to use their signing bonuses to take the veterans out to a fancy dinner. The Bay Area's NBC affiliate is reporting that 49ers rookie wide receiver Deebo Samuel dropped a cool $3,700 at a dinner just for the receivers. Not too shabby. But it pales in comparison to the legendary $55K night Dez Bryant dropped in 2010.
One of the most iconic venues in college football is Michigan Stadium – aka The Big House. The Block M is going big with dining options in 2019, according to Michigan Live.
If you follow the NFL (and even if you don't) you probably have heard some of the Antonio Brown drama of late. Aside from his foot injury and helmet gripe, he's also facing a civil lawsuit alleging that he stiffed a chef out of nearly $40K. ESPN has the story.
---
DESSERT
There are a lot of great pastry chefs out there. Apparently, none of them work for late-night host James Corden. His staff tried to make cakes that represent him, and it did not go well.
Here's the roundup from Delish.
---
FOUND THE FORK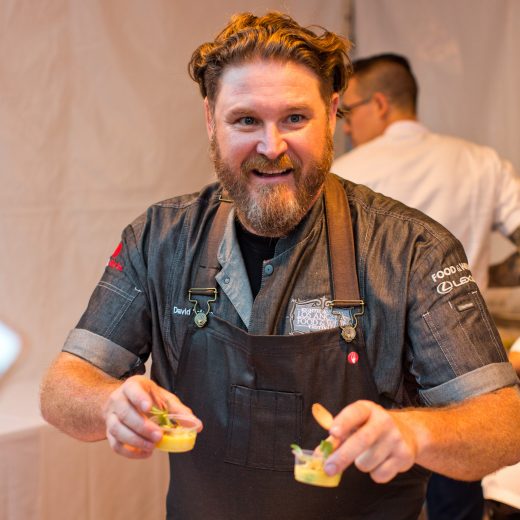 It's L.A. Food & Wine week! One of the premier food and wine festivals on the West Coast kicks off tomorrow, and Chef Works® will be out in full force as the official culinary apparel sponsor.
Chef Works®, as it's done for the last decade, is providing chef coats and aprons to make sure all of the chefs and staff look and feel their best in the kitchen!
As always, you can follow along with the festival and all other Chef Works news on our social channels: Facebook, Instagram, Twitter and LinkedIn. Be sure to tag us with #FindTheFork and #ChefWorks.
---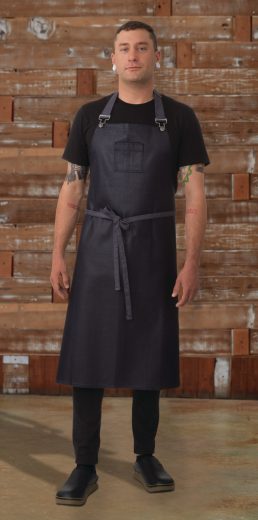 WEAR OF THE WEEK
Like what Chef LeFevre is wearing? That's our Executive Tribeca Chef Coat and Boulder Chef's Bib Apron. It's a true power pairing for chefs who crave toughness, durability and a bit of an edge from their gear.
The Boulder Chef's Bib Apron is one of our most durable offerings, with a waxed-look finish and strong 100 percent cotton denim. The overall clips are fashion-forward and the made-to-fade look makes it your own!
The Tribeca is one of the centerpiece coats from our Urban Collection™, which pushes the boundaries of culinary fashion. It's got an edgy design, smart features and an unmistakable attitude. Check out the Executive Chelsea Chef Coat for the women's style.
---
Quote answer: Julia Child