Chef Works®, the global leader in culinary and hospitality apparel, believes the most important way to get to know our customers is to get on the road and see them in action. One of the ways we achieve this is through our sponsorship of dozens of nationally-renowned food and wine festivals each year.
"Over the last decade the Chef Works® brand has become a staple of the food and wine scene and we're excited to keep that momentum going as we close out the 2019 summer schedule and turn to the fall lineup of festivals," said Payton Palacio, sponsorship and social media coordinator for Chef Works®. "While so many of the top chefs across the world already wear Chef Works® gear, it's still important for us to be active at these festivals and available to chefs who might not be as familiar. It's a great opportunity to grow our relationships with chefs and make new ones."
Depending on the event, Chef Works® will typically donate hundreds of custom-embroidery chef coats, shirts and aprons as the official culinary apparel sponsor.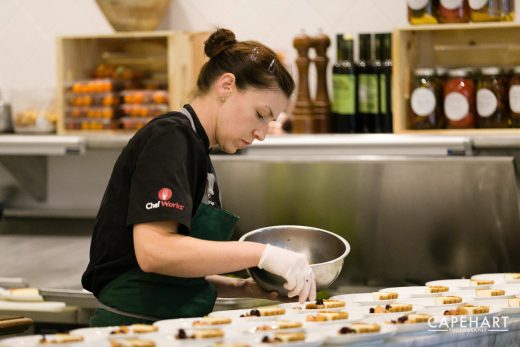 This fall Chef Works will serve as apparel sponsor for several events, including the Food Network & Cooking Channel New York City Wine & Food, San Diego Bay Wine + Food and the Hawaii Food & Wine Fesival.
Chef Works® will be at Los Angeles Food & Wine and Citi Taste of Tennis New York this week.
"Every festival takes on its own personality," said Amanda Stuckey, vice president of marketing for Chef Works®. "Los Angeles has all of the glitz and glamour that you'd expect from a star-studded event. New York is the epicenter of culinary and the festival's attitude reflects that. Hawaii, with all of the majesty of the islands, has blossomed into a premier event. And San Diego Bay – which is right in our backyard – has also emerged as one of the top festivals on the West Coast."
Some of the more popular items we provide include our Springfield Chef Coat, our Corvallis Bib Apron and the Executive Gramercy Chef Coat.
"The feedback we get from chefs is invaluable as we constantly assess what works for our customers," Palacio said. "We've been with some of these festivals since they first started and it's fantastic to see them evolve and for Chef Works® to share in that success."
---
Photo credit Capehart Photography from the 2018 Food Network South Beach Wine and Food Festival.