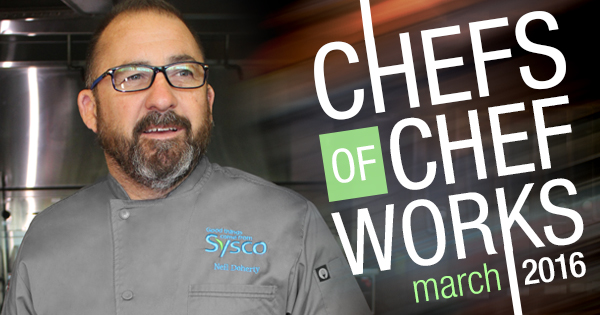 Question 1: Where did you get your start?
"Belleek Castle Co in Mayo, Ireland. I was brought in from the gardens to help prep and that was it!
Of course, the beer after the shift meant the world to a 14 year old!"
---
Question 2: What is your favorite dish?
"I love homemade pies!"
---
Question 3: What was your favorite dish as a child?
"My mum pickled all the items from the garden and made jams and jellies from the fruits. She always had all kinds of breads and tarts.
However, my favorite had to be rhubarb tart and custard."
---
Question 4: Who inspired you to be a chef?
"Chef Paul Wilson and Henri from Belleek Castle Co. They gave me a start and a great grounding – military style discipline – which made culinary college easy."
---
Question 5: What would you be doing if you weren't a chef?
"Architecture and construction. My whole family is in that game and my son followed that course, as well.
I think the most rewarding jobs are the ones that make you feel like you have accomplished something at the end of the day."
---
Question 6: What advice can you give an aspiring chef?
"Never treat it as a job – It's a passion!
The most rewarding part is sharing the skills. It's the glory of being part of a team and the feeling of satisfaction after the rush."
---
Question 7: What advice can you give a chef trying to advance
their career?
"You should be as diverse as you can in your culinary repertoire. Be as rounded in both the business and the marketing sides of the game. Understanding the business aspect allows you to grow and be a better communicator.
Life's like a rugby game, get stuck in, but be smart enough to see the field."
---
Connect with Chef Neil Doherty:
Instagram: @chef_neil_doherty
WANT TO BE FEATURED?
Email: marketing@chefworks.com