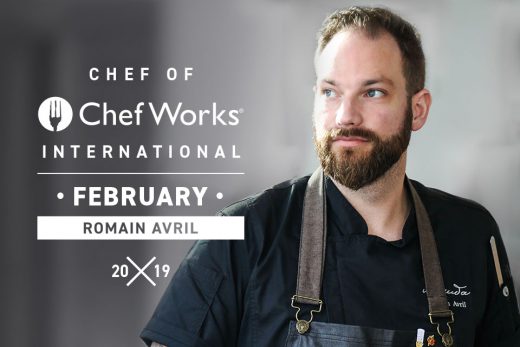 ---
Each month we feature an International Chef of Chef Works. If you're a fan of Chef Works gear and are interested in being featured, email kgemmell@chefworks.com. Pictured above is our February International CoCW, Chef Romain Avril, photographed in his Springfield Chef Coat and Boulder Chef's Bib Apron.
---
There's a delicious irony to Chef Romain Avril and his savory, delectable raclette. He blends charcuterie, boiled potatoes and melted cheese. The dish plays well for the executive chef at Toronto's Neruda Restaurant as patrons dine on the shore of Lake Ontario. The only problem is that he can't make it for himself at home.
"I like a good meal of roasted chicken, potatoes and green leaves," he said. "I love raclette and wish I could have it at home, but I just don't have the right equipment."
It's not like the Parisian-born Avril, 33, denies himself the finer things. He was exposed to langoustine oysters and foie gras growing up on the West Coast of France.
It was when he was 13 when he started to feel the pull of the kitchen. At summer camp, while other kids were going horseback riding, he gravitated toward the kitchen staff and volunteered to help make dinners for his campmates.
Then in high school he did his "work trial" at a restaurant. In France, students can pick an industry they have an interest in and do a week internship. Avril was hooked and began working in restaurants a year later.
He cut his teeth at Michelin star restaurants across France before moving to the United Kingdom for four years. He eventually settled in Toronto, where he's been for the last seven years.
"I credit my mentors and all of the chefs I've worked with for helping me be the chef I am today," he said. "They taught me passion, determination and hunger for the game. I try to be that person to all of the younger chefs I work with. I try to preach teamwork and creativity. There's something special about seeing a concept on a piece of paper and then a whole team working together to bring it to life."
Avril has also been part of Team Canada for the prestigious gastronomy competition Bocuse D'or – which is why he would have been honored for the opportunity to cook for the late Paul Bocuse.
"I would have cooked my food like a tasting menu for him," Avril said. "I knew he loved modern cooking as much as classic."
Flexibility and diversity have always been at the center of Avril's inspirations. Whether it's using exotic spices or whimsical plating, he strives to make sure his creations reflect not only his personality, but the resources that are available to him.
"I try to always find the beauty in the ingredients," he said. "I appreciate the different flavors, the different textures and most importantly the work of the farmers. "We work in a tough industry, but it's also amazing how mind-blowing it can be. I can't express that enough. Tomorrow is always a new day and with it new opportunities to create."