While you're busy running service, we're scouring the Internet in search of the latest and greatest stories to hit the airwaves. This week, Bon Appetit explores what exactly "natural wine" is, bartenders are embracing trash to make tiki drinks, and the tater tot gets a full-blown exposé in Eater.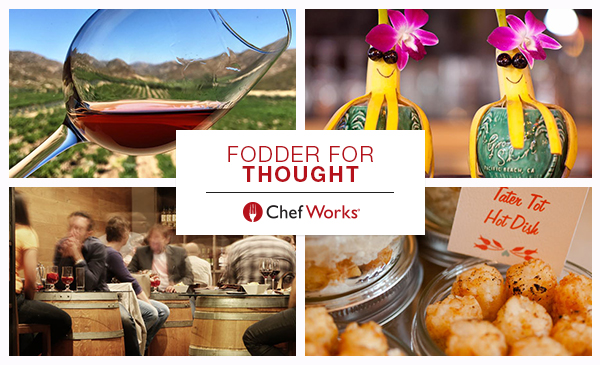 Bon Appetit | So, What Exactly Is Natural Wine?
Natural wine has been popping up on restaurant wine lists with more and more frequency – it's gotten so popular that Bon Appetit even named it 2017's Drink of the Year. But what exactly is natural wine? The general consensus is that natural wine has nothing added or taken away. That means no chemicals, no filtering or fancy machines, and no added sulfites. Read on as Wine Editor Marissa Ross extols the virtues of natural wine, and how it's the equivalent of the Sex Pistols and Elvis – just in a bottle.
Food Republic | Trash Tiki Takes The Food Waste Conversation Behind The Bar
Giving trash a second chance at the bar, Trash Tiki has taken the cocktail world by storm. Embarking on their U.S. and Canada tour this summer, bartending duo Iain Griffiths and Kelsey Ramage are teaching imbibers that citrus husks and old pineapple skins actually make good drinks, and are helping to increase awareness about food waste in the industry. After reading their fascinating Q&A, we're ready for a few sips of their signature Trash Tai – extra trash, please.
New York Times | To Survive in Tough Times, Restaurants Turn to Data-Mining
As restaurants struggle to turn a profit, NYC-based start-up Salido has created a new analytics tool for management – offering real time data on their customers, all in order to serve them better. Flagging customers using ordering history, average dine-in time and habits, Salido is attempting to bring back the golden age of dining – when regulars and dining establishments formed tight-knit relationships.
Eater | The Tater Tot Is American Ingenuity at Its Finest
What came first: the tater or the tot? Eater's ingenious exposé on the great American tater tot traces its history back the mid-1950's when F. Nephi and Golden Grigg forecasted that the future of food would be in the freezer aisle. Unable to freeze French fries at the desired consistency, the two inadvertently created the modern-day tater tot, and this bite-sized caught on in households across America. Today, they're the hero of late night bar binges and gastropub menus, a nostalgic treat that continues to delight fans and has earned its place as a beloved American craving.