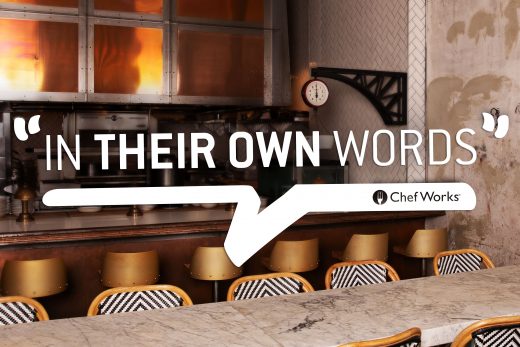 ---
"In Their Own Words …" grants a forum to chefs to discuss issues in and out of the kitchen that are important to them. If you're interested in submitting a topic, email kgemmell@chefworks.com
---
Tony Leitera is the corporate executive chef for GameWorks Inc., — a restaurant that features arcade games, esports, laser tag, bowling and billiards.
He previously worked at several high-end locations, including the Capital Grille, Border Grille, Café Deco Macau and Lucas Oil Stadium. The opportunity to return to his hometown of Las Vegas was too good to pass up, and before joining GameWorks, he served as executive chef at Guy Fieri's Kitchen + Bar.
Chef Leitera has his hands full with menu concepts for the seven GameWorks locations across the country.
But he still has time to serve as Chairman of the Board for The Cupcake Girls, a non-profit organization that provides multiple areas of support for those in the sex industry and those affected by domestic sex trafficking.
Here's why this is important to Chef Leitera … in his own words …
---
"If there's one thing I've learned working in the culinary industry for more than two decades, it's that anyone can move up the hierarchy if they are willing to put in the hard work. I started washing dishes and cooking in Wolfgang Puck's restaurants in the 90s and with the right attitude and some great mentorship I progressed up the ladder, reaching executive chef and eventually my role as corporate chef with GameWorks Inc.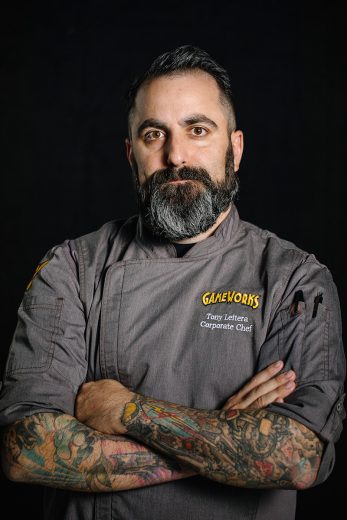 All you need is a chance and for someone to believe in you.
That's why I'm proud to serve as Chairman of the Board for The Cupcake Girls – a non-profit organization with branches in Las Vegas and Portland that offers tangible resources to those working in the sex industry. We offer aftercare to those who have been sex trafficked, substance abuse counseling, crisis intervention, medical and dental care and mental health care at little or no cost.
The work we do is confidential and without agenda.
I love the grassroots approach of The Cupcake Girls. The staff, volunteers, community allies and professional resource providers are a diverse group who collectively work to improve the lives of our community. In many ways, it's a lot like some of the kitchens I've worked in. It's common to hear many languages being spoken in kitchens. Yet even on the busiest of nights, the communication is spot on. It's people coming together for a cause.
My wife has volunteered with them for four years. And we are focusing on opening Local for All, a first-of-its-kind holistic resource center. The space in downtown Las Vegas will efficiently combine our services with our partners so our clients and their families can receive critical mental, emotional, spiritual, physical and financial support and resources.
These families will have access to life skills, employment and financial management training – as well as mentorship opportunities.
For anyone who has ever had a mentor believe in them, an executive chef give them a chance or has simply caught a break, I'd encourage you to help support this fantastic organization.
A little bit of belief goes a long way.