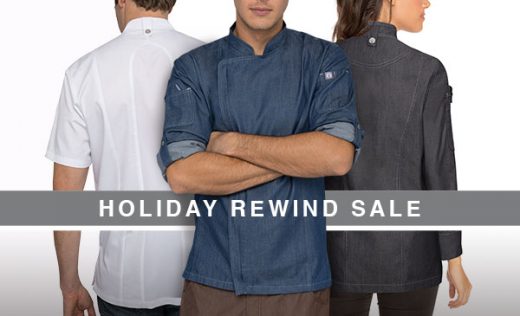 For three months, you had been dropping hints. Perhaps you forwarded a couple of emails about a certain chef coat to your significant other or general manager. Maybe you left the Chef Works site open on your tablet for someone to see? And then the holidays came and went and you didn't get what you really wanted.
Fortunately, we're hitting the rewind button on the holiday season with a sale so you can treat yourself to what you want. Because at Chef Works, we know that nobody knows you like you.
From now through Jan. 19, you can take 20 percent off of your entire purchase – sale items included! – with a $200 minimum (terms apply). We're even throwing in free shipping! Just use the promo code TREAT19.
Here are a few ideas to help get you started!
Make the most of your purchase with a chef coat that looks and feels as good as  you – without the hefty price tag. The Rochester Chef Coat has plenty of functional details, like Cool Vent™ side panels and short sleeves so you're going to stay cool in the heat of the kitchen.
But if single-breasted, short sleeves and zippers aren't your thing, the Bowden Chef Coat might be the way to go. This long-sleeve, double-breasted jacket has the same Cool Vent™ side panels, but with button closures for a more traditional look.
And if traditional is your thing, step up to the Carlton Executive Chef Coat. It's uber-comfortable, 120 Super-Combed Cotton and French Cuffs give you the ultimate upscale look – complete with Reflex Blue piping.
We also offer the same great styles and options for women. From the sleek and sophisticated Marrakesh V-Series Chef Coat to the edgy and fashion-forward Chelsea Chef Coat, there's guaranteed to be a style that matches your personality.
---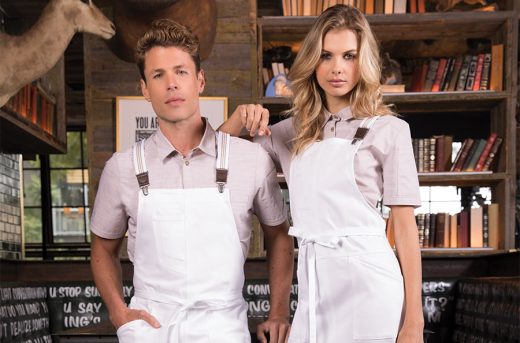 ---
Now … let's talk aprons! The Berkeley Apron is one of the most versatile, functional and fashion-forward aprons on the market. It's built tough for the back of the house, but stylish enough for the front of the house. If you want to really go heavy-duty, then you can't go wrong with the trio of the Boulder, Galveston and Rockford. Or keep it light for your servers with the Indy Hipster.
Keep the comfort going with Cool Vent™ Baggy Pants and top off the look with a Cool Vent™ Baseball Cap.
We have a wide range of offerings because we know there are a wide range of tastes and preferences out there. Find your look and make one of your first big acts of 2019 to do something for you!