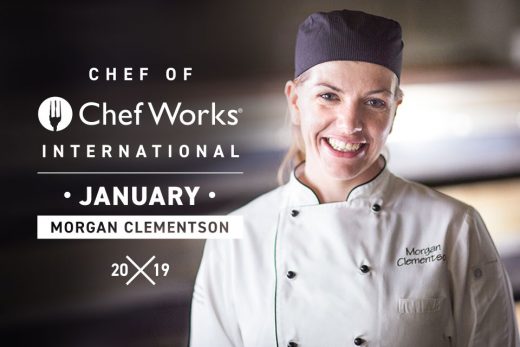 ---
Each month we feature an International Chef of Chef Works. If you're a fan of Chef Works gear and are interested in being featured, email kgemmell@chefworks.com. Pictured above is our January International CoCW, Chef Morgan Clementson, photographed in her Newport Executive Chef Coat and Cool Vent™ Beanie.
---
When it comes to having a cool job, Morgan Clementson might take the cake … err… bread, as it were.
"When people ask what my job is, I say 'I travel the world and I bake amazing bread,'" Clementson said. "However it's a little more complicated than that. My main focus is to give technical support to our customers – industrial, semi-industrial and artisan bakeries – and I'm also responsible for workshops, practical and theoretical trainings for the local technical advisers and sales teams."
Clementson is the international technical adviser at Puratos – an international group offering a range of innovative products, raw materials and application expertise to the bakery, patisserie and chocolate sectors. While she's based in Brussels at the corporate headquarters, her job takes her across the globe.
"We give support to more than 120 countries we're present in," she explained. "One week I can be baking Sangak in traditional Iranian bakeries on islands in the Persian Gulf and the next I'm touring Italy and baking traditional breads in wood fired ovens with some of the most talented and passionate bakers in the world. Last year I traveled to more than 14 countries."
Born and raised in Australia, Clementson started tinkering with baking while attending college at night while working completely different day jobs. At first, it was just for fun. Then she started entering some competitions and before long, she was hooked.
"I found skills and passion that I never anticipated so I studied as much as humanly possible," Clementson said. "This got me very far in the Australian Training Awards which helped me to get an overseas scholarship and off I went to Europe, where I have called home for the last four years.
"A lot of friends and family told me I was crazy to become a baker at 27 and for quitting my nice Monday-through-Friday day job at Porsche to pursue hot, tedious work in a mainly male-dominated industry. But I'm also thankful because they were also extremely supportive."
Clementson has got a big 2019 ahead of her. She'll be holding live shows at Puratos "Taste Tomorrow" events, happening in Hong Kong, Barcelona, Chicago and Brazil in the coming months.
"I'll be performing live cooking on stage over two days and production of all the bakery products for the events," she said. "It's going to be quite the challenge and I'm really excited for the opportunity. To work at such an inspiring company like Puratos Group, you need to have the courage to go beyond your capabilities and push yourself to achieve perfection in all that you do."
As you can imagine, Clementson has bread on her mind – a lot. She said it's not uncommon for her best ideas to strike in the middle of the night and she'll just wake up and start baking. She credits her company for its tremendous support and resources which have allowed her live out her dream.
And she loves returning the favor to those who want to learn.
"For me, that is the most rewarding part of my job, is to see the look on people's faces when they taste bread that they have made and created," she said. "It's really an unexplainable feeling. They learn to appreciate the time and the love that we put into every loaf. You never look at bread the same way again."