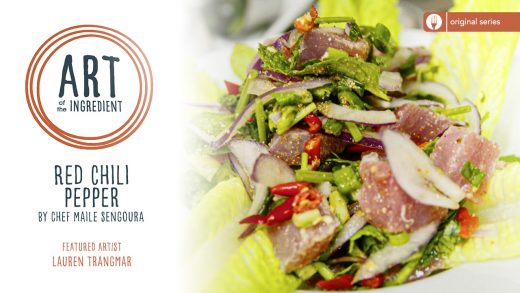 Art of the Ingredient continues its journey on the shores of Hawaii this week, visiting Maile's Thai in Hawaii Kai. Perfection comes with practice, and Maile's love obsession with red chili peppers  came with a lot of practice — and a lot of heat. Growing her tolerance over time, Maile has even  coined her signature extreme heat level, Maile Hot! Even if you're grasping for milk or cups of Thai Boba Tea to stave off the spice, you'll keep eating,  because the food is that good. (Don't worry, she also makes culinary delights that are much more mild, so you don't have to surrender and wave the white flag.) Get ready to tell Chef Maile what level of spice you can handle in this fiery episode.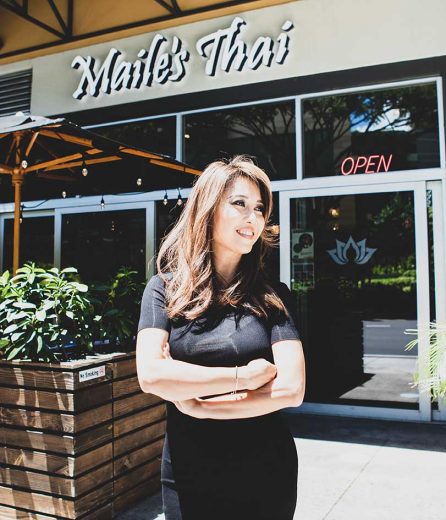 Inspired by watching her mother and family cook traditional Lao, Thai and French food, Maile learned all the traditional recipes and then started experimenting with different ingredients. During family gatherings, people sat together sharing a few dishes and eating sticky rice, shredding green papaya and making mouthwatering salads along with meats with herbs of lemongrass, mint, basil, and dill.  Maile wanted to bring these memorable experiences to a greater community, but opening Maile Thai in 2008 in Hawaii Kai took a lot of convincing. Locals were not yet familiar with Thai cuisine. Maile decided to  infuse her Thai dishes with the taste and familiarity of Hawaii, as an entryway into a whole new world — and Honolulu would never be the same.
Learn more about Maile's Thai at mailesthaibistro.com.
Local artist, Lauren Trangmar, creates a one-of-a-kind rendition of red chili. Born and raised in Christchurch, New Zealand, she began her undergraduate studies in Fine Arts at the University of Canterbury before transferring to the University of Hawai'i at Manoa, where she attained her BFA in Graphic Design. Her work has been included in numerous private collections and exhibitions in Honolulu, Kaua'i, North Carolina, Australia, and New Zealand. Her most notable showcase was at the  Honolulu Museum of Art's, Artists of Hawai'i 2015 exhibition, where she produced a body of work that was purchased for the museum's permanent collection. She has also completed artist residencies in Honolulu, Kaua'i, and North Carolina.
https://youtu.be/MiPVohiWscg
If Lauren isn't creating beautiful art seen around the world, she can be found swimming long distances — her favorite hobby of choice — in the open waters of Hawaii. When on land, she enjoys spending time with friends and family, eating, and enjoying life.
To learn more about Lauren Trangmar, visit laurentrangmar.com.