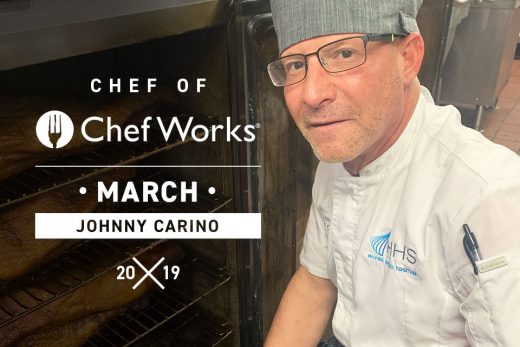 ---
Each month we feature a Chef of Chef Works. If you're a fan of Chef Works gear and are interested in being featured, email kgemmell@chefworks.com. Pictured above is our March Chef of Chef Works, Johnny Carino, photographed in his Bristol Executive Chef Coat and Corvallis Beanie. 
---
There's very little of the culinary industry that Chef Johnny Carino hasn't touched in his illustrious career. From high-end concepts and restaurant openings across the globe to his current role in healthcare, Carino has been cooking with passion and flair since his early teens.
Now the Vice President of Culinary for HHS – a wide-ranging organization that services healthcare and senior living – Carino took some time to chat with the Chef Works blog about his career arc, his early struggles with dyslexia and what keeps him motivated.
Tell us how you got started with cooking.
Johnny Carino: That's easy. My mom passed away when I was 12. My entire family is New York City firefighters and my grandparents are from Italy. I grew up in New York, Italian and was always around food, family and celebration. I've been cooking since I was 13 years old. It's all I've ever done.
How did you pursue that passion?
JC: I graduated from college in May of '81 when I was 17 through an accelerated program. I couldn't wait to get started. I was in awe of chefs. I had so much respect for that toque.  But I also was very into bodybuilding. So I moved to California and got my first start at a five-star casino, Harrah's in Lake Tahoe. I loved hotels. They taught me organization. They taught me to move quickly and with purpose. They set the benchmark for my career. Every step I made was calibrated for the next one.
Your career spans so many aspects of the industry. Can you give us a couple of highlights?
JC: The first opportunity I had to run my own kitchen was Cityscape Lounge in San Francisco on the 46th floor of Hilton Towers. It was right after the earthquake in '89. I was young, but the menu was mine. This was right when California Cuisine was coming into its own. From there I moved to a private club in San Francisco before joining Brinker International. I'd never been a corporate chef or run a test kitchen. But they gave me the Italian division of a concept called Spaghettis. After opening a few of those, the name was eventually changed to Johnny Carino's (note: there are more than 50 Johnny Carino's locations in the U.S.).
Obviously people know that name. How did things move on from there?
JC: Myself and four others basically started a new restaurant company and we operated the Carino's and a steakhouse. In 1998 we sold the company and I joined Truluck's and helped their seafood concepts take off. I love to develop restaurants. I've opened more than 100 worldwide. When the HHS opportunity opened up, I had never done healthcare, but I believe in the vision and I like challenges. Most healthcare [dining] is two meals, side, salad and dessert. I've opened it up like a restaurant from 11:30 a.m. to 6:30 p.m. and they order off an la carte menu. Everything is cooked to order. Nothing sits on a steam table. It's so fulfilling. We work hard because we care about our residents. I wanted to make an impact on senior living because I'm going to be there really soon. I'm nearing the end of my career. I joined healthcare to go out with a bang.
Did you ever imagine what the culinary industry would become when you started out?
JC: Not at all. I grew up with dyslexia and was called out for being stupid. I was told I couldn't be a bodybuilder because I was short. I'm only 5-4. I was told don't be a chef. Be a doctor or a lawyer instead. In my mind, I took all of that as a challenge. I remember watching Julia Child and Jacque Pepin and The Galloping Gourmet [Graham Kerr]. And then I actually had a show on PBS. It was an incredible feeling. I think some people on TV and social media tend to use the word chef too loosely. But overall, a lot of it is great. It lets people understand what we do for a living and there's so much young talent out there.
You've mentioned your career is close to winding down. What sage-like words do you have that next generation?
JC: You have to love what you do. I still move around like I'm 20. I would do this job for free. But you have to love this business because it can tear you apart if you don't have the passion for it. It's cool to be a chef. It's cool to be on TV. But you have to earn it.