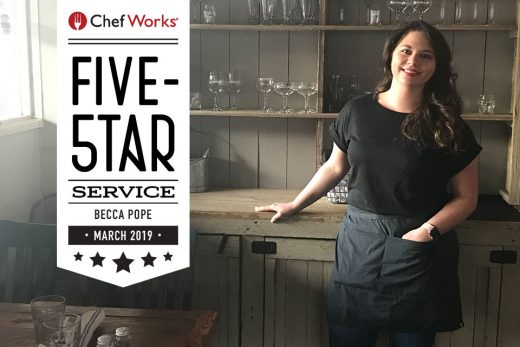 ---
Chef Works will be spotlighting someone in the front of the house each month through November as part of our "Five-Star Service" blog feature. In December, we'll ask our blog's readership to vote who has the "best story." We'll dress the winning restaurant with Chef Works gear! Pictured above is Becca Pope, photographed at The Commons in Seattle in her Half-Bistro Apron. To nominate a server, bartender or brand ambassador, email kgemmell@chefworks.com.
---
Remember all of those old Bon Jovi and Bruce Springsteen songs about "two kids in love breaking out of their small town to make it in the big city?" They might have well been singing about Becca Pope and her husband, Greg.
A decade after they met, those two in-love kids have broken out of tiny Liberty, Mo., and have made their way to Seattle.
"There was never a huge emphasis on advanced education growing up in a small town because we come from blue collar families," said Becca, 29. "When I met my husband, he was very into pursuing an education and getting beyond Liberty. He opened the door for me of what could be possible. At the time I had no idea who or what I wanted to be."
Greg joined the Navy, and that initially brought Pope out of Liberty and across the country. Now she's on pace to graduate from the University of Washington in the spring with a degree in applied computing and a minor in ethics and visual media. She'll be the first person in her family to get a degree.
But it wasn't easy. Working fulltime and going to school at night couldn't have been possible without the service industry. And for the last three years, Pope has been a server at The Commons in Woodinville, Wash., just outside of Seattle.
"One of the reasons I was able to stick it out was because of The Commons," Pope said. "They have been the most accommodating restaurant I've ever worked for. They put education first and it's been a wonderful experience."
Pope often works double shifts with school in between to make sure she's on-budget and on-track for graduation. Her hope is by this summer she'll be working for a tech company in Seattle as a program manager.
"I definitely enjoy being a communicator," Pope said. "The service industry has prepared me so much for that. I'm always taking the knowledge I know about our menu and wines and explaining it to the guests. Hopefully I can be the communicator between the tech people and people who have no idea what they're talking about and explain it to them."
Pope describes herself as the perfect balance between introvert and extrovert. On the floor at The Commons, she's buzzy, bubbly and quick to engage customers in whatever is on their minds.
"Our vision for The Commons has always been focused on community coming together for memorable experiences," said Brittany Levi, general manager of The Commons. "Becca perfectly represents and executes our vision in the way she personalizes her relationships with guests. Her welcoming, warm and thoughtful demeanor creates an environment our guests love."
In her private time, when she's not studying, Pope is a fun-fact fanatic, loves podcasts about history and true crime and is an avid student of history.
"I think being able to carry on an intelligent conversation is a vital and natural part of the service industry," she said. "I like to think that's my bread and butter. The people who are successful in the service industry are people-people. We can look at you and know what you need, who you are and what you do or don't like to talk about. Reading people is such a huge part of the job."
Saying goodbye to service will be a tough transition. For the last decade, it's been such a major part of her life, helped her get her education and provided the necessary skills she needs to take the next step in her career arc. But she says, most of all, she's going to miss the relationships.
"Team is everything," Pope said. "The people you work with each day can help provide you with lessons that can last a lifetime. The team aspect has definitely been my favorite part of the job.
"I wouldn't change any step in my journey. I'm very satisfied with how everything has played out and I can't wait to experience what's next."