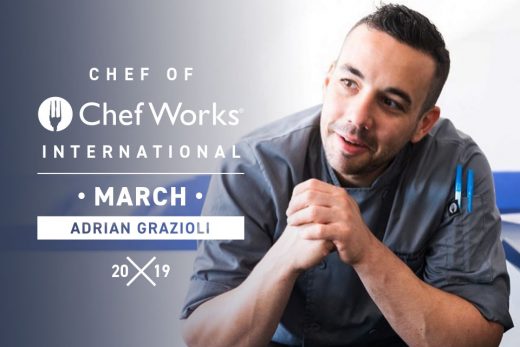 ---
Each month we feature an International Chef of Chef Works. If you're a fan of Chef Works gear and are interested in being featured, email kgemmell@chefworks.com. Pictured above is our March International CoCW, Chef Adrian Grazioli, photographed in his Morocco Chef Coat.
---
With a last name like Grazioli and a background in restaurants, you'd expect Chef Adrian Grazioli to be a specialist in tummy-warming Italian comfort food with giant meatballs and heaping spoonfuls of Bolognese.
Yet the Australian-born Grazioli found himself gravitating more towards what comes after the main course than actually preparing it.
"My parents have owned restaurants and cafes for more than 40 years, but it wasn't until I was 24 that I changed over from cooking to pastries," said Grazioli, 32. "I went down to Melbourne for holiday and walked into a patisserie called Brunetti and the instant I walked in I said to myself, 'I want to work here.'"
Raised on the Gold Coast, just South of Brisbane, Grazioli packed everything up and moved to Melbourne and spent three years becoming an apprentice at the patisserie that changed his entire outlook.
Having already studied at the William Angliss Institute, and then picking up valuable experience as an apprentice, Grazioli returned to the Gold Coast with the goal of opening his own shop.
Today he's the director and head patisserie at The Pastry Emporium.
"I knew one day I'd always open my own shop because of the influence of my parents," he said. "I was always going to move back to the 'The Coast' to be close to my family."
For Grazioli, it all starts with locally-sourced products. For example, everything is made from scratch the day-of. He'll make croissants with flour from Brisbane and butter from New Zealand. He'll scan Instagram, books, magazines and travel everywhere and anywhere he can to find inspiration. He's seen French influences in bakeries in Tokyo and has drawn technique inspirations from bakeries in New York.
"Running a small business is hard, but it's also worth it to have that creative control," Grazioli said. "Having your own place means you pick the ingredients, what products you make and what you're going to call them. Finding a staff that can manage the tough hours and work-life balance is also a challenge. But as The Pastry Emporium name became more established, people starting coming to us for jobs. They see the quality and the environment and they want to be a part of it."
Naturally, he hasn't completely forgotten his Italian roots. He loves Tiramisu (who doesn't?) and he enjoys a good coffee.
He knew early on that his path was set. And he's happily walking it every day.
"I love the hustle of owning my own shop," he said. "I love the pressure. And I love the results of a perfect display cabinet."