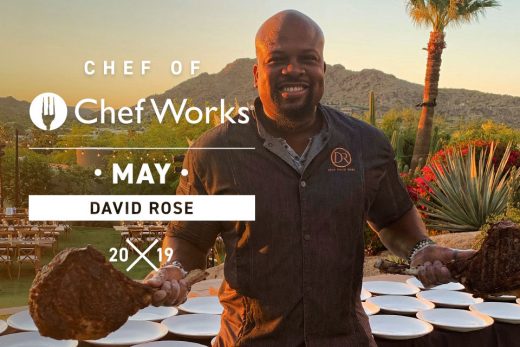 ---
Each month we feature a Chef of Chef Works. If you're a fan of Chef Works gear and are interested in being featured, email kgemmell@chefworks.com. Pictured above is our May Chef of Chef Works, David Rose, photographed at Nirvana Food & Wine in his Tribeca Executive Chef Coat.  
---
If it weren't for social media, we'd have no clue where in the world Chef David Rose was from week to week. Is he in Cuba? No, that's next week. Puerto Rico? That was last month. The Atlanta-based chef, brand ambassador and TV personality certainly makes the rounds.
And while he's certainly recognizable by his big biceps, it's his big smile and big heart that have made him a favorite on the food and wine circuit. Following his appearance at Nirvana Food & Wine in Arizona last month, Rose, 37, took some time to chat with the Chef Works blog about his earliest influences, his workout regimen and what he sees for the future of the industry.
You had quite the upbringing. Tell us about it.
David Rose: My whole family is from Jamaica. My mom is one of 13. My Dad is one of 10. I'm the baby of eight. Everybody was born in Jamaica except for me. I was born in North New Jersey, the Tri-State Area – and all of the melting pot that New York and New Jersey has to offer.
Jamaicans love to cook, eat and drink and none of that was lost on me. I was raised in a household with huge gatherings – like more than 100 people. There were massive potlucks with a plethora of foods that excited my palate at a young age. Then I had friends who were Italian, Jewish, Indian, Korean. I was eating pâté and foie gras and latkes and matzo ball soup at a really young age. I was an adventurous eater.
How did you parlay all of those influences into a culinary career?
DR: I went to culinary school and graduated summa cum laude from Le Cordon Bleu just outside of Atlanta. My first job was in a hotel and I knew right off the bat that a hotel job – no frills, no fun – wasn't for me. I gave it a year and then decided to do things on my own and start my own special events company.
Jamaicans are also known for being ambitious and hard-working. That wasn't lost on me either. I did weddings, banquets, personal chef work for athletes and celebrities throughout the South. From there, it transitioned into brand ambassador work and I'm honored to be a national brand ambassador for Nissan, Big Green Egg, Davidoff/Camacho Cigars among many others. I'm also the creator and founder of the TLC Experience (Tastings, Libations, Cigars) where I partner with cigar and spirit companies to create an amazing dining experience. That led to television work.
---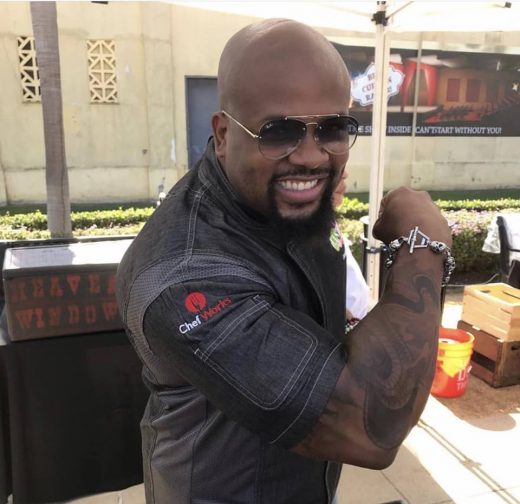 ---
You seem like you're right at home in front of the camera. How did you develop that on-air charisma?
DR: It all started out when I was the face of an international campaign with Harley-Davidson. Two of my greatest passions in life are food and motorcycles. From there I appeared as a judge on the CBS Chefs Classic, where I judged the food of some very well-known Food Network talent and celebrities.
A producer from Food Network reached out to me via social media and from there potential dialogue about TV began. It led to me appearing as a finalist on Season 13 of Food Network Star. I had a gut feeling and I just jumped right in. Nothing can prepare you for what reality cooking shows are like. You have a preconceived notion and you throw that out immediately on Day 1. They keep you on your toes 24/7. It's culinary boot camp!
I made some lifelong friends and that knowledge, experience and advice I received was invaluable. It sharpened and honed my skills that much more. Out of 13 people, I made it to sixth and got sent home cooking against Bobby Flay. If you have to go out, I guess that's a pretty good way to go. If you're going to lose, go down in flames. Bobby, I want a rematch.
How do you find time to do, what I'm guessing, is about 75,000 curls a day?
DR (laughing): I started working out when I was 17. I was a really skinny, boney kid – like science-class skeleton boney. I have five older brothers, and you know older brothers can be a little rough so picked up some weights and it's been engrained in me ever since. I saw that first little bicep pop and I'm like 'yeah, I'm all in.' The rest is history. Physical fitness is the same to me as breathing or cooking. Being in shape keeps me on point because I'm traveling constantly and I demand a lot of my body so I need to take care of it.
You definitely keep your finger on the pulse of the industry with all of your television spots (Steve Harvey, Pickler & Ben, HLN, Fox & Friends, Food Network, Hallmark Channel, etc.). What do you see for the next few years for the industry?
DR: I love where the culinary industry is headed. It's becoming a more immersive community and I love that so many chefs are reaching out to collaborate. Social media is uniting these people who wouldn't know each other. They can showcase their food, their style and their restaurant. Social media has done amazing things and I really like the trajectory.
It's also making the consumers smarter. They are holding chefs and restaurants more accountable and that's really forcing us to up our game and hold ourselves to a higher standard which means the future is bright for everyone.