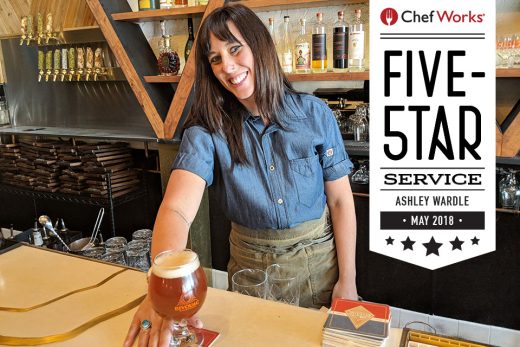 Chef Works will be spotlighting someone in waitstaff each month through November as part of our "Five-Star Service" blog feature. In December, we'll ask our blog's readership to vote who has the "best story." We'll dress the winning restaurant with Chef Works gear!
Sir Isaac Newton tells us that a body in motion tends to stay in motion unless acted upon by force. For a long time, Ashley Wardle was a body in motion.
The lead bartender at Bivouac Ciderworks in San Diego doesn't just have a story. She's got a few thousand of them. In fact, Wardle has packed so much into her 31 years on this earth that her stories have stories.
There was the time she bought a Tioga RV and drove cross-country with her dog. Then there was the time she was running an underground bar out of the aforementioned RV in Brooklyn, catering bachelor and bachelorette parties. Ask her, one day, how she stumbled into beekeeping. That's a good one.
Did we mention she played high school football and is credited with two extra points and a tackle?
"At the time I thought I was pretty good at football," she mused. "Now I look back and can see I was making a feminist statement that no one should be excluded from an activity based solely on their gender."
At least for now, she's no longer a body in motion. And while she still has many passions, she believes she's found something special at Bivouac.
"I think [cider] is the next IPA," Wardle said. "People already love it. It's lighter to drink than beer and the possibilities of creating new flavors are endless. I bought into the mission of Bivouac from Day 1. The taproom is campy and fun but we are serious about making cider. I love the idea of growing with this company."
For Wardle, bartending makes sense. She has undergraduate and graduate degrees in sociology. She's an activist and a student of human behavior. But someone like Wardle doesn't belong in an office.
"I loved studying and I loved the research, but I didn't want to live the life of an academic," Wardle said. "That world is 'publish or perish.' That wasn't my trajectory."
So she did the only logical thing after graduate school … she bought a 1976 Dodge Tioga, sold all of her belongings and drove across the country. She picked up bartending jobs around Brooklyn and started running what she calls a "Bar-V" out of the Tioga. She's now working on making baRV – as she calls it – a proper business in San Diego.
She returned to Southern California in 2015 and, already a seasoned mixologist, worked at several high-profile restaurants in San Diego. Then she discovered Bivouac and fell in love with the concept. Also, because they can make cocktails with liquors distilled from fruit, she can draw on her craft cocktail background.
"I have a different approach to bartending than other people because I approach it with my sociology background," she said. "Sociologists learn how the world shapes individuals and how individuals shape the world. I'm cognizant of the fact that we all have complex and unique backgrounds that make us who we are and I try to meet people where they are.
"I approach this job with empathy. I may never be famous for my craft cocktails. But I'm kind to everyone who walks in. And that's really what I want to be known for."
Wardle then excitedly goes into an explanation about the four styles of cider making. She sips a dry French-style cider, revealing the tattoo of her RV on her left arm and a watch with a honeybee on her right wrist. Remember, she's also an amateur beekeeper.
"My boss once asked me what my dream job is," Wardle said. "My dream job hasn't been invented yet. I want to be an RV-bar-owning, beekeeping, cider-slinger. But that's not an option on an aptitude test."
Follow Bivouac Ciderworks: