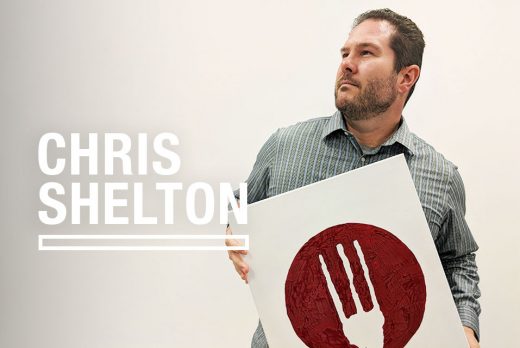 Chris Shelton was born to be a Chef Works' lifer — literally.  He came into the world less than five miles from the company's corporate headquarters. Granted, he didn't go straight from the hospital into management. There was some schooling along the way.
Shelton, who is now in his 11th year with Chef Works, leads the program management department, which handles large-scale, national accounts for Chef Works. He oversees a team of nine who work in his department. But their impact and reach is felt company-wide.
Give us an overview of what the program management department does.
Chris Shelton: Program management, in a nutshell, is 80 percent operations and 20 percent sales. With our experience and tenure, we support the large national accounts; from food service, hotels, distribution and schools we manage order flows and progression. We're the liaison between the large national accounts and Chef Works. It's funny because, for example, I sometimes feel like a Sodexo employee because I'm so engrained in their structure and how it's organized. That's really what our role is. We support all of those operations from pricing to samples to concept development and deployment.
Chef Works has some very large national accounts. How do you juggle them all?
CS: Over the years, what we've done with program management is taken good, skilled employees and fit them to the account where they are going to be best utilized so we can provide the customer with the best possible pairing. Our program managers are handpicked for each of their accounts based on their skill set. You might have someone who is very technology-based, or someone who is more sales-oriented. We make every account very personalized and specialized.
What are some of those skills?
CS: Chef Works invests in additional training in many areas to advance employee skills so we can adapt to the ever-growing needs of our clients. All of our program managers know the functions of every department in the company. From sales, marketing and customer service to finance, product development and the distribution center, we know what each department can do and what each department needs so we can best service our customers and handle the custom projects that are specific to their organization.
What's the most rewarding part of your job?
CS: I think the team environment is what's most rewarding. I know that I can count on the members of the program management team to get things done. Our programs are very seasonal so we can cross train each other and get each other's back. If we have something come down the pike with 300 rollout/opening orders, we have people say 'I can stay a little late.' We have that camaraderie with everybody.
Is there such thing as a typical day?
CS: Not really. I love the environment we have here. Each day brings a different challenge. I think about three to five things on my way to work. Then about an hour or two in, something happens I need to react to. It's the constant troubleshooting that I enjoy. I don't know what it's going to be on any given day. And that keeps it fresh and fun.